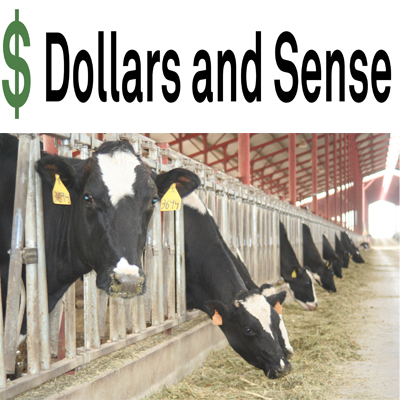 Julie Maurer
Newton, Wis.

Family owned and operated, Soaring Eagle Dairy milks 1,100 cows and grows a majority of the herd's feed on 1,800 acres.

The impact that cow comfort has on production became apparent to us in 2005 when we contemplated a switch from mattresses to sand bedding in free stalls. 
As a trial, we converted 15 stalls to sand, pulling out the mattresses to see how cows reacted. It didn't take long and cows were consistently using those stalls first, and the message from them was clear.
This lead to a $500,000 investment to convert our gravity-flow manure system to a flush flume which would use recycled water to carry sand from the barns. We also installed sand settling lanes, allowing us to recapture and reuse the sand after draining and drying down for several weeks. 
The result of this change was an increase in milk production of 5 lb. per cow, a reduction in somatic cell count by 50,000, a reduction in cull rate by 9%, fewer mastitis events, fewer hoof trims and fewer broken cows. These improvements in performance resulted in a very short payback on our investment.
We also try to provide cows with a calm and stable environment. This includes training and leading by example as we handle cows, ensuring quiet and calm in dealing with all animals. We also do not move cows to different groups during their lactation. Once a cow is moved from the post-fresh pen into the regular milking pen, she will stay in that pen until dry-off, thereby reducing the stress and competition that can accompany pen moves.
Other efforts to ensure cows are happy and healthy include: limited use of headlocks, cooling sprinklers and fans, rubber flooring in the holding area and parlor, and fly control. 
This coming year we are looking at adding on to the ends of one of our barns in an effort to reduce overcrowding. We have been selling 100-150 cows for dairy each of the past five years and as we build these groups of animals to sell, the entire herd ends up overcrowded. The effects and economics of overcrowding are little known, but coming off a strong year of milk prices, we are in a position to take a gamble and invest in reducing stocking levels.  Time will tell what improvements will be gained from making this change.
Maurer's recent prices
Milk
$22.83 (3.26 bf, 2.9 prt)
Cull cows    
$90-$116/cwt.
Springing heifers
$2,200/head
Alfalfa hay (milk cow)
$220/ton
Ground corn
$150/ton
Soybean meal
$628/ton