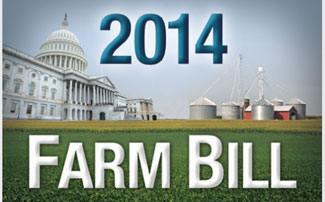 The writers of the farm bill indicated producers want more farm program choices. Yet the more discussions I have about the farm bill and the options between Agricultural Risk Coverage (ARC) and Price Loss Coverage (PLC), the more I hear from farmers who wish they had fewer choices. 

If the framers of the farm bill had allowed a reset after two or three years, there would not be so much angst. They did not include such a provision, so we are stuck trying to create a crystal ball on commodity prices to make the right choice.

Certain growers, such as peanut farmers, have a fairly obvious choice (PLC), and perhaps corn and soybean growers have a fairly obvious choice the other way (ARC), but that's not always the case. 
Price Control Versus Revenue Gains. In this column, I will summarize some of my key findings on these choices. For my recommendations on which farm bill program to elect for corn, soybeans and wheat, turn to the news story on page 52 of this issue. 

If you fall into the camp that cannot afford for prices to fall below a certain level, you will most likely elect PLC. Be aware, though, that this assumes prices will be very low for the last four years of the farm bill, since the 2014 market year average price likely will not generate much of a PLC payment for most crops. Normally, low prices will reset commodity prices to a higher level with supply reduction.

On the other hand, if you fall in the camp of trying to maximize revenues from the farm bill over the five-year period, you likely will tend toward ARC. This program will make payments in one of three ways: low prices and low yields, low yields and high prices, or high yields and low prices. Many of the crops for the 2014 crop year can make maximum ARC prices because of low yields.

Many assume PLC is better since, in contrast to ARC, there is no payout limit. Yet built into PLC is a yield reduction of at least 10%. Farmers are allowed 90% of their average five-year yields. Conversely, ARC users are allowed to use their five-year Olympic average yield, which throws out the high and low yield years and in many cases, results in a yield higher than the five-year average. 
No One Right Answer. Additionally, PLC prices can only drop as low as the loan rate for each commodity. Normally when I run the numbers for various farmers, if prices tend to get that low, the payment limitation of $125,000 will have kicked in long before that point, and ARC will still make a substantial payment. The exception would be if we have four straight years of very low prices.

For larger farmers who will max out on payments fairly quickly, the best advice for you is to elect ARC on the acres needed to get to maximum payment levels. Then elect PLC on your remaining acres. This will allow you to take advantage of maximum ARC payments from 2014 to 2016 and to pick up any PLC payments for 2017 and 2018.

If you elect both ARC and PLC, make sure to elect PLC on your highest-yielding farms to take advantage of higher payment yields. Elect ARC-County on the lowest-yielding fields since they will get stepped up to the higher county average. 

As you can see, in most cases, there is no one right answer. If you have enough available USDA—Farm Service Agency farms, my recommendation for most farmers is to blend their elections between the two choices. For example, many growers in my area have wheat and barley bases. Wheat will make an ARC payment this year, and an election of ARC for wheat and PLC for barley provides needed income this year and protection against major price drops in the fourth and fifth years. Remember, ARC will make large payments in the first, second and third year if prices drop.