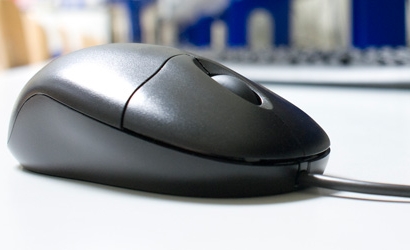 Buy tomorrow's design online, print it in your shop
Borne out of necessity, farmers possess an amazing variety of mechanical skills. In the years to come, those skill sets are set to expand—particularly in the field of 3D printing. As prices fall and efficiency rises, 3D printers might become standard tools on the farm.

Why? 3D printing could empower farmers to increase self-sufficiency. The technology might reach a point where machinery manufacturers allow farmers to purchase design files online and print products themselves. Or, local dealers with 3D printing capability could make temporary parts for farmers to use while waiting for permanent replacements.

Ben Bernard, computer service specialist, North Dakota State University, is cautiously optimistic about 3D printing benefiting agriculture. "Farmers usually live in a rural setting and need custom parts. Along with welding or electrical capabilities, 3D printing capability might become normal for a farming operation."

Bernard says the agriculture industry should be excited about 3D printing materials—particularly polylactic acid or PLA. 
Made from corn starch, PLA offers another market possibility for corn growers. Older 3D printing technologies can cost $5 to $10 per cubic inch, but PLA is only 25¢ to 50¢ per cubic inch. 

"I'm trying to convince the North Dakota Corn Growers Association to fund PLA research because suddenly there's a lot of PLA demand," Bernard says. "Can we derive a filament even stronger than what we've got and find new markets for ag products?"

Nathan Hulstein, president, GVL Poly, Litchfield, Minn., says 3D printing will continue to gain popularity, especially in product development for manufacturers. "In the distant future, I think individual farmers may print their own replacement parts, but in the next decade, ag engineers will use 3D to speed up design cycles," he says.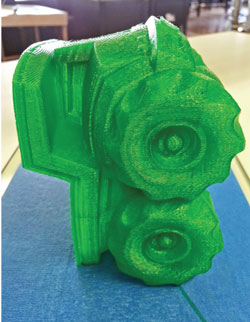 This tractor, printed from polylactic acid (PLA), or corn starch, is an example of how machinery manufacturers can use 3D printing to shorten new product testing time frames and save costs. 
GVL Poly is centered on season-related agricultural products, and field testing opportunities are restricted to a narrow time frame. When a prototype design fails, a year may pass before testing opportunities reopen. 

However, 3D printing allows manufacturers to change prototypes multiple times within a testing cycle. Rather than taking four or five expensive mold design changes, 3D printing allows for a single mold to be built with no design changes—an exponential level of improvement. 

"Farmers should get excited because machinery manufacturers have increasing opportunity to try more options during test season," Hulstein says. "This allows farmers to get access to machinery improvements quicker as products hit the market at a faster rate."

3D printing offers a major savings in tooling, says Rye DeGarmo, AGCO engineering manager for seeding and tillage. A tooled cast part can cost between $8,000 and $12,000—with the potential of a 10-week wait. With 3D printing, DeGarmo can instead make 10 iterations for testing before committing to tooling costs. 
"Right now, we're just touching the tip of the iceberg as far as 3D capabilities for agriculture. As this becomes more common, we'll use 3D all the more, but prices have to drop," he says. DeGarmo cites costs as the main impediment keeping 3D printing from going mainstream. A factory churning out 1,000 items in a perfected, streamlined process compared to a 3D printer producing a single, one-off part equates to a major difference in costs.

"It's fascinating to me because there is real potential for 3D printing technology to help individual farmers and not just factories," DeGarmo notes. "The cost of materials may be the driver, and if they go down, there are a lot of farm parts that would get made on 3D printers. The cost breakover will determine how fast that happens in the future."