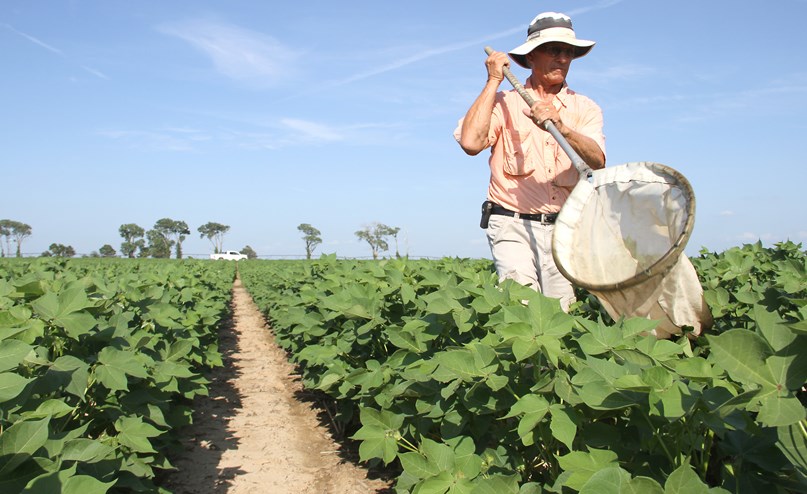 Pigweed patrols are a devil of a farming practice. In the form of chopping, pulling, or eyeballing and marking, hand weeding is a costly headache, but total reliance on a shrinking arsenal of herbicides can be a more expensive proposition. A driver weed with no equals, Palmer amaranth has changed the chemical game and forced producers into the rows to chase down escapes.
A decade ago, only 15 U.S. states had glyphosate-resistant Palmer amaranth. As of 2016, 28 states have confirmed presence. The weed plays a phenomenal numbers game fueled by prodigious seed production. Palmer is a population bomb, and within a seven to 10-month lifespan, a single plant can churn out 500,000 to 1 million pinhead-size seeds. Simple math: Just a few escapes equates to several million seeds jumping into the soil bank.
Walking the fields of Coahoma County, Miss., for over 40 years, consultant Bob Stonestreet is highly familiar with the Palmer threat.
"We stay on pigweed early with herbicides, but anytime you deal with Mother Nature, nothing is foolproof," he says. "A lot of it boils down to money and time."
When he finds Palmer escapes, Stonestreet often ties colored tape on the ends of rows to mark the spot for removal by farm workers. He sees a variety of methods used to physically contain Palmer.
"Most farmers are forced to use some form of hand removal, but every operation is different," he says. "Beyond choppers, I've seen designated labor riding the turn rows in a truck, actually intent on finding pigweed. Basically, they operate like a pigweed patrol."
Producer Scott Flowers of Mattson, Miss., runs two daily eight-man weed chopper crews armed with traditional hoes from 6 a.m. till noon. Paid by the hour, 16 employees working rows through mid-August exacts a big financial bite, but the alternative is risky.
Flowers held back on chopping crews in 2015 and paid for it with yield-affecting weed infestation in some fields. In 2016, he's spent the most money of his career on weed choppers, calling the practice a "necessary evil" on his ground.
"You can't get all the pigweed with chemicals," he says. "Chopping crews are a tool I wish I didn't have to use, but let pigweed go one year and then you can't catch up the next year. They go to seed and the soil bank gets packed out because the amount of escapes is terrible."
Flowers watched the Palmer ascent from the front lines, chopping cockleburs and coffee beans as a teenager, before the era of pronounced herbicide resistance.
"Pigweeds weren't a factor and we just sprayed the ones we found," he says. "Those days are long gone."
Chopped or pulled, what about disposal? Jason Bond, Extension weed scientist at Mississippi State University, says Palmer should be cut below the soil surface to prevent regrowth.
"Pulled pigweeds should be taken offsite and preferably burned, but in reality, if a producer at least gets pigweeds out of the field, that's better than nothing," he says.
Kevin Bradley, Extension weed scientist at the University of Missouri, has documented the path of Palmer from the Bootheel to 32 counties across Missouri. He sometimes sees seeded Palmer piled on turn rows, an ineffective means of removal.
"Sure, it temporarily keeps pigweed out of the rows, but seed remains and will wind up right back in the same fields," he notes.
The logistics of controlling Palmer post-emergence are extremely difficul,t and ignoring an outbreak can leave farmland swamped. In 2009, Palmer began a steady climb out of the Bootheel, taking root in an extra county or two every year.
"I've tracked it and without question, the pigweed footprint is expanding across the state," Bradley adds. "This is not one we want to deal with, but we can't go back and close the barn door."