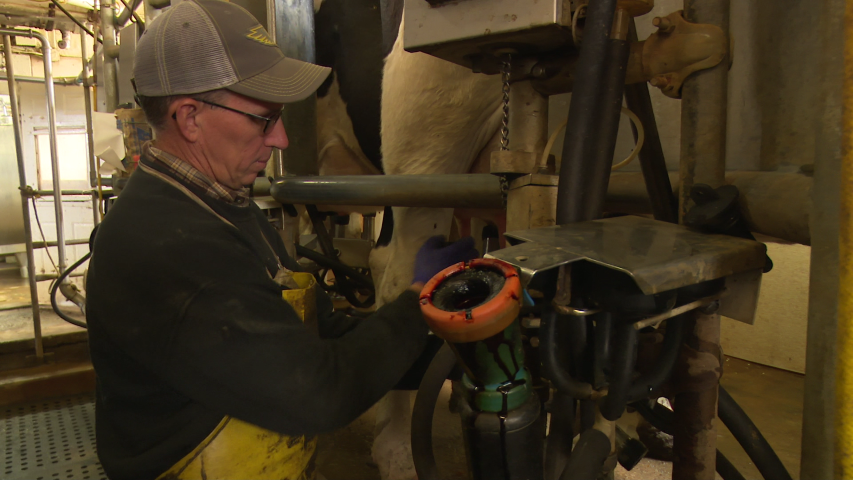 It's known as one of the oldest traditions in sports history: a cold refreshing glass of milk at victory lane. As you cheer on your favorite driver this weekend during the Indianapolis 500. We celebrate 'the man behind the milk.'
A schedule of early mornings and late afternoons, just a part of Alan Wright's regular routine. After-all, the Muncie, Indiana dairy producer has a job to do, milking more than 170 Holstein and Jersey-cross with his brothers.
"We try to start milking about 3:30 a.m. every morning and start again in 2:30 p.m. in the afternoon," said Wright.
But Sunday, his job is changing for the day. That's because he's this year's Indianapolis 500 Milkman. Alan will give the winner of the race a glass of cold, refreshing milk once they cross the checkered flag.
"I'm really excited. It's something that the closer it gets, the closer I think my wife is getting tired of me telling her how I can't wait to do this and I can't wait to do that," said Wright.
The Wright family have been dairy farmers on this location since 1933. The same year Louie Meyer asked for a glass of buttermilk in Victory Lane, starting the famous Milk Tradition.
"If we go down for 1933 when we started here, we milked for 30,000 straight days," said Wright. And like the generations before him. Alan started milking at a young age as well.
"We've been milking since I've been five or six years old. We'd come and hang out with dad in the milk parlor. Some of my greatest memories are in the milk parlor," said Wright.
Growing up, the Indianapolis 500 was one of those big memories. Just like it will be this year, milking revolved around the race.
"Once the race was over, it was time to go back and milk," said Wright.
Today the routine is still the same. Alan and his brother Vince milk in the parlor. Mom Joann still brings the lunch. Dad known as the 'Boss,' still visits the parlor but helps with bookwork.
"Dad calls his math long-hand. I call it pencil and paper," said Wright.
All in preparation to sell milk to America Co-op, Nestle, Dannon Yogurt and locations in northern Indiana.
"We just try to produce the best Grade A milk because it may be the same milk we're drinking. We want to take the best care possible and get the best in the tank," said Wright.
It's that care for his craft that may be the most rewarding thing.
As he is this year's face and voice of the product he loves, representing the job dairy producers do day after day.
"I could be more proud to be a dairy farmer. That's my livelihood. I think to me, it will be a highlight of my life," said Wright.
Wright says the drivers take a poll ahead of time over what type of milk they would prefer. They can choose between whole, 2-percent or skim. Wright is even given a cooler of the milk the Saturday before the race. He jokes he won't let the cooler out of his sight.