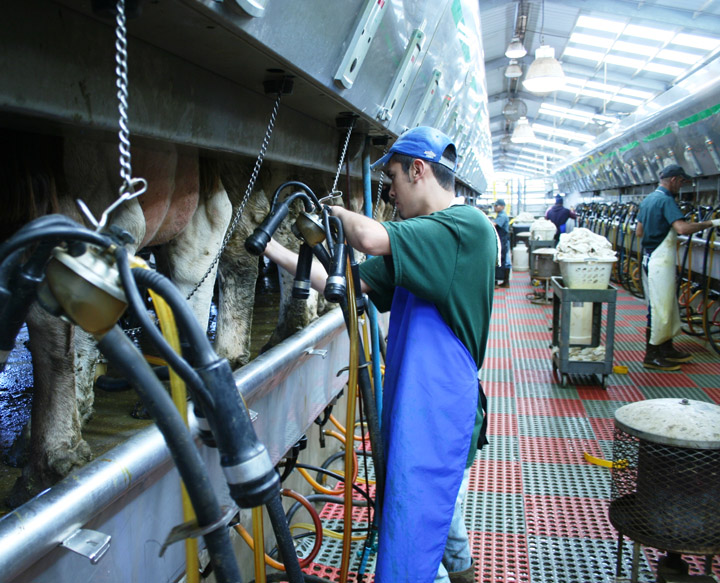 Major dairy states boost output in October by 3.9% over year-earlier levels.
U.S. dairies continued to boost milk production in October, with record-high per-cow production helping raise output.
Milk production in the 23 major states during October totaled 16.0 billion pounds, up 3.9% from October 2013, USDA's National Agricultural Statistics Service (NASS) said today.
Per-cow production averaged 1,868 lb. for October, 51 lb. above October 2013. This is the highest production per cow for the month of October since the 23-state series began in 2003, USDA-NASS said.
The number of milk cows rose to 8.59 million head, 89,000 head more than October 2013, and 3,000 head more than September 2014.
Texas led the way in percentage growth, increasing its milk output 11.6% over year-earlier levels. Colorado followed closely with a 9.7% jump in its milk production over October 2013. Michigan's milk production rose 7.1%.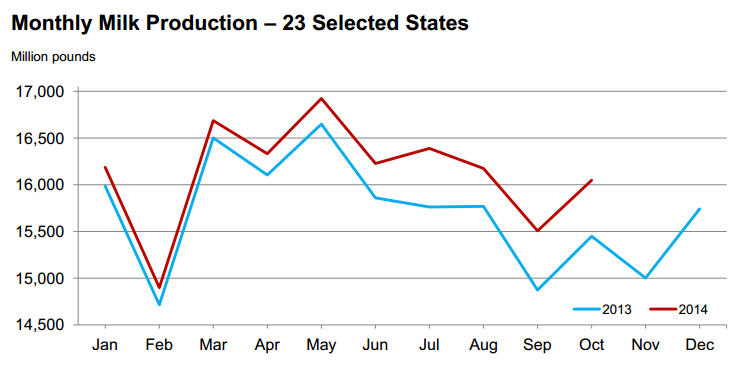 U.S. milk production is projected to reach 206 billion pounds in 2014, compared to 201 billion pounds last year, according to the most recent World Agricultural Supply and Demand Estimates report. For 2015, the WASDE report forecasts U.S. milk production at 212.3 billion pounds.
USDA-NASS revised its September production number to 15.5 billion pounds, up 4.3% from September 2013. The September revision represented an increase of 22 million pounds or 0.1% from last month's preliminary production estimate.
Read the full report here.