The NFiles: Goehring Fumes Over OSHA Anhydrous Regulations
Anhydrous $23.85 below year-ago pricing -- lower $10.39/st this week at $682.11.
Urea $57.93 below the same time last year -- lower $6.21/st this week to $448.61.
UAN28% is $28.25 below year-ago -- lower 76 cents/st this week to $312.97.
UAN32% is priced $8.91 above last year -- lower $5.96/st this week at $357.57.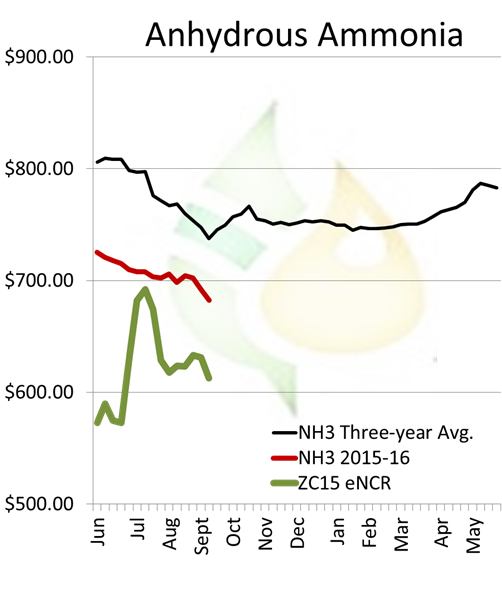 A press release came out of North Dakota today in which N.D. Agriculture commissioner Doug Goehring blasts OSHA for changing policies concerning retail anhydrous ammonia facilities. "This abrupt change of a longstanding, straight-forward, and effective policy will disproportionately negatively affect North Dakota small- and medium-sized facilities, operators and farmers," said Goehring. "This new OSHA policy is similar to having a small corner gas station maintain the same regulatory requirements as a massive oil refinery complex."
According to the release, the new policy will place all anhydrous facilities under a different regulatory classification which will include retail facilities. At the time of the change, North Dakota had 8 NH3 manufacturing and distribution facilities subject to stricter OSHA policies. The new rule will add 283 facilities to OSHA's oversight and Goehring fears the new regulations could put small operators out of business. "North Dakota anhydrous ammonia facilities are safe and already adequately regulated," Goehring said. "This policy is unnecessary and excessive. It will impose tremendous costs to agriculture without any discernible benefit to worker or public safety."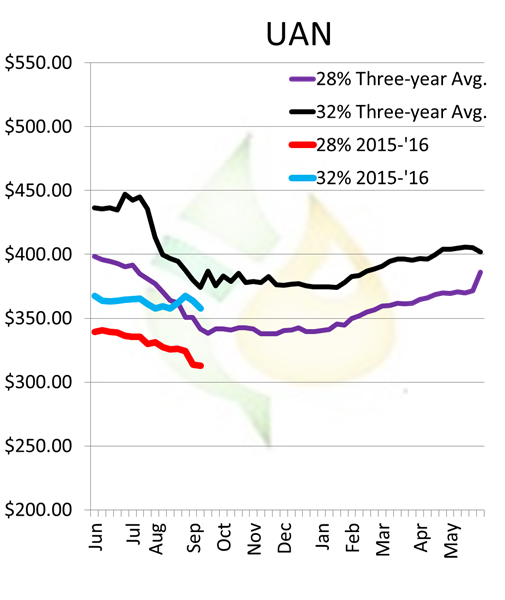 Goehring contends OSHA did not follow federally mandated rule-making procedures by failing to open the rule change up to public comment prior to implementation. He also suggested safety could become an issue as the possible closure of retail NH3 depots would mean more product would have to travel to North Dakota from around and outside of the state, increasing the risk of mishap to motorists and drivers.
"The proprietors and the employees of these facilities are entitled to have a voice regarding this new OSHA policy. These industry representatives and farmers have legitimate points to make and very practical feedback to provide. However, OSHA did not follow an Executive Order, which directed them to incorporate stakeholder feedback and develop best management practices before making a decision to change this longstanding policy," said Goehring.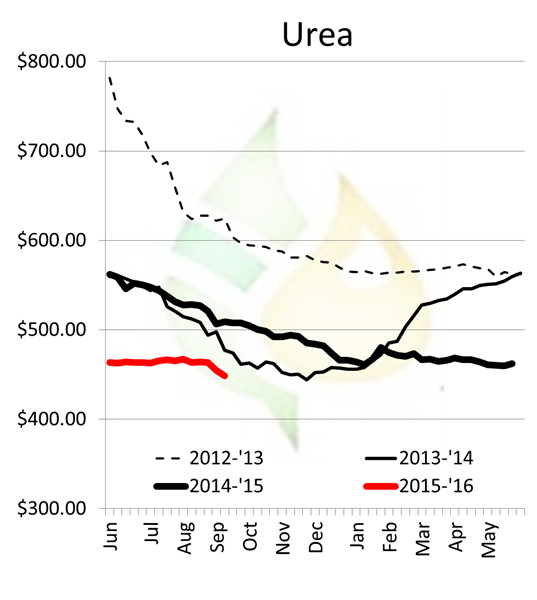 The episode reminds of other recent overreaches by government agencies, most notably EPA's WOTUS ruling which was condemned by the Army Corps of Engineers and ag advocates. We will keep you posted on this breaking story as details become available, but if Goehring's concern's flesh out, North Dakota growers will want to strongly consider stocking up on NH3 for spring and for fall, and look forward to paying higher prices under the weight of increased government regulation in the coming months and the years to come.
"Numerous stakeholders in the agriculture industry have met with us regarding this unexpected and unnecessary rule change. We share their concerns," Goehring said. "In a letter to OSHA, I detailed our many concerns and requested that they nullify the new rule."
December 2016 corn closed at $3.88 on Friday, September 4. That places expected new-crop revenue (eNCR) per acre based on Dec '16 futures at $612.74 with the eNCR15/NH3 spread at 69.37 with NH3 at a premium to December 2016 corn futures. The spread widened 8.18 points on the week.
This week, the average cash corn price built-in to nitrogen prices is $4.09 per bushel.
| | | | | |
| --- | --- | --- | --- | --- |
| Nitrogen pricing by pound of N 9/10/15 | Anhydrous $N/lb | Urea $N/lb | UAN28 $N/lb | UAN32 $N/lb |
| Midwest Average | $0.41 1/4 | $0.49 3/4 | $0.55 1/4 | $0.55 3/4 |
| Year-ago | $0.43 1/2 | $0.56 1/2 | $0.61 1/4 | $0.53 3/4 |
The Margins -- Anhydrous is still underpriced compared to the rest of the nitrogen segment. NH3 shorts urea 3 1/2 cents by the pound of N; UAN28% is overpriced compared to anhydrous by 2 cents; UAN32% solution is 4 1/2 cents ahead of NH3 on price.
| | | | | |
| --- | --- | --- | --- | --- |
| Nitrogen | Expected Margin | Current Price by the Pound of N | Actual Margin This Week | Outstanding Spread |
| Anhydrous Ammonia (NH3) | 0 | 41 1/4 cents | 0 | 0 |
| Urea | NH3 5 cents | 49 3/4 cents | 8 1/2 cents | 3 1/2 cents |
| UAN28% | NH3 12 cents | 55 1/4 cents | 14 cents | 2 cents |
| UAN32% | NH3 10 cents | 55 3/4 cents | 14 1/2 cents | 4 1/2 cents |
Anhydrous ammonia -- Anhydrous ammonia fell $10.39 on the week to a regional average of $682.11. The Dakotas, Illinois and Michigan led declines, each falling sharply.
UAN -- UAN28% solution was led lower by declines in Illinois and South Dakota; Missouri 28% and 32% were each sharply higher. UAN32% was generally softer however as led by declines in Illinois and Kansas. Altogether UAN28% is 76 cents lower regionally at $312.97 and 32% is $5.96 lower, now priced at a regional average of $357.57.
Urea -- Urea fell $6.21 to $448.61 regionally. Missouri urea fell sharply along with declines in Illinois and the Dakotas.