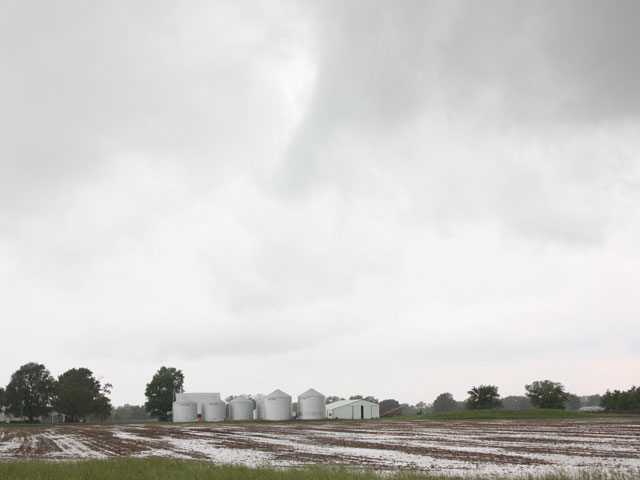 It's been a wet, wet, wet, wet week across much of the Corn Belt. And as of mid-June, a significant portion of the 2015 crop is still not in the ground.
According to recent analysis by University of Illinois ag economist John Newton (available on farmdoc daily titled "Crop Progress and Implications for 2015 Prevented Planting in Corn and Soybeans"), as of June 7, there were still 1.9 million unplanted corn acres and 18 million unplanted soybean acres.
The unplanted corn acres are tend to be concentrated around the Southwest and Western Plains. State "leaders" include:
Missouri – 350,000 acres
Kansas – 284,000 acres
Nebraska – 279,000 acres
Texas – 161,000 acres
North Dakota – 108,000 acres
Ohio – 105,000 acres
South Dakota – 104,000 acres
Unplanted soybean acres also have a bull's-eye centered around the Show-Me State.
Missouri – 3.955 million acres
Kansas – 2.622 million acres
Iowa – 1.212 million acres
Illinois – 1.188 million acres
Arkansas – 1.035 million acres
"The areas with significant amounts of unplanted corn and soybeans correspond to parts of the U.S. receiving abnormally large amounts of rainfall this planting season," Newton says. "In parts of Kansas and Missouri, for example, precipitation has been as much as 600% above average, and as a result, soybean planting progress stands at only 31% and 30%, respectively. As of June 7, [those two states] account for 6.6 million soybean acres unplanted."
But those acres will be planted eventually … right?
Not necessarily, Newton notes. From 1996 to 2014, the number of prevented planted acres have ranged from 1 million acres (1997) to 9.8 million acres (2011), with an average of 3.6 million acres in a given year.
How will 2015 rank? Newton says weather conditions at least imply prevented plantings will be above average in areas of the Southwest and western Corn Belt. But overall, he doesn't anticipate a big departure from normal.
"With corn acreage mostly in the ground for 2015, and less than 2 million acres unplanted, there is no evidence that prevented planted acreage for corn will differ significantly from the historical average of 1.2 million acres," he says. "Expectations are for some of the unplanted corn acreage to be planted late or allocated to other crops with later planting windows."
Soybean prevent plant acres range from 0.44% in 1996 to 2.22% in 2013. That range, as applied to the 2015 crop, would mean prevented planting acres between 372,000 to 1.9 million (which would be a record high). The high number of unplanted acres in Kansas and Missouri lend support to this expectation, Newton says.
The USDA acreage report on June 30 will provide updates to planted corn and soybean acres, as well as a chance to revise prevented planting estimates, he adds.