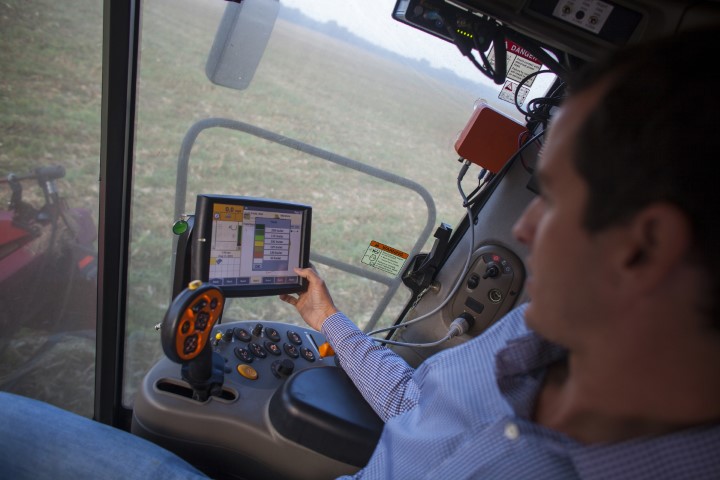 Anyone who has collected baseball cards understands that part of the appeal lies with the statistics on the back. How many RBIs, home runs, strikeouts and other stats a particular player has amassed arms the fans with the data they need to argue about who's the best – and who falls short.
Jason Tatge, CEO of Farmobile, can relate. He often uses the trading card analogy when describing his company's latest efforts with collecting data. Farmobile collects standardized data into what it calls an electronic field record (EFR) with a small orange piece of hardware called a passive uplink connection (PUC) that plugs into the farm machine's diagnostic port.
The PUC collects various information throughout the season, including seed variety, planting population, fertilizer application rates, grain moisture at harvest and yield data. Tatge says he hopes farmers using this technology will use it to "truth their hunches" about any number of management decisions they have to make.
"You should have the opportunity to validate what you do, so having standardized data to make apples-to-apples comparisons is really important," he says.
Since Farmobile's initial launch for the 2016 growing season, farmers created more than 3,000 of these EFR "trading cards." That has given them an easier way to share data with trusted farmers and work together to make better decisions for 2017. Farmobile also set up a data store where farmers could license their certified EFR data to vetted third parties. Farmers participating in the 2016 Minnesota pilot program are guaranteed to sell their data for at least $2 per acre; Farmobile is negotiating with potential buyers for now.
Earlier in November, Farmobile launched its EFR Dashboard, a real-time dashboard that gives farmers easy access to their data and helps them create a variety of reports on the data they have collected. Success in 2017 will involve expanding the base and answering a barrage of questions the company has about how different farming practices affect final yields.
Tatge says he hopes Farmobile's status as a "pure play data company" will appeal to farmers.
"We don't own any of the data collected, we're just a custodian for it," he says. "We're neutral. We're not trying to sell farmers any recommendations or inputs, and we're not displacing anybody already in the chain."
For more information, visit www.farmobile.com.