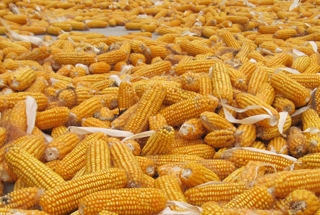 When you're expecting the biggest corn and soybean harvest in U.S. history, numbers matter. Who can resist marveling at a 14.5-billion-plus-bushel corn crop? Not many, especially those farmers notching record yields on their own fields. (The soybean crop is projected to hit 3.967 billion bushels, according to a survey of the trade.)
But once you've looked at the Nov. 10 yield and production figures, you'll want to move quickly to the real number to watch in Monday's report: demand.
"We view demand as the bigger story at this point," says Christopher Narayanan, director and head of agricultural commodities research at Societe Generale in New York. He points to big export numbers for corn and soybeans, strong ethanol production, and ongoing need for animal feed from livestock producers. "Soybean exports continue to be on a tear, but corn exports have started slowing of late. We would attribute that to the strong performance of corn prices since the beginning of October," he says. "The overall export sales pace, however, remains well above the USDA's current forecast. If prices rise too quickly and too far, we could see export demand curbing a bit."
Still, the situation is enough to push Societe Generale's current price forecasts to $4.08 for corn and $10.30 for soybeans by the end of the year, with the potential for higher prices still. "While we will fine tune these forecasts to reflect current demand data, our overall thesis will likely remain similar to the extent that if demand continues, we will continue to see a steady rise in prices, but perhaps at a slower rate," says Narayanan.
Will that be enough to make planting corn attractive in 2015? Joe Vaclavik of Standard Grain doubts it, even if December corn rises to $4.15. "Given a normal basis, that is still going to be below the cost of production for the majority of producers in this country," said Vaclavik, speaking during a CME Group webinar Thursday. To him, acreage is becoming just as important as demand when he looks at the grain markets. "I think we are going to see a big loss of corn acres in 2015 and a big gain in soybean acreage," he said. "2015 may be the very first year ever in the United States that we plant more soybeans than corn."
Others have noticed the same tensions.
"At current prices, corn will have a hard time finding the acres needed to keep up with growing demand," says Ted Siefried, the chief market strategist and vice president of the Zaner Ag Hedge Group. "If corn cannot buy the acres needed, then we will need to take every bushel of the projected 2-billion bushel carryover into next year to satisfy demand.  We cannot just assume that yields next year will be as good as they were this year."
In October, the carryover for corn was 2.081 billion bushels and 450 million bushels for soybeans.