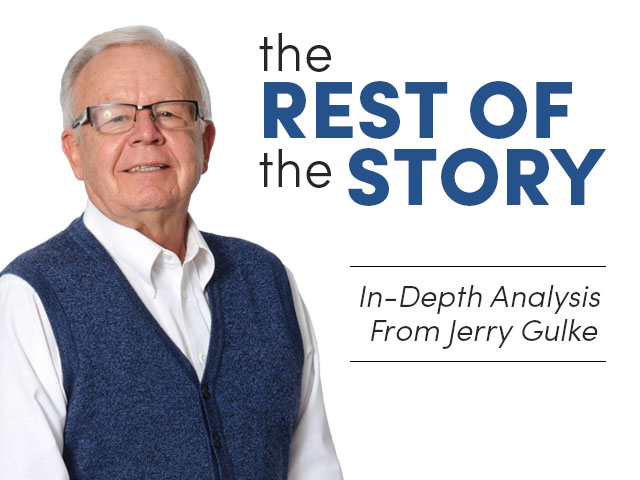 The transition from winter to spring has taken longer this year.  It is hard to believe that in 30 days we should have the biggest portion of the corn crop and lots of beans planted, with spring wheat done.  But looking at the weekend weather and the 10-15 day outlook, it doesn't look like progress will catch up, but we've said that before and any ray of sunshine make the trade expect it is a done deal.  After all we have cried wolf before and late plantings that used to equal reduced corn yields, haven't happened  It's been so long and so many record to near record yields that history seems to be a thing of the past.  The increase in planting non-GMO makes one think it is all about perfect weather post-plant more than high-tech seeds that has done the job.  If we get an abnormal growing season, perhaps that is when new seeds will shine.  Certainly a lot of growers are counting on it.
Last week we discussed the April WASDE report and highlighted stats.  The week after the USDA report is starting out on a negative tone as some "risk off" attitude comes back into play.  The market brushed off the weekend military practice session and rhetoric regarding tariffs and any negative reaction seems on the back burner.  Momentum for the time being has seemed to run out of steam.   Weakness is likely more weather related as it seems the transition from winter to spring will finally happen as it always does, albeit later than in recent years, and traders are still holding on to their ill-conceived ideas that we'll plant corn whenever and still get an above trend yield regardless of planting date.  Since it is a futures market, perhaps a look beyond the April report would be worth the time.  The WASDE report last week detailed the statistics that are affecting the S/D for US marketing year 2017/18, the current one we are in that ends Aug 30th 2018.  It has been the concerns supply and demand for the 2018/19 crop that has a story as we won't run out of supplies before we harvest again but it is how much we have left over and is the carry-in to new crop that holds a story.
CORN:  With supply unchanged and total use declining, ending stocks are raised 55 million bushels last week.  Global coarse grain (feed stuff) production for 2017/18 is forecast 7.0 million tons lower than last month's report, so the trend is good. Argentina corn production is down based on reductions to both harvested area and yield.  Brazil corn production is reduced reflecting expectations of lower second-crop corn area.  If realized, the combined corn production of Argentina and Brazil for 2017/18 would be 14.5 million tons (580 million bushels) below the record reached in 2016/17 marketing year ago. .
Major global trade changes for 2017/18 include lower projected corn exports for Brazil and Argentina, with reduced export competition from these countries expected to impact the first half of the 2018/19 marketing year in the United States ---note it is for next marketing year.   Foreign corn ending stocks (competitors) are lowered 2.8 million tons  from last month, with the largest declines for Argentina, Paraguay, and Brazil.  
SOYBEANS:  U.S. soybean supply and use changes for 2017/18 include increased crush, lower seed and residual use, and lower ending stocks.  Soybean crush is projected at a record 1,970 million bushels, up 10 million reflecting higher soybean meal prices which are supporting crush margins.  With exports unchanged, soybean ending stocks are projected at 550 million bushels, down 5 million;  it is important to watch our exports next month.
Global oilseed production was lowered 5.7 million tons to 568.8 million, with a 6.1-million-ton reduction for soybean production offset slightly by higher projections for rapeseed, sunflower seed, copra, and palm kernel.  Lower soybean production for Argentina, India, and Uruguay is partly offset by higher production for Brazil.  Soybean production for Brazil is forecast at a record 115.0 million tons, up 2.0 million from last month's estimate on higher projected yields for Mato Grosso, Mato Grosso do Sul, and Parana due to beneficial rainfall during the growing season.  For Argentina, production is lowered 7.0 million tons to 40.0 million on reduced harvested area and yield, reflecting dry conditions during January through March.  With reduced production, soybean crush for Argentina is lowered 1.8 million tons to 41.2 million, resulting in lower soybean meal and oil supplies traded globally.  Other oilseed production changes include reduced sunflower and peanut production for Argentina, higher sunflower seed production for the European Union, and increased rapeseed production for Belarus.  
Global oilseed trade for 2017/18 is projected at 174.1 million tons, down 0.6 million on lower soybean, peanut, and rapeseed shipments.  Global soybean ending stocks are lowered 3.6 million tons to 90.8 million with reductions mainly for Argentina, Brazil, and the EU.  That net reduction of 3.6 mmt equals about 135 mil-bu a far cry from what it would be if Brazil hadn't come to the rescue with what appears to be a record and about 150 mil-bu larger than that expected last winter.  So while the net-net effect of Brail offsetting Argentina is still less, it is not as much less as it could be.  The debate on Argentine crop is a moving target.  If it is 36 mmt, that would mean another 150 mil-bu lessening available stocks by nearly 300 mil-bu or 50% of our expected carryover. 
The debate continues on whether or not weather will cause further migration of soybeans back to corn or less corn and spring wheat goes to soybeans.   There are some lofty expectations for global use to increase again for 2018/19 of about 350 mil-bu, so you can easily see that a decrease in yield yet in Argentina or in the US is important.  A bushel less for the US is about 88 mil-bu; of course the opposite is true with higher yields. 
Below are some what-if's to think about in the supply/demand scenario looking forward.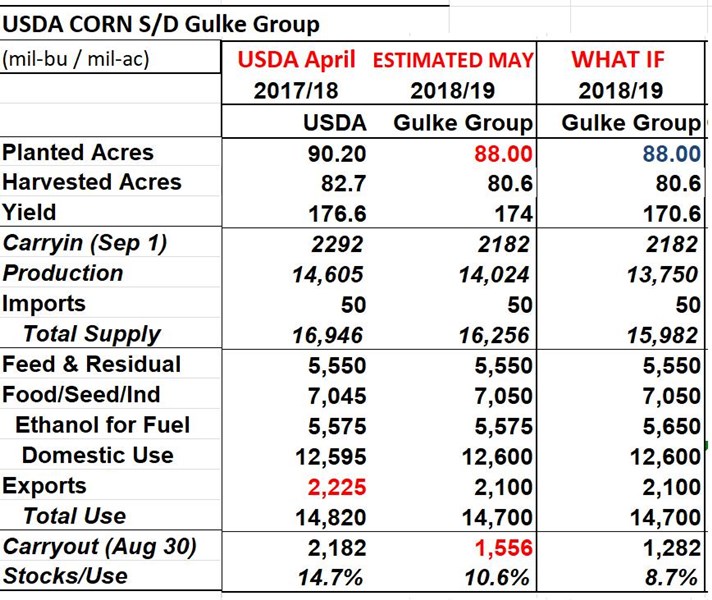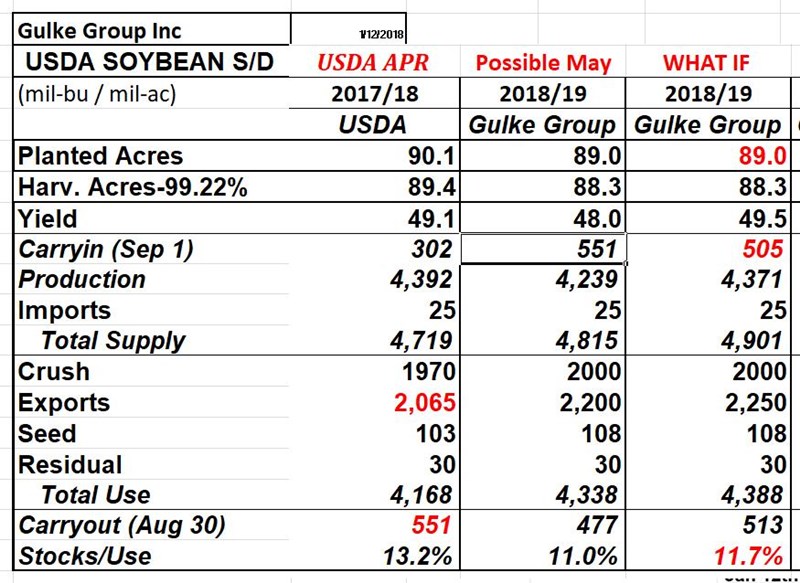 Put your owns spin on result or better yet, build your own spreadsheet and play with the numbers.  Does corn dare rob soybeans of more acres, or do soybeans rob corn knowing they need a weather premium not for just the norther hemisphere but the southern hemisphere's crop a year from now?    Form you own conclusion, but understand what it means if those sitting in desks in glass houses are correct and we plant corn because we just can't stand not to.   If traders have overstated the Chinese appetite and their demand is 2-4 mmt less than the 100—102 some think, that would allow them to determine the price short term let S America and the US fight for less demand than expected----that would not be good.  China is not naïve or is this their first rodeo. 
The Trump Administration has said they will make US agriculture whole if it is held hostage to tariffs,  but when and how is yet to be determined.  But regardless from the global demand standpoint,  soybeans and soybean equivalent (soy meal) are on better fundamentals than corn making the keeping of corn acreage subdued important.  Demand growth for soybeans globally seems more robust than corn and requires about 350 –400 mil-bu more each year making our US carryover of 500 mil-bu less significant in price discovery as it once was.  Global demand increases for one year could eliminate much of the carryover in S America scenario of an average or below crop next year. 
For information on attending our mid-July summer conference in Beaver Creek, Co  see  www.gulkegroup.com  or contact info@gulkegroup.com or phone 480-285-4745;   707-365-0601.    Jerry Gulke.
Catch all Jerry's reports by visiting AgWeb.com/Gulke.