Saving a potential $60 per acre requires impeccable management 
In the vast sea of southeast Arkansas soybean fields, Jason Smith's Desha County acreage is an island perched in agronomic isolation. Smith is a crop maverick, growing 3,000 acres of remarkably clean conventional soybeans. The path to Smith's conventional soybean conversion was dictated by economic necessity—the need for a young farmer to save money.

"I didn't get into conventionals for a premium; I got into them to save money on seed costs," says Smith of SMS Planting Co., Watson, Ark. 
As a young farmer, Smith carried significant debt and wanted to funnel profit toward grain bin storage and land investment. In 2006, he rearranged his farming practices and began an incremental transfer of genetically modified (GM) soybean acreage to conventional varieties. By 2014, his soybean acreage was entirely conventional.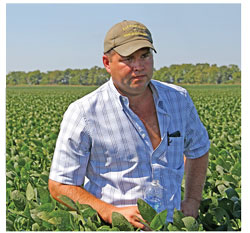 In order to reinvest in his operation, Jason Smith, SMS Planting Co., Watson, Ark., switched all of his 3,000 acres to conventional soybeans to save money on seed.
"You don't just jump into conventional beans," Smith says. "It takes time and a plan."

Smith runs germination tests on soybeans in the fall and spring, typically planting five to six varieties each year. He plants production beans from April to May and seed beans from June to July 4.

In 2015, he planted GoSoy 483, Armor 49C3 and University of Arkansas (UA) Osage for his main production and UA 483, UA 484, Glider, Armor 49C3, UA 5612, UA 49C3 and UA Osage for seed. In addition, Smith is growing 80 acres of UA 5814HP for seed for the Natural Soybean & Grain Alliance (NSGA). His seed soybeans are cleaned and stored by Dumas Seed Cleaners. Before planting, Smith uses a Cruiser-ApronMaxx seed treatment combination with an inoculant.

Smith figures he saves $60 per acre by planting conventional varieties. "Across 3,000 acres, I'm saving $180,000 I can spend elsewhere on the farm or not spend at all," he adds. "I like the math."

Lanny Ashlock, NSGA board member, has taken note of Smith's ability to reduce his overall out-of-pocket production costs while using conventional soybean varieties. "He's invested the savings into grain storage facilities, which is enabling him to market his crops more effectively while improving the efficiency of his overall farm operation."
With one year's bounty coming from the previous year's seed, every crop is linked in a timing chain. Smith sprays for weeds at planting or risks falling behind. He sprays bare dirt when possible, a testament to starting clean. It's a simple maxim in the Delta—get pigweed early or cut it with a combine. 

Smith won't plant unless the window is big enough to allow for a pre-emerge application. He follows later with at least one over-the-top application. "We're on time all the time with one commercial sized spray rig with an 80' boom," he says. "We spray the day we plant. No waiting."

Just before going over the top with Select and Prefix, Smith plows all his soybean middles. He credits autosteer as a plow revival mechanism. 

Ashlock describes Smith's weed control program as outstanding. "Jason epitomizes the importance of the 'man' in management," he explains. "His commitment to apply the correct herbicide at the correct rate and at the correct time is legendary, and the results speak for themselves. His soybean production consists of basically weed-free fields of conventional varieties."

What about drift worries? There's no substitute for making your farming neighbors, aerial applicators and custom applicators aware of your conventional system, Smith notes. During the first few years of his transition, Smith took no chances by running advertisements about his conventional fields in his local newspaper.
Seeding rates increase as the season progresses. Smith plants at 150,000 in early spring, rising to 174,000 in June. On soybeans after wheat, particularly on dryland, he boosts the seeding rate to 220,000. Essentially, Smith drops more seed in the ground as the season passes, attempting to gain full canopy and capture maximum light.

Yields on Smith's conventional soybeans average more than 50 bu. per acre, and he's cut in the high-50 range in the past several years. 

Marketing conventional soybeans can be difficult, Smith notes, but there are options for a producer with the right equipment and storage. Companies typically don't want conventionals right out of the field, a burden for producers lacking adequate storage. "They may not call for the beans until March, but they pay the basis up front and then pay you to store the beans."

Smith has an acre and a bushel contract with Ozark Mountain Poultry. 
Overall, the demand for non-GM crops is promising. By 2017, the U.S. market for all non-GM crops is estimated to grow to roughly $200 billion, with some estimates putting the worldwide market close to $800 billion in that same time frame, notes Kelly Cartwright, executive director of NSGA. How does that growing demand translate to the field? 

"For soybeans, our research and experience show producers can potentially obtain a premium from $1 to as much as $3 for conventionally grown, non-GM soybeans, depending on variety, current market demands and other variables," Cartwright says. "It varies depending on food grade compared to commodity grade, with food-grade soybeans typically receiving a higher premium."

Smith gets calls each fall from farmers interested in conventional soybean possibilities. "Farmers like the idea, but it's so far from their practices the past 20 years," he says. "I'm saving money I can use elsewhere on my farm. GM technologies are great, but nobody should think they have to be present on every acre."
---
New Conventional Soybean Release Offers High Protein and Competitive Yield
As feed markets increase demand for conventional soybeans with superior yields and high protein levels, the Natural Soybean & Grain Alliance (NSGA) has high hopes for UA 5814HP, a new variety commercially available beginning in fall 2015. 

Branded as Ashlock HP5A by the NSGA, the variety offers lower seed cost, high protein levels, no yield drag and potential for premium pricing, says Pengyin Chen, University of Arkansas Division of Agriculture soybean breeder, who developed the variety. "The protein level averages 5% better than other commodity soybeans, and yield is very competitive. Hopefully, we'll have 10,000 acres planted next year with acreage expected to increase over time."

Jason Smith, SMS Planting Co., Watson, Ark., planted 80 acres of Ashlock HP5A in 2015 on raised beds with 30"-row spacing at 134,000 seeds per acre. He says the variety held strong, particularly after 8.5" of rain on July 5. "The bottom 30 acres were under water for almost three days. Many farmers lost beans completely, but this 5814 was tough and only 10% died. 5814 handled the excess water great, and that's so important," Smith explains.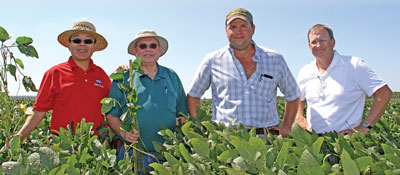 Ashlock HP5A, a new conventional soybean variety, will be commercially available this fall. The variety is named in honor of Lanny Ashlock, Natural Soybean & Grain Alliance (NSGA) board member, also known as "Mr. Soybean," second from left. Also pictured: Pengyin Chen, University of Arkansas Division of Agriculture soybean breeder; Jason Smith, SMS Planting Co., Watson, Ark.; and Kelly Cartwright, NSGA executive director.