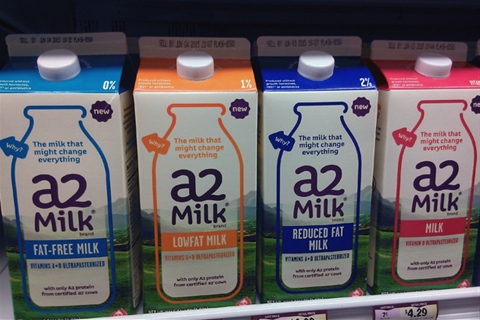 The a2 Milk Co. brings its digestion-friendly milk to the U.S. market.
Reaching for a glass of milk may not appeal to the 25% of Americans who suffer from post-dairy digestive discomfort.
But The a2 Milk Co. hopes to change that.
In April, the New Zealand-based company launched its a2 milk® brand in the U.S., bringing to the market a product it believes will attract consumers back to the dairy case with what it calls "the milk that might change everything."
The ultra-pasteurized milk carries all the qualities of conventional fresh milk with one small but important difference.
The company's milk comes from cows that only produce the A2 beta casein protein, found in 30% of typical U.S. dairy herds, says Jeff O'Neill, CEO of The a2 Milk Co. Those cows lack the A1 protein marker, which studies suggest is responsible for reported difficulty in digesting milk. (Most cows carry a mix of the naturally occurring A1 and A2.)
The a2 Milk Co. has developed a proprietary genetic test to identify A2 cows so their milk can be segregated for its supply chain. The company says its entry into the U.S. market should encourage milk-sensitive consumers to rethink dairy and bring it back to their daily routines.
"We're here to get milk lovers back to drinking milk again," says O'Neill, who's based in Boulder, Colo.
The a2 Milk Co. has already captured nearly 10% of Australia's premium milk market, O'Neill says. The company plans to spend $20 million over the next three years to build out its product in the U.S. That will include investment in dairies and processing operations, both of which require strict quality standards to ensure the end product is 100% A2 milk.
The company also will invest in additional research, consumer outreach, marketing and advertising.
"We need to show people we're serious," O'Neill says. "This is going to be a big brand. It takes a lot of investment."
So far, the a2 brand milk is being sourced from four certified dairies and nearly 2,000 cows in the U.S. Cows are genetically tested to determine which carry only the A2 protein. Byrne Dairy in Upstate New York processes the extended shelf-life milk for The a2 Milk Co.
"We're talking to a variety of other processors to establish a production and processing chain," O'Neill says.
Dan Rice of Firth, Neb., owns and operates one of the dairies providing a2 Milk.
"It's all about producing the best milk you can," Rice says. "We've seen lives change through a2 Milk. It's great to bring people back to the dairy category again." 
Rice's vertically integrated operation has its own branded milk label, Prairieland Dairy. Half of the production from his 1,300 cows goes to his brand, which is sold in Nebraska. The other half heads to the a2 processing facility in New York.
"Research has shown there is no difference in the health or reproductive or feed efficiency of A2 cows," Rice says.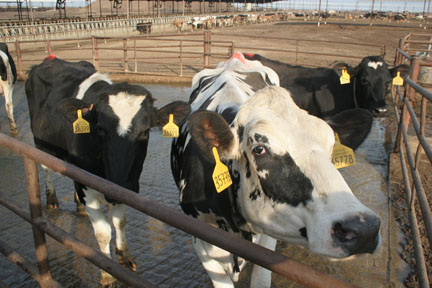 The A2 beta casein protein is found in 30% of typical U.S. dairy herds.
Producing a2 Milk requires extra efforts, from certifying his herd to keeping dairy equipment segregated. But Rice is a fan and says he's definitely in it for the long haul.
"Our goal is to be 100% a2 Milk in the next three to five years," he says. "It's worth our time and effort to do it."
Neither Rice nor O'Neill will divulge the a2 farmgate milk price. But they acknowledge it's higher than the conventional milk price. At retail, a half-gallon of a2 Milk has an introductory price of $3.79. By comparison, organic milk from Horizon or Organic Valley is fetching $5.49 per half-gallon.
The company has been focused on getting established in Southern California, where customer response to a2 milk has been "fantastic," says O'Neill. The brand will roll into Northern California this summer.
Appearing in major stores, such as Whole Foods, Kroger and Sprouts, a2 milk is generating "a lot of interest from other major chains," he adds.
The a2 Milk Co. is steadily growing in New Zealand, Great Britain and China. The company also sells infant formula in China and plans further development in Asian markets.
An emerging body of research, including an independent U.S. study in 2009 published in Nutrition Today, shows that one in four Americans feel discomfort after drinking milk, says Bonnie Johnson, nutrition director for The a2 Milk Co. A large proportion of them are misdiagnosing themselves as lactose intolerant.
Additionally, a recent human study, published in the European Journal of Clinical Nutrition in 2014, found that A1 beta-casein protein digests differently than A2.
"We hope that the availability of a2 Milk in the U.S. will reverse the trend of declining milk consumption and improve the nutritional health of Americans," Johnson says.