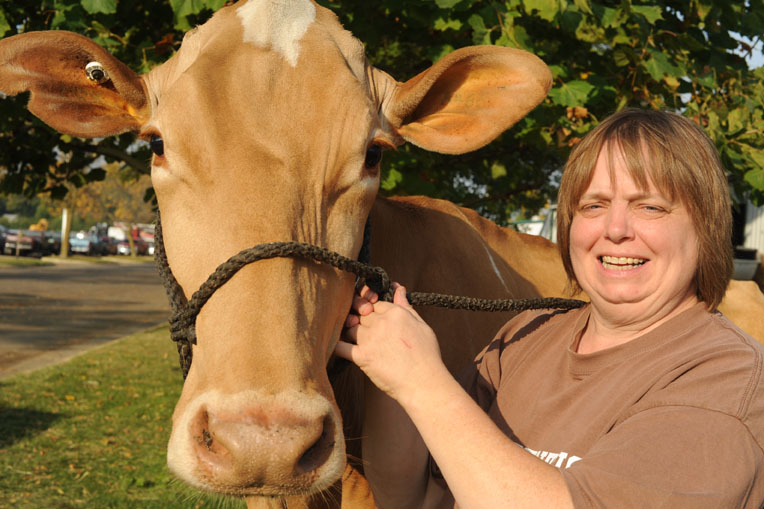 Cattle from the colored breeds are enjoying a surge in popularity at World Dairy Expo.
Splashes of color abound in Madison when World Dairy Expo (WDE) commences each year in early October. The tree leaves are beginning to change, offering a hint that autumn has arrived. University of Wisconsin football fans scurry about town decked out in cardinal red wearing apparel. Even the water in the city's four major lakes seems to take on a shimmering blue hue not necessarily seen at other times of year.
Donna Anderson
David Koss
Ken Main and Peter Vail
World Dairy Expo does it part to expand the city's fall color palette by hosting shows and sales for each of the dairy industry's so-called colored breeds – Ayrshire, Brown Swiss, Guernsey, Jersey and Milking Shorthorn.
In recent years, the number of cattle from many of these breeds participating at Expo has been steadily increasing, indicating that the industry is showing a greater appreciation for what the breeds have to offer in today's dairy marketplace.
Guernsey breeder Donna Anderson needs no convincing. Guernsey dairy cattle have been a part of her life for as long as she can remember.
She grew up on a registered Guernsey farm in southern Illinois. And, for nearly three decades, she and her husband, David, have been milking Guernseys on their Up The Creek Farm near Lester Prairie, Minn. "He was milking them when we got married in 1985," she says.
Anderson readily acknowledges that some of her attachment to the breed is based in aesthetics. "In my opinion, the Guernsey is one of the most gentle dairy breeds," she says. "They're really docile and easy to work with. And that color of theirs is so wonderful when you see them out on nice green grass in the spring and summer."
There are of course, business advantages to the breed as well. "Their milk is very high in components," says Anderson, noting that the 55 milk cows at Up The Creek produce just over 16,000 lbs of milk with a 5.0% butterfat test and 3.5% protein test. "With companies paying premiums for butterfat and protein, that's definitely a plus."
She adds that high-end Guernseys are relatively affordable. "If you're looking for a top-quality animal, you'll often pay a lot less for a good Guernsey than you will for an average animal from some of the other breeds."
Anderson made her first appearance in the World Dairy Expo Showring in 1973, with a Guernsey cow. She's been coming back for the International Guernsey Show every year since. She says the breed has changed in a lot of ways over the years. "The cattle have become taller and longer. Milk production has gone up, and we've seen a lot of improvement in feet and legs."
As a cattle exhibitor, Anderson says, World Dairy Expo is a tough venue to beat. "You can learn so much. All of the top breeders and herds are here. You can spend time talking to them and learning what sires they're using in their herds and what they're doing to improve. You get a lot of ideas from all the back and forth that takes place."
While the Showring is the focal point for Anderson during Expo week, she makes it a point to allocate some time of her time in Madison to visiting exhibits at the WDE Trade Show. "There are so many displays," she says. "You can go through and see all kinds of milking equipment, dairy supplies, field machinery and more. It is a great place to learn about everything that's new in the dairy business."
There's a social component to the event as well. "You make a lot of friends from all over the country and all over the world. You look forward to seeing them each year and catching up on what's going on with them. It becomes a family."
Ayrshires are the breed of choice for David Koss, of Ski-pal Ayrshires in Epworth, Iowa. "Ayrshires are very hardy, strong and healthy," says Koss, who farms 300 aces. He raises replacement heifers on one farm and milks 20 cows at another location.
"That's important in today's dairy business environment because vet bills can be tremendous. Most people who have Ayrshires say their cows have very few health problems in general. And if the cows do get ill, they tend to recover very quickly and easily."
Cows from the breed also produce milk that is a good fit in today's market, says Koss. "Their milk is very balanced, high in components like protein and butterfat. And production for the breed overall has been coming up with more breeders emphasizing udder capacity."
Frame size is another Ayrshire attribute, according to Koss. "In a lot of ways, Ayrshires are really an ideal size for a milk cow," he says. "They're not too big and they're not too small. They fit into different kinds of parlor setups, so they're easy to work with. But they're still big enough to have a salvage value when they come to the end of their milking days."
Koss has been exhibiting at Expo since the mid-1980s. Among his accomplishments at the International Ayrshire Show at Expo are a Grand Champion title in 1995, Reserve Grand Champion award in 1994 and numerous class awards over the years.
"There's really no other experience like this anywhere else in the world," Koss says of Expo. "The best thing is that you can learn so much on all kinds of different levels. The Trade Show is fantastic. And you get to meet people from other countries and get their perspective on the dairy industry."
"But the very best thing to me is that you can learn so much about cattle. The very best dairy producers, cow people and cattle judges come to this show. All you have to do is walk through the barns, keep your eyes and ears open. You can't help but pick up something new that you can use to make your own operation better once you get back home."

Ask Ken Main and Peter Vail why they choose to milk Brown Swiss cows at their Elite Dairy near Copake, N.Y., and they'll respond quickly with a long litany of the breed's attributes. Among the major dairy breeds, they note, Brown Swiss rank just behind Holsteins in total milk production. The milk Brown Swiss produce, they add, is high in protein and butterfat making it ideal for cheese-making. And cattle from the breed are highly adaptable and perform well in both hot and cold environments.
"And they just keep getting better and better," says Main. "In the past decade or so, Brown Swiss breeders have done a very good job of improving the size, dairy strength and udders of their animals."
Main and Vail have certainly done their best to take advantage of those attributes, both on the farm and in the Showring. Currently, on 2X milking, the 60-cow milk string at Elite Dairy produces around 21,000 lbs of milk with 4.5% butterfat and 3.7% protein. At the International Brown Swiss Show, held annually during World Dairy Expo, they've captured three Grand Champion Female titles (including last year with
Cutting Edge B Gretchen-ET) and a Reserve Grand Champion award since they started showing here in 2004. They've also had numerous all-American animals.
"Expo is the top dairy show in the country and, for that matter, the world," says Vail. "Just competing here at this level is something you can be proud of. And when you do well at this show, it says something about you and your cattle to the entire industry."