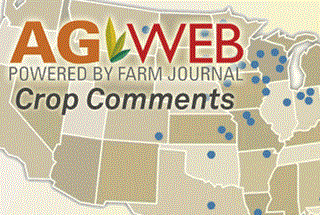 As the year winds down, it's fun to remember the ups and the downs of the 2014 growing season. From California to the Corn Belt, here's what farmers had to say about their fields, the weather, and more, as told to AgWeb's Crop Comments in 2014.
2/6 - San Diego, Calif.: This huge dip in the jet stream east of the Rockies that has brought record cold & snow to the eastern U.S. is going to flip. A warm, dry late spring & summer in the Midwest & Eastern U.S. By late summer, I expect record prices in grains. Don't sell, boys & girls.
 
2/14 - Jefferson County, Ill.: The snow is still on the ground from the last snow storm we had about a week ago. It was 40 degrees here for the first time since November. It supposed to stay in the upper 30's for the next week but they are talking snow again today (Friday 14th). The snow can quit anytime now!
 
3/25 - College Station, Texas: Though it may seem like a return of Dust Bowl days to some Texas High Plains farmers and ranchers, we're not there yet —at least not quite, according to Dr. John Neilsen-Gammon, state climatologist, College Station. However, this week's reports from Texas A&M AgriLife Extension Service county agents do give evidence of some very difficult working conditions for producers in the Panhandle, South Plains and Rolling Plains regions. Mark Brown, AgriLife Extension agent for Lubbock County, reported only a trace of moisture for March with sustained high winds and gusts of 58 mph on March 18 accompanied by blowing dust.
3/31 - Sargent County, N.D.: Out like a lion, that's how March left us. Blizzard conditions will set spring planting back at least another week. Yuck. More snow to shovel in the morning. Frost was out a few inches. 40-50 mph winds has piled the snow up and that makes such a mess. No early start expected here so less wheat is the most likely result. Good luck to those with newborn calves.
 
4/25 - East Central Mo.: we have been blessed with a perfect spring in this area....finally! Corn went in the best we ever had. Everyone is cautious as Mo weather is known for extremes....can go from really good to really bad overnight. But we are giving thx right now.
 
4/28 - Giles County, Tenn.: 80% planted corn, 20% planted soybeans, has been good so far, corn emerging in 8 days, stand good. Beans in ground 2 days. Forecast 1-5" rain, tornadoes, flash floods, but warm....
 
5/19 - Platte County, Neb.: 24 degrees Thursday night, 30 degrees last night. Corn planted day after Easter froze pretty hard. I think it will be alright but will have to wait a few days to know. Otherwise corn planting pretty much done and beans mostly done around here. A few beans were emerged, I suppose they will have to be replanted.
 
5/22 - Lac Qui Parle County, Minn.: More rain and cool temps here. Ground is very wet. No beans in the ground at all. What little corn that is planted is just now coming up. Really need some warm and dry weather to get things moving again. Wheat looks pretty good. Most has headed out and some flowering occurring. Saw some sprayer planes fly over. Must be applying fungicide to wheat somewhere.
 
6/4 - Perry County, Pa.: Finished corn on May 24, all now emerged. Finished beans on June 1, most emerged. Got new Great Plains drill this year, best bean emergence and stand ever, new planters are great!! Too many rain showers to make dry hay, will have to wait awhile. Grass hay short due to cold spring but I will not complain about rain, will need this summer!!
 
6/10 - Custer County, Neb.: We awoke to 2.1 inches in the rain gauge. It is still raining at this time. I think this is the most rain we have received in one event since October of 2012. This will help the grass and crops tremendously. Crops in this area look good. The no till looks uneven to me. The conventional looks better. The best looking corn to me is the strip tilled ground. Great stands and good color. Corn ranges in height from 2 leaf to ankle high. Soybeans are doing good also. The no till beans in heavy residue are just starting to turn the field green when you look across them. One thing is for sure, the corn is going to change amazingly fast now. Some will be knee high by middle of next week. In my conversations with fellow cattlemen, most have all the cows out to summer pasture. A lot of guys delayed turnout as long as possible in an effort to help the grass get established. We had late frosts that slowed development earlier, plus it was very dry and not much moisture in the ground. The recent rains have sure adjusted my thoughts on the potential for crops and cattle this summer. We are very blessed with the recent rains.
 
7/18 - Jackson County, Iowa: Crops look good and it's time for the livestock guys to see some black ink on cheap corn. We are overdue.
7/21 - Monroe County, Mich.: Corn planted first part of may is pollinating but it is getting very dry, 2.5" of rain since June 1. All crops on lighter soils will be done without rain next week. 30 miles nw of us many fields not planted or way behind.
 
8/5 - Sauk County, Wis.: In the month of July we only received about a inch of rain. Now on Monday the 4th of August received 2.75 of rain in 5 hours. What a blessing. Crops were still doing ok but this may have put the icing on the cake. But you never know. Here is hoping that the frost stays away till around the 10th to the 15th of October.
 
8/13 - Nobles County, Minn.: Dry here. Have not had any substantial moisture for nearly 3 weeks. Went out and did a count on harvestable ears. Had major emergence problems, very uneven. Some corn came up 2-3 weeks later than the kernel next to it. We'll obviously those issues do not correct themselves. I planted 34,500 pop and now I am counting 18 to 22 good ears. Not good! Some of the issues were obviously variety related some of it planting April 26th. Either way no record crop here and shrinking by the day. Our corn crop is 7 to 10 days behind normal. Need a very late frost.
 
9/25 - Stearns County, Minn.: My corn silage harvest is done. Soybeans are yellow and should be ready to harvest in 10 days. Corn is at other further along than half milk line and is starting to dry down. My crop was not stressed at all during the summer but it was late planting this spring. Early estimates: 180 corn and 55 soybeans. My silage strips were at 160 and that was my poorer ground. Buying a bunch more feeder calves today. That'll take a bite into my checkbook. Stay safe everyone and go Vikes!
 
9/26 - Greene County, Iowa: The crops look great here in Western Iowa, hope to start on beans next week if weather permits. I know no one is happy about the current prices, but betting on a crop problem has never been a good marketing plan in my book. A $5 put in May cost us $.35/bu today they are worth $1.74/bu...spend the money and buy the price insurance. The market doesn't care what our breakeven price is and no end user has to pay us what we want. A couple other things to think about is the fact that the dollar hasn't been this high since 2010 and barge and rail tariff rates are at all time highs. Nothing is working in the farmer's favor this year, look at what happened to North Dakota basis last year if you don't think this matters.
 
10/14 - Custer County, Neb.: Harvest is under way in this area. Soybeans are 2/3 - 3/4 complete in this area. We should finish by tonight. Our yields have been off due to hail. In the areas with no hail, yields have been very good. 70 plus on irrigated. Those yield levels are normal for this area. With the corn, silage harvest has been done for quite a while. The producers that cut high moisture corn are hard at it. That will probably wrap up this week. Either their contracts will be filled, or more likely, moisture levels are dropping below hmc percentages. Where there was no hail, yields on the irrigated will be very good. Dryland corn is hit and miss. All of our corn has been hailed this summer. We are usually spread out enough that it doesn't all get hit. Damage levels range from cosmetic and little yield loss, all the way to 60% or more yield loss. I have cut a little for high moisture, I estimated its yield at 185 bu. Off from where it should be by at least 15 bu. We have 60% of our calves weaned. The weather has been good for that. Have only treated one for sickness. She bounced back quickly. The prices for calves right off the cow have been really good. It's hard to believe. The cattle are a definite bright spot. It looks like they will be strong for a while. Enjoy it while it lasts. With all that mother nature has thrown at us in this area, we should weather it all just fine. We are going to continue to try to follow the same general plan next year. My theory is to not make drastic changes off one year's experience. We have been successful up to this point, and with hard work and a little luck, we should continue to be successful. Have a safe fall.
 
10/23 - Central Ind.: Soybean harvest got started here again in central Indiana on Wednesday afternoon. This is what happens when the auger at the grain bin broke down for a little while everything filled up quickly.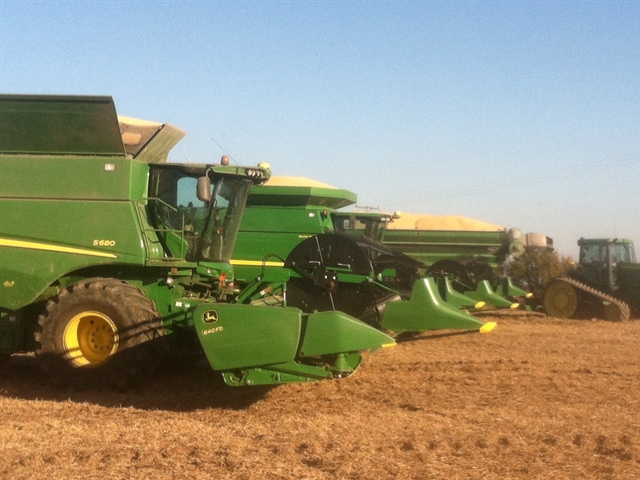 11/10 - DeKalb County, Mo.: Done with beans. 3.2 went 35-40, 3.7 went around 30. Not bad for a late planting. Lots of 3 bean pods that actually only had 2. Start with corn now. In response to conspiracy theorists, just remember high prices cure high prices and low prices cure low prices. We and the world are raising record amounts of grain and I've seen prices lots lower than this, even inflation adjusted.
 
11/24 - Canyon County, Idaho: Last week's record early snow fall and cold caught us with none of our 2015 potato fields bedded up for winter.  We had been waiting for the fumigation to finish working, and the storm hit before the waiting period was over.  So this week we discovered that the cold had kept any of the snow from melting and insulated the soil against the below zero temperatures, allowing us to start bedding -- IN THE SNOW.  I'll admit I've never done anything like this before, and it would have been impossible without GPS. Thank you, Trimble! Hoping everyone is staying warm and safe.  Have a happy and blessed Thanksgiving!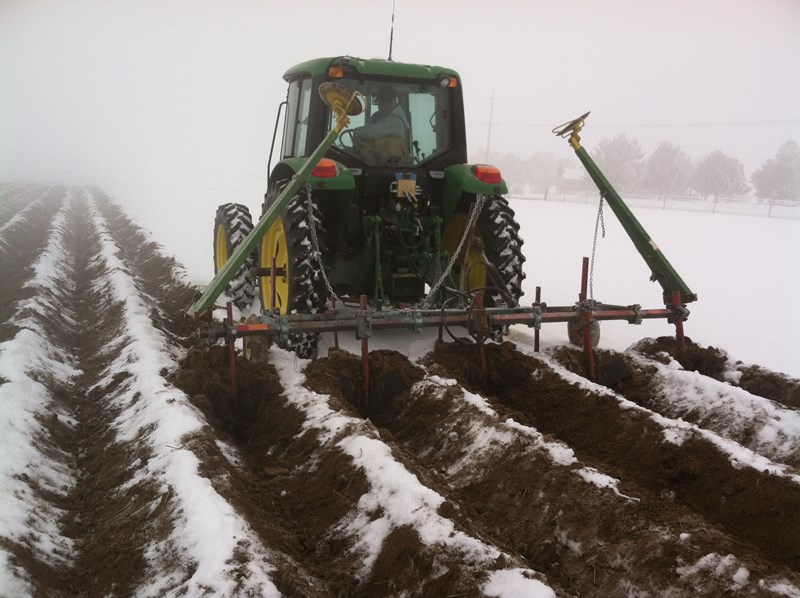 12/3 - Union County, N.C.: Crops are in and very thankful for nice harvest weather when looking at the terrible conditions seen up north.  Now taking care of a little extra brush removal in needed areas.  Love these machines, they are fast and leave the cleared area in excellent condition.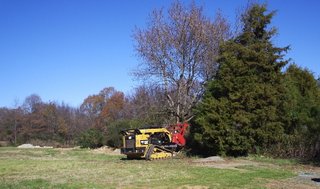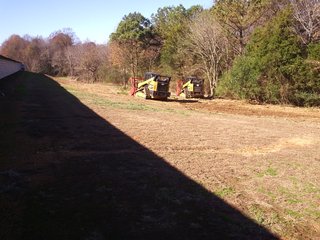 12/11 - Swift County, Minn.: well the dust (rather snow) has settled on this 2014 crop... still not seeing and movement of grain to the elevators some to ethanol plants  however. There are no piles of grain here in commercial storage quite the opposite--very little was hauled into town--capacity as some elevators seen at only 25% full! It's a function of low prices and a crop that was far below what was advertised.  Heard lots of acres in that 145-150 yield zone and soybeans 45-52. The basis and flat prices are firming.