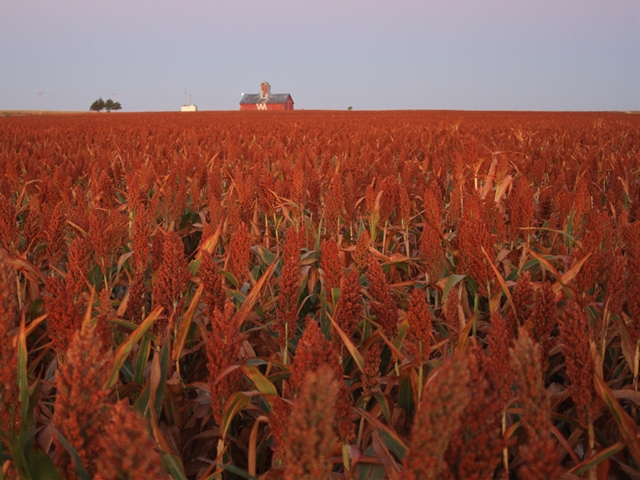 Farmers are finding ripe opportunities to plant grain sorghum. Clear market signals are pointing toward the need for more grain sorghum acres in the United States, and as sorghum grows increasingly profitable, it offers producers an avenue toward consistent use.

China's demand for U.S. grain sorghum is rising, with 293 million bushels committed – clipping last year's mark by 29%. Exports accounted for 52% of market share in 2014 – dominated by China's demand. In 2014, China accounted for 90% of the export market, taking in 168 million bushels. At the Commodity Classic in Phoenix, Ariz., National Sorghum Producers CEO Tim Lust said the strong basis for new crop sorghum shows growers the market is primed. "From a grower standpoint, in order to maximize profitability, you need to use extra inputs – whether fertilizer, fungicide or extra seed treatment," Lust said. "Growers can go for those top yields when they know the demand is in place."
Increased foreign demand begets increased acres for U.S. farmers. However, domestic sorghum demand is also building as the food arena moves toward increased sorghum use, from cereal to bread and pastries. "It's not only from a gluten-free standpoint, but is easily used as a whole grain," said Florentino Lopez, executive director, United Sorghum Checkoff Program. "Sorghum brings a variety of attributes into the kitchen that still are in the discovery process."
For the food industry, sorghum has gone beyond research and development, and is at the commercialization stage. "This is a rapid growth segment and we've got contract production popping up across the United States. Demand is there from major food companies and niche food companies," noted Lust.
Mike Henson, a producer from Ropesville, Texas, is taking advantage of the demand and produced a bin-busting 246 bu. per acre sorghum crop in 2014. "I'm a long-time cotton farmer. My grandfather was a milo and cotton farmer in West Texas, and the No. 1 thing he taught me was to take care of the land and the land would take care of me," Henson said. "That's part of the reason I rotate milo, not to mention water conservation. When I finish milo, I move the water over to my cotton." In 2015, Henson will increase his sorghum acreage by 35% to 40%.
How long will demand last? China has bought sorghum for 24 consecutive months, according to Lopez. There is a tariff-rate quota set for corn at 2.88 million metric tons and that leaves a shortfall of 8 million metric tons – numbers that bode very well for U.S. farmers. "Grain sorghum demand today far exceeds supply, and we believe supply has to come up and match demand," Lopez said. "That will take a number of years and growing seasons. From a Checkoff standpoint, we feel very confident that our goal is to continue creating opportunities."