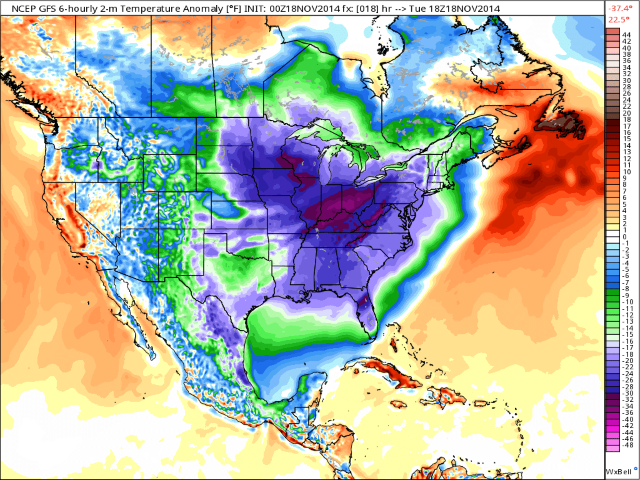 The last time it was this cold in November in the United States, the Bee Gees were No. 1 on the pop charts. Early Tuesday morning (11/18), the Lower-48 saw temperatures sink to an average of 19.4 degrees – the lowest countrywide average in November posted since 1976.
"More than 85% of the surface area of the Lower-48 reached or fell below freezing Tuesday morning," says Ryan Maue, a weather news editor with WeatherBELL. "All 50 states saw at- or below-freezing temperatures on Tuesday."
Maue says the U.S. saw record lows stretching from Idaho to Nebraska and Iowa south to Texas and east through the Great Lakes. Temperatures east of the Rockies will be 20-40°F below climate normal, he says.
"Compared to normal, temperatures over the past several days have dropped off a cliff – more anomalous than even during the polar vortex of early January," Maue says. "November is shaping up to be a colder-than-normal month by a lot."
Thursday, Nov. 20, is expected to bring a reinforcement of cold air that originated from the North Pole and Siberia to the Great Lakes region, Maue adds. Areas that include Chicago, Minneapolis and Detroit will struggle to see temperatures rise above freezing until at least Saturday, he says.
Stay on top of emerging weather news and analysis, plus dive into more than a dozen maps that track temperature, rainfall, soil moisture, frost warnings and much more at http://www.agweb.com/weather/. Share your best wintertime stories on AgWeb's Winter 2014-15 discussion thread.