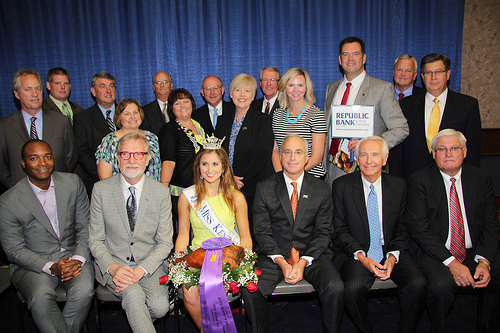 A savvy shopper could pick up a 16-pound ham at the grocery store for around $100. That's a pittance by Kentucky State Fair standards, where the Grand Champion country ham has gone for increasingly astronomical amounts. This year's entry fetched a record $2 million at Kentucky Farm Bureau's (KFB) 51st annual Country Ham Breakfast & Auction on Aug. 21.
KFB reports that rival bidders joined forces after prices skyrocketed. Republic Bank & Trust Company paired up with Hermitage Farms and Bridgeman Foods to tally the winning bid. The 15.89-pound ham was produced by Broadbent's B&B Foods in Kuttawa, Kentucky. That makes the ham worth more than $125,000 per pound.
"It was a wonderful opportunity to be able to double the ability to give to the community," says Steve Wilson of Hermitage Farms. "I think the ham is a wonderful symbol of the bounty of the agricultural products in Kentucky - a good symbol of charity and sharing food."
The money – as well as the ham itself – will all be donated to area charities.
"It's an amazingly successful day when we can place the spotlight on Kentucky's deep agricultural roots and help bring about a multi-million dollar donation to local charities," said Joe Cain, KFB's commodity director and ham breakfast event coordinator.
This particular auction started with humble beginnings – the winning bid in 1964 was a modest $124 dollars – but has grown at an exponential clip in recent years. The average winning bid over the past decade has been $739,000. The previous record came in 2010, when the winning bid clocked in at $1.6 million.
KFB says it has raised about $8.9 million for dozens of local charities, educational institutions and non-profit organizations over the course of the 51-year history of the auction.