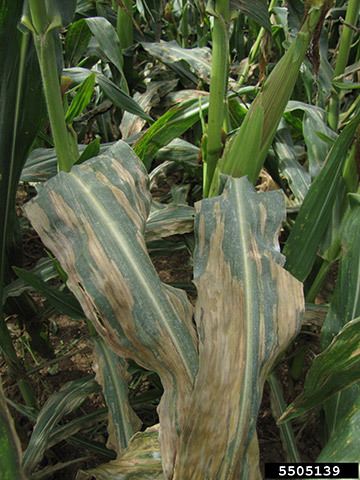 Have you experienced milder temperatures this summer? High humidity? Frequent rainfall? These factors may add up to prime conditions for Northern corn leaf blight (NCLB) to make an appearance, according to university Extension specialists and agribusiness agronomists.
"Weather conditions continue to be favorable for many diseases," says Tamra Jackson-Ziems, Extension plant pathologist with the University of Nebraska-Lincoln. "Producers and consultants should monitor the severity of these and other diseases and their potential for impacting yield to assess the need for treatment."
Nebraska isn't the only state with NCLB in its sites. Other Corn Belt states are experiencing the pressure, too, including numerous reports from Iowa, Illinois and Indiana. Affected corn usually has one or more of the following symptoms: water-soaked lesions, wilting, discoloration, internal decay and a sometimes unpleasant odor.
In the videos below, Jackson and Kiersten Wise, associate Extension plant pathologist at Purdue University, offer more insights on NCLB, including scouting tips.
Other symptoms on the leaves could be confused with Goss's wilt, such as the dark freckles near the edges of lesions, she says. That's an important distinction to make because Goss's wilt is a bacterial disease, rendering fungicide sprays ineffective.
An integrated approach to treating NCLB is typically needed, according to Alison Robertson, field crops pathologist with Iowa State University.
"Fungicides may be used to reduce yield losses due to NCLB," she says. "Numerous fungicide trials across the Midwest have found that products that contain a triazole are usually more effective than products that are more effective than those that do not contain this chemistry. To optimize fungicide efficacy, ensure good coverage of the canopy, and pay attention to nozzle type, sprayer pressure and application volume."
Robertson adds that fields with NCLB should be rotated to a non-host crop such as soybeans the following year to keep pathogen levels from spiking again in 2015.
For those adamant in continuing a corn-on-corn rotation in the wake of an NCLB infection, A.J. Woodyard, BASF technical crop production specialist, offers three pieces of advice.
"One would be trying to manage your residue," he says. "We want to get as much of that residue buried below ground and not allow that fungal spore to germinate and splash up onto the plant. The other thing would be to manage it through hybrid tolerance. The last thing would be proactive fungicide applications."
Current corn economics may make some farmers hesitant to spray fungicides, Wise says. Even so, it's important to scout fields and determine if northern corn leaf blight is present in susceptible hybrids in high-risk fields for disease development, including fields in minimum or no-till or continuous corn.
To talk about NCLB and other crop-production topics, join the conversation on the AgWeb discussion boards.