If it's not a tractor, and it's not a prototype, what is the ETRION operatorless ag vehicle doing at Agritechnica? Well, it's Claas's way of showing how the company is looking at future solutions to machinery demands.
This specific project started in 2008 as London-based designer Merlyn Gray gathered a group of tractor engineers at Claas Tractor in Velizy to explore the future of ag machinery.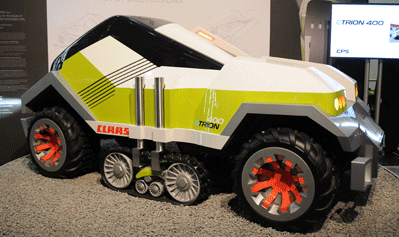 The ETRION 400 at Agritechnica aims to be pure inspiration. ETRION stands for Eelectromobility, Trac, Rad (Germany for wheel), and ION (a typical suffix). The crew put 400 at the end of the name to indicate where they think horsepower ranges for smaller equipment could be heading.
One aspect that the engineers felt needed to be included in the future was being able to deliver traction in the field. This includes minimizing soil compaction, providing maneuverability, and staying within the narrow transport restrictions of the European countries. As they explored these issues, the engineers started drawing the foundation for the new generation of Terra Trac.
Another are the team wanted to explore was efficiency. To maximize efficiency, they knew they had to look to the drivetrain and power supply. This led to the concept of Claas Power Systems, which the company says will be more inclusive of possible solutions and technologies than exclusive in what it explores as feasible.
And the third area this design crew dug deeper into is intuitive handling. With more horsepower, high speeds and ease of maneuverability, efficiency and convenience can be increased. This includes front and rear implements and plug-in technologies. Although the ETRION doesn't have a cab, the Claas team knows there are further advancements in the operator's environment to make.