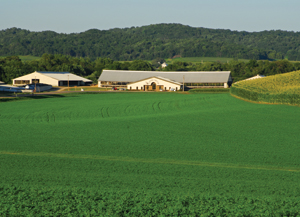 An explosive new analysis of the Foundation for the Future plan proposed by the National Milk Producers Federation (NMPF) suggests there will be regional winners and losers if and when the growth management portion of the program kicks in.

The study was conducted by Informa Economics and funded by the International Dairy Foods Association (IDFA). "This report shows that the NMPF growth management plan will take money out of dairy farmers' pockets when they need it most," says Connie Tipton, CEO of IDFA. "And the regional differences highlighted by the study show that this policy would impose greater penalties on some regions."

If the program had been in place from 2000 to 2009, the Informa analysis suggests, the growth management portion of it would have been activated four times, with deductions in effect 18 months during the period.

The growth management plan, referred to as the Dairy Market Stabilization Program, would activate if the national milk-feed margin falls below $6 per cwt. for two consecutive months. Producers would then receive a 30-day notice that they will be paid just 98% of their average milk production in the previous three months.

If producers reduced their milk marketings 2%, they would not be assessed any charges. If they didn't, they would be paid for just 98% of their monthly milk base.

The Informa study shows that from 2000 through 2009, Wisconsin producers would have paid $150 million under the plan. New York producers would have contributed $63.6 million; Minnesota, $51.3 million; and Pennsylvania, $33.5 million. California producers would have contributed a "mere" $28.2 million.

Wisconsin, New York, Minnesota and Pennsylvania produce about 30% of the nation's milk. But these four states would have contributed nearly half of the $625 million in withheld milk payments under the plan. In contrast, California, which produces 20% or more of the nation's milk, would have paid in just 4.5% of the withheld payments.
Time, place and circumstance would have all played a role in determining which states pay and when they pay if FFTF had been in place.

For example, in 2009, California producers had to cut back production because many of their plants were at capacity and had capped the amount of milk producers could deliver. In addition, California producers buy much of their protein and energy; with high feed prices hitting them hard, they had already begun to scale back. So had the FFTF growth management plan been in effect, they would have already met the required 2% cutback.

In other regions of the country, high milk prices in 2007 and 2008 encouraged more milk production. Plus, producers in the Midwest and Northeast grow much of their own feed, usually having to buy only protein to balance rations. As a result, they were somewhat insulated from high corn prices and didn't cut back as quickly. If the production cutbacks kicked in, these regions would have borne the full brunt of those deductions.

If you go back to 2003, however, the reason for FFTF going into effect was low milk prices, not high feed costs. Then, California would have paid in $14.6 million, or 13% of the nation's total. Wisconsin, New York, Minnesota and Pennsylvania would have paid in $36 million, or 32% of the total. The biggest loser in this group would have been Wisconsin, paying in $28.2 million, or 25% of the total.

The biggest random effect that would trigger whether a state's producers pay (or not) is weather, which in turn influences production per cow, says Nate Donnay, senior dairy analyst with Informa Economics. For example, had the growth management plan been triggered this past summer, Wisconsin producers might have gotten off scot-free in August and September, when milk per cow was hammered due to high heat and humidity.

The season of the year also plays a role. If the growth management plan activated in May or June, most producers would likely have to pay in, because the spring flush makes June a peak month.
IDFA wants National Milk to simply drop the growth management portion of FFTF. But if the package does not contain some mechanism to restrain production, the margin insurance portion of the plan could become prohibitively expensive.

This margin insurance, known as the Dairy Producer Margin Protection Program, pays an insurance indemnity when catastrophic losses occur. The trigger and indemnity payments have not yet been set, but it is widely believed the base level of insurance would be triggered when the milk-feed margin falls to $4 per cwt.

The Informa analysis also shows that milk production is highly inelastic. A 10% drop in milk price results in just a 0.75% drop in milk production one year later.

In other words, if milk production keeps chugging along, prices won't rebound. And if the margin triggers remain flipped for months because milk production is unrestrained, the cost of the insurance payouts could bust the federal bank.
---
National Milk Producers Response
The National Milk Producers Federation (NMPF) had not completed its analysis of the Informa Economics study in time for this article. Jerry Kozak, NMPF president and CEO, did release the following statement:
"Dairy farmers in every state saw their collective milk income drop more than $10 billion in 2009, which doesn't even include billions more in lost equity.
"This catastrophe was the result of current dairy policy that doesn't offer farmers of any size, in any state, the protections they need against catastrophic financial losses. NMPF's Foundation for the Future plan has been carefully designed to offer protection for their hard-earned equity.
"While providing all farmers in all regions a better safety net, Foundation for the Future also discourages periodic marketplace imbalances that generate enormous volatility, hurting all dairy producers."