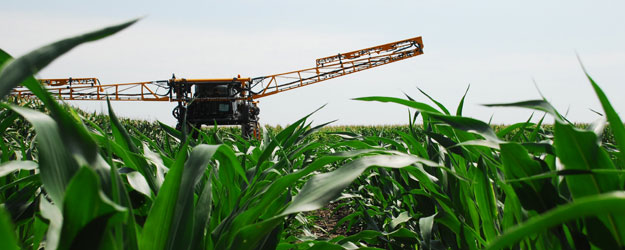 Purdue's Fred Whitford encourages farmers to squeeze more efficiency with their sprayer pass.
To make every sprayer pass a success, Purdue's Fred Whitford encourages farmers to focus on the water they are using.

"Farmers research their hybrid choices, they analyze GPS tools, and they invest in their spray systems," Whitford says. "And I am encouraging them to analyze one more facet—the water they use in their spray applications."

He says water is extremely important. In fact, it's the foundation for a successful spray application.
"When you focus on the spray droplet—the delivery of the droplet and how it interacts with the plant is key," Whitford explains. "For a pesticide to work, even a contact herbicide, the water and pesticide must get absorbed by the plant."

Whitford encourages farmers to be aware of their water quality (pH and hardness) as well as follow all label instructions when it calls for the use of adjuvants such as spreaders and oils.
Learn more about adjuvants from Fred Whitford:


For example, before you spray, your water may already be degrading your spray application's success. High pH breaks down pesticides. Here is a table showing product half-life (examples are given in each category for three products that are known to react to pH).
| | | | |
| --- | --- | --- | --- |
|   | pH 9 | pH 7 | pH 5 |
| Herbicide example A | 10 minutes | 17 hours | 16 days |
| Fungicide example A | 2 minutes | 3 hours | 10 hours |
| Insecticide example A | 24 hours | 10 days | stable |
Water pH reacts with chemicals, and in this example adjuvants can improve and modify the water.
Adjuvants is a general term that includes: antifoam agents, pH adjusters, buffering agents, water conditioning agents, surfactants, stickers, oil concentrates, drift control and humectants (which slow the evaporation of the drop).

Another example in the adjuvants category are surfactants, which can reduce surface tension. Whitford gives the example that mare's tail is an easy leaf to wet, but weeds with hairy leaves, such as fox tail, are good candidates for using surfactants in the spray tank. More often than not, the pesticide label will tell you when to add these products. Failure to follow the label for including adjuvants can decrease the efficacy of the pesticide product.

He says the key is to have a targeted focus on what you're adding to your spray tank rather than a shotgun approach. Know the issues with the water you are using, and know there are tools available to help.

Whitford gives this caution: Don't buy pesticide product on price. Often, spray chemicals are recommended to be used with an adjuvant, which will add to the total cost. And he advises farmers to follow those label instructions if you want to squeeze more out of the control program.

"Some products, they may not be effective without the adjuvant," he says. "And on the flip side, read the label. Some products should not be mixed with certain adjuvants."

Adjuvant manufacturers have established a voluntary organization for certification of these products. Farmers can look for the CPDA label on adjuvant packaging if they want to buy with confidence. They can also look for a California and Washington registration number on the adjuvant label as these two states have stringent requirements and regulatory oversight on the use of adjuvants.
Thank you to the 2014 Corn College sponsors:
AgriGold, BASF, Chevrolet, Cover Crop Solutions, FMC, Great Plains Mfg., Precision Planting, SFP, Top Third, Yetter Mfg.