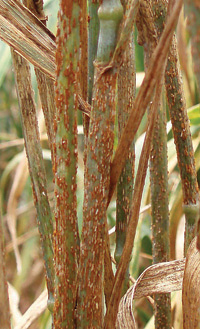 Fungal disease Ug99 threatens cereals worldwide
In less than a decade, nearly 200 scientists in 50 countries have mobilized to address the threat of Ug99, a stem rust disease that threatens cereals crops worldwide.

Scientists at the University of Minnesota and USDA–Agricultural Research Service's Cereal Disease Laboratory (CDL) in St. Paul lead much of the research on this fungal disease.

About 90% of the world's wheat has little or no protection against Ug99. To date, it has not reached the U.S., though most researchers expect it will.

"It's not a matter of if but when we will see Ug99 here," says wheat expert and Farm Journal columnist Phil Needham, who consults with wheat producers in the U.S. and Canada.

The National Association of Wheat Growers reports that more than 40 mil-lion acres of U.S. wheat are in jeopardy.

The good news, Needham says, is that fungicides are available in the U.S. to control Ug99, which is not neces-sarily true in other parts of the world.
 
Disease changes course. To date, Ug99 spores have decimated cereal crops, particularly wheat, in Kenya and Ethiopia. They have also been found in Sudan, Yemen and Iran.

"There are three variants known in South Africa and at least one in Zimbabwe," says Les Szabo, CDL research geneticist and acting research leader. The CDL is one of only two research facilities in the world that can identify races of foreign rusts.

"There's good evidence that Ug99 pathogens have been airborne and moved into Australia," he adds. "That opens up broader pathways for natural movement to occur."

The disease includes seven variants, Szabo notes, making the breeding process to develop new resistant wheat varieties more of a challenge.

"It seems like every year we are discovering a new variant," he says. "There's a lot more variation than we originally thought."

The disease is quick to adapt and overcome adversity. Szabo says that Ug99 quickly overcame single-gene resistance. As a result, scientists will need to develop wheat varieties that contain multiple resistance genes stacked in the same plant in order to effectively repel the disease.

"Major race changes have occurred after many decades, so we believe it's here to stay," Szabo says.
Nobel Peace Prize Laureate Norman Borlaug is credited as the first person to identify the threat Ug99 poses to cereal crops. He founded the Borlaug Global Rust Initiative in 2005 to address it.
The Bill & Melinda Gates Foundation and the United Kingdom's Department for International Development have contributed $66.8 million, collectively, to fight the disease.

In addition, USDA–ARS is investing $20 million during a five-year period on wheat stem rust research, including research on Ug99. To date, it has tested 14,000 lines of U.S. wheat and barley for Ug99 resistance.

Szabo notes that there are places in the world where yet another Ug99 variant could form.

"Central Asia is a key area for the pathogen where the host is very active," he says. "The
frequency of the disease is increasing. We don't know if it's that we have more eyes out on the ground looking for it or if the amount is increasing."
Ready for hurdles. In the U.S., scientists survey farmers each year to evaluate whether Ug99 has arrived.

Needham says that seed companies are already trying to incorporate Ug99 resistance into future hard and soft wheat varieties, but it might be five to 10 years before they are available.

Wheat producers should take a proactive approach to Ug99 and start scouting for it now. "Early detection followed by a timely application of a fungicide will be essential to protect yields and profits," Needham says.

Szabo is finishing a diagnostic assay for the disease and is working to genotype the Ug99 race group.

"The long-term goal is to develop genetic assay systems so that if a new race appears we can genotype it and predict where it came from," he explains. "It's molecular forensics being applied to plant pathology."

Once the assay system is developed, Szabo says, scientists will be able to test a stem rust sample and determine within 48 hours whether it is Ug99 or not. Currently, such tests take about one month to complete.