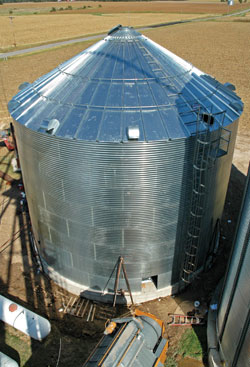 Lawmakers failed to pass a new farm bill or an extension of the 2008 bill before heading out of Washington for the November elections. The impact of the expiration of the 2008 farm bill varies, but by and large, farm programs aren't greatly affected at this point.
Conservation Reserve Program (CRP): For now, Farm Service Agency (FSA) offices are not allowed to approve any CRP contracts. Neither can they process any enrollments,
including the new acres that comply under an initiative announced by USDA in early October to target another 400,000 acres for the State Acres for Wildlife Enhancement (SAFE) effort.
FSA offices can continue to issue payments on CRP contracts that were approved prior to Oct. 1, which means the roughly $1.7 billion in CRP rental payments will be made (the process started in early October). Cost-share payments, Practice Incentive Payments (PIP) and Stewardship Incentive Program (SIP) payments can also be issued on contracts approved before Oct. 1.
FSA offices can process revisions, corrections and modifications to CRP contracts unless they result in additional funds.
Grasslands Reserve Program (GRP): The same rules apply for GRP as with CRP: As of Oct. 1, FSA offices can't approve any GRP contracts or easements or process enrollment applications. All annual, easement and cost-share payments approved before Oct. 1 will be moved forward as specified. Revisions and corrections can be made, but only if they do not result in the obligation of new funds.
Milk Income Loss Contract (MILC)program: At this point, no new applications will be accepted for the MILC program. To follow through with contracts that were in effect prior to the end of  September, producers must submit evidence of production to their FSA office by Nov. 1. FSA offices have to process MILC program payments no later than Dec. 28, 2012.
Direct and Counter-Cyclical Payment Program and Average Crop Revenue Election (ACRE): Despite the expiration of the farm bill, FSA is requiring county offices to maintain crop acreage bases for fiscal year 2013.
Farm Storage Facility Loan Program (FSFL): The federal government is currently operating on a continuing resolution for funding, which includes the FSFL program. FSA offices can review and approve applications for fiscal year 2013.
There's talk that the so-called 1949 Act, which is "permanent law," could come back to life, but that would mean reverting most of the program functions to provisions put in place decades ago. This would bring back "parity" pricing—at levels substantially above even today's lofty grain prices. Odds are slim this will become reality, as lawmakers are expected to pass an extension of the 2008 farm bill if a new bill can't be worked out in the postelection session.
Policy Briefs
SURE sign-up for 2011 crop. Enrollment in the Supplemental Revenue Assistance Payments (SURE) program started on Oct. 22 and runs through June 7, 2013. Eligible farms must reside in counties that have been declared a disaster by the Secretary of Agriculture. Contiguous counties that have incurred at least a 10% crop production or quality loss, or both, for at least one crop of economic significance, except grazed crops, and farms where production is less than 50% of normal production are also eligible.
Ethanol mandate waive: In mid-November, the Environmental Protection Agency (EPA) will decide whether or not it will waive ethanol mandates under the Renewable Fuels Standard (RFS) as requested by governors of several states. A study by the Food and Agricultural Policy Research Institute, conducted at the request of the USDA Office of the Chief Economist, indicated that the impact of a waiver would not be significant and might have more impact on the 2013/14 marketing year than on the 2012/13 marketing year, which started in September 2012. In 2008, EPA received more than 15,000 comments to waive the Texas mandate, but the agency ultimately rejected the requests.