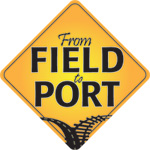 Standing next to an idling diesel locomotive is like encountering a big snorting bull in a pasture. You feel both shock and awe at the sheer mass of iron, the smell of diesel and the ground-shaking rumble of the 6,000-hp engine.

Because of its unique strengths as a mode of transportation, this brute icon of the Industrial Age wields a hefty influence in our rural economy to the point of creating a dependency. That dependency has led to what some shippers call unfair business practices and what the railroads view as simply making reasonable profits.

"We're landlocked, with only 700,000 people in the state. We don't have the consumers, so everything we produce must leave the state, and rail is the only way we can move our production effectively," explains Lisa Richardson of the South Dakota Corn Growers Association.

Lack of competition has a direct effect on farmers' bank accounts. The freight rates and service affect the basis they receive for their grain. "Our corn basis has been up to $1 a bushel," Richardson notes. Fertilizer, electricity and fuel bills are also affected, as well as the price of consumer goods.

According to the Association of American Railroads (AAR), rail is the most economical, safe, environmentally friendly and efficient way to move this much grain overland; but as bulk commodity producers, farmers can't pass on the shipping cost, so fair rates are of primary concern.

"We direly need efficient rail, road and waterway transport," says Bob Bowman, a DeWitt, Iowa, farmer and National Corn Growers Association board member.

He says the transportation modes need to work in tandem, which can create friendly competition and help stabilize shipping costs.

"In western Iowa, which borders the Missouri River, rail prices are higher because there isn't river traffic like on the Mississippi," Bowman explains, referring to the unpredictable and therefore shipper-unfriendly Missouri River.

Mike Steenhoek, executive director of the Soy Transportation Coalition in Ankeny, Iowa, agrees: "There is lots of evidence that when a shipper has the option of shipping by barge or rail, the railroads drop shipping prices."

That's why expansion of the Panama Canal is important, he says. "To stay competitive in the global market, it will require investment for our waterway infrastructure that keeps the railroads within a fair pricing system."

Railroads have been profitable during the past decade, but that has not always been the case. The industry was in dire straits in the 1970s.

Due to its importance to the U.S. economy and national defense, the Staggers Rail Act of 1980 was passed to permit deregulation.

This allowed market competition to replace bureaucratic regulation and created streamlined efficiencies for greater profits. Railroads could abandon unprofitable lines, fire workers, independently set rates and enter into long-term agreements. As the industry evolved, consolidation occurred, driving the number of large Class I railroads from 17 to seven that compete in five regions. That means there is usually one railroad serving the freight routes, though some regional overlap exists.

A 2010 USDA study on rural transportation states: "The level of rail-to-rail competition for grains and oilseeds decreased significantly between 1992 and 2007. Almost 75% of agricultural areas lost rail competition in this time period, and the areas in which a railroad had a monopoly in transporting grain and oilseeds increased from 10% to 15%. At the same time, the revenue-to-variable cost ratio in 83% of those areas increased."
End of the line. "Service in rural areas has suffered, due to the closure of many rail branch lines, and a shift to shuttle train service by railroads has resulted in the closure of many country grain elevators," adds the report.

Is this a success story or not? With hard-earned efficiencies and profitability, the railroads have been called the rural economy's salvation by some and robber barons by others.

Unlike other transportation infrastructure, railroads fund their own construction and maintenance of tracks, bridges and loading/unloading facilities without the use of taxpayer dollars. According to AAR, the industry spends roughly $20 billion a year on infrastructure projects.

To recoup their investment, railroads need to adjust their rates, which is what causes critics to howl. Shipping cost includes tariff rates, fuel sur-charges and other logistical costs such as loading/unloading charges and track capacity.

According to the USDA report, "there is considerable evidence that railroad fuel surcharges recovered more than the additional cost of fuel, artificially boosting railroad profits. From 2001 to 2007, surcharges were 55% higher than the incremental increase in the cost of fuel."

For farmers whose grain basis is affected, the cost per bushel can be high. For example, the USDA Agricultural Marketing Service says that 1 bu. of corn shipped on Oct. 3, 2011, from Champaign-Urbana, Ill., to the port of New Orleans had a transportation cost of 93¢. The charge for a bushel of soybeans was $1.02. These costs are passed back to the local elevator and show up in the basis.

According to AAR, rates have actually gone down when adjusted for inflation, but some shippers disagree.

"There are pancake layers of cost-after-cost, which really add up, that are not included in what they [the railroads] call rates," says Patrick Lavigne, spokesperson for the National Rural Electric Cooperative Association.

With 900 nonprofit rural electric cooperatives providing service to more than 42 million consumers across 47 states, shipping rates for coal have an enormous impact on rates.

"Significant inequities exist, which are the symptoms of a monopoly," Lavigne adds. "We have a number of members that have seen significant rate increases."

The railroads see it differently. "Our rates are based on market conditions," says Burlington Northern Santa Fe (BNSF) spokesperson Suann Lundsberg.

Talking about high and variable rates begs the question "Compared to what?" There's no doubt that railroads are competing in the global market for fuel, steel and other construction materials, use union labor and must appease stakeholders on Wall Street. They are running a business but also have a network that moves 95% of the freight in this country—primarily with four railroads.
Tough customer. Agriculture isn't an easy customer. Compared with containerized, high-value (and highly profitable) consumer products, dried distillers' grains, soy products and corn can entail more handling, lower-value hauling and delays due to cyclical harvests and on-demand grain marketing. All of that compounds costs.

"Agriculture does present challenges to railroads," explains Ken Eriksen, Informa Economics senior vice president. "The railroads have worked with the agricultural industry to make the system more efficient—unit train loaders, faster loadings and unloadings, etc.—but the 'captive' issue continues to be contentious."

A "captive" shipper is a business that is serviced by only one Class I railroad, creating a situation that is ripe for price gouging. Shippers can file complaints with the Surface Transportation Board (STB), a federal watchdog agency that was formed with the advent of deregulation.

The STB is an economic regulatory agency with three politically appointed board members. It resolves freight rate disputes, oversees proposed rail mergers and reviews rail-restructuring
activities such as construction and track abandonment.

Shippers can file a complaint with the STB if their revenue to variable cost exceeds 180%. A USDA review of some of the rates in so-called "captive states," such as the Dakotas, shows increases of 179% on many routes, just under the complaint level. Many rates are in the 210% to 250% range,
according to Steve Strege, executive director of the North Dakota Grain Dealers Association.

Recognizing issues with rail rates, the STB commissioned a report that found 44% of all freight tonnage shipped by rail could be classified as captive. Cost increases by BNSF of up to $300 on shuttle corn next year make the situation even more difficult.

"It's tough to take on and beat the railroads. It is costly and it risks retaliation," Strege says.
BNSF's Lundsberg says the retaliation idea is ridiculous. "We operate under a 'common carrier obligation' policy," she says. When it comes to rate transparency, she adds, "BNSF was the first railroad company to move to mileage-based surcharges."

Bob Szabo, executive director and counsel for Consumers United for Rail Equity, sniffs at the common carrier obligation idea. "This is an amorphous concept. It doesn't say, 'We have to give you a reasonable rate.' Railroads are exempt from a pro-competitive regulatory program," he notes.

When asked about the difficulty of shippers obtaining satisfaction from the STB or the railroads, Lundsberg noted that BNSF received "tremendous response" from Montana growers (considered "captive") for implementing an outside arbitration system to settle disputes.

In Nebraska, where freight rates run high, "we've seen more of a shift to the domestic market with grain for the ethanol market, which takes some pressure off of railroads," says Scott Merritt of the Nebraska Corn Growers Association. "Our elevator guys know the system. Union Pacific gave briefings about possible railcar shortages, so we have good communication. Can it be more competitive? Sure."

North Dakota State University transportation researcher Kimberly Vachal sees a bright if not challenging future for agriculture. It comes down to communication because the sensitivity of commodities comes into play, she says. Track capacity and the ability to increase the amount of freight hauled is all about capturing investments and spreading operating costs in an equitable fashion.

"Railroads compete for resources, so they must have a level of certainty about agricultural markets and growth," Vachal says. She sees ag growth opportunities with the railroads in domestic processing, capturing different marketing channels and cooperative investments.

"We need the railroads to succeed, but that depends on how you define success," says South Dakota Corn Growers Association's Richardson. "You can't have antitrust protection and be able to charge what you want. You can't have it both ways."