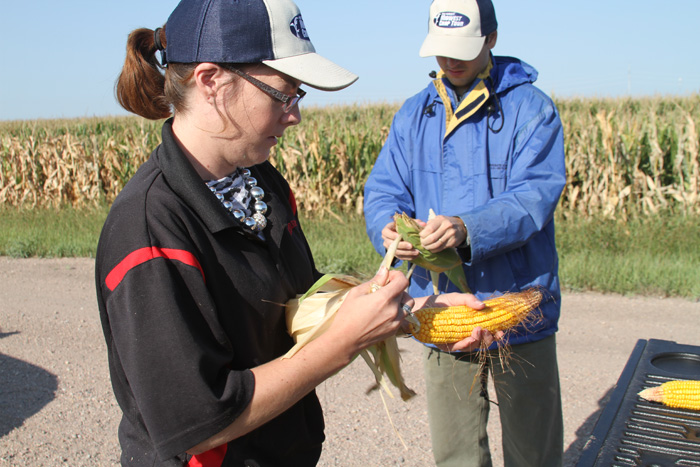 None of us foresaw what the Pro Farmer Midwest Crop Tour would become. Today, it is an industry "event" -- well beyond our expectations. The reasons for it are apparent in retrospect, but 20 years ago we didn't expect the gritty work of measuring the Midwest's corn and soybean yield potential to become an endeavor with such widespread interest.
In the early years, the Tour had fewer scouts covering less geography. Evening "meetings" consisted of field scouts getting together to compare their observations and measurements. There were quite a few people paying attention even in those days, but not the worldwide audience the Tour attracts today.
A lot of people are responsible for this phenomenon -- including you. Here are some of the noteworthy contributors to the 2013 Pro Farmer Midwest Crop Tour:
Volunteer Scouts
More than 100 volunteers will help us gather samples and take measurements in about 2,000 fields across seven states August 19-22. They'll burn a lot gas and eat a lot fast food to make it all happen. They'll get hot, wet, dirty, bug bitten and sunburn during the course of the Tour. About one-fourth of our scouts are Midwest growers and the rest come from all corners of the globe and agribusiness. Most scouts are experienced Crop Tour veterans, but the Tour also attracts new rookies each year.
They all have different reasons for coming on the Tour, but everyone has a keen interest in modern corn and soybean production. For some, the Tour is their first introduction to the miracles of crop production. For others, it's part of their lifelong pursuit of knowledge about the many mysteries of crop production.
Sponsors
Corporate sponsors have helped us expand and improve. A special thank you goes to DuPont Pioneer, who supports us not just with sponsorship funding each year, but also with their considerable agronomic expertise.
More than 2,000 guests will attend one of the Midwest Crop Tour seven evening meetings this year. We do hold a few seats for Pro Farmer Members who want to be there on their own nickel, but most people at the meetings are guests of our sponsors. Our sponsors, through their advertising, also help underwrite the considerable media attention the Tour receives.
Our sponsors earn their keep by helping you produce a crop every year. Your business enables them to invest a bit in the Tour each August.
DuPont Pioneer
DuPont Crop Protection
RCIS Crop Insurance
Chevy Truck
New Holland Agriculture
Farm Credit Services of America
Montag
Gavilon
GEOSYS
HTS Ag
Farm Journal and Other Media
We try not to let it go to our head, but the media attention the Midwest Crop Tour gets these days is a pretty big deal. We've always had "the business media" cover Tour (Reuters, Dow Jones, DTN and Bloomberg) plus our cousins with the Farm Journal Media family (AgWeb, AgDay, AgriTalk, U.S. Farm Report and Top Producer). These days, media like the Wall Street Journal, Forbes and CNBC are also paying attention.
Of course, this media attention speaks to the importance of what farmers do to supply mankind with things we need. Farming is not more or less important than it ever was, but a "smaller surplus" of important commodities tends to focus everyone's attention.
---