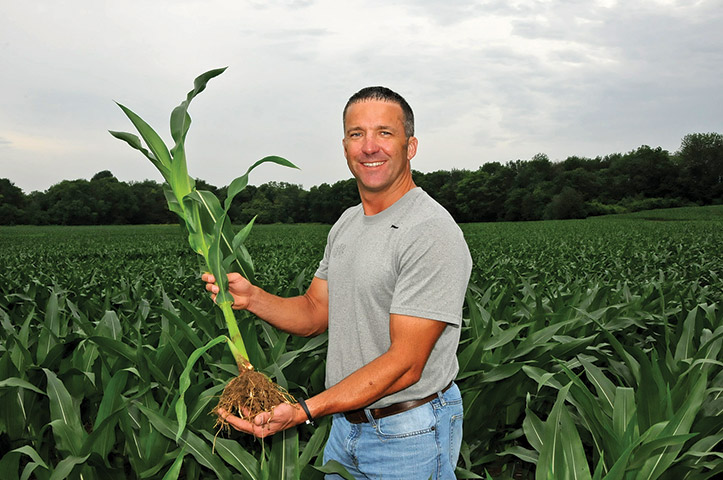 Biotech creates tension between farmers, consumers
Genetically modified (GM) seed is the cornerstone of modern crop production, boosting corn and soybean yields and making it possible to feed a rapidly multiplying global population, but clouds loom on the horizon.

While most farmers decide to raise GM or conventional crops by weighing the financial pluses and minuses of each option, dollars and cents are not the lens through which the general public views biotechnology.
Beth Johnson, founder of Food Directions LLC, a government relations firm specializing in food policy, in Washington, D.C., says a significant portion of consumers are, at best, apprehensive about the use of genetically modified organisms (GMOs) in food. Many want to eliminate GMOs use altogether.

Johnson, who spoke on the topic of labeling legislation and its potential impact on the future use of genetic modifications during an AgriGold specialty products meeting in June, says that education is key.

"Most consumers don't understand the science, they don't understand agriculture; they just react," she says.

Johnson's perspective is reinforced by data compiled by several national consumer surveys done by mainstream media, including "CBS News" and The Washington Post. Their surveys show that more than 90% of consumers want to see labeling laws enacted for food products containing GM traits.

The lack of consumer knowledge about modern-day farming and the benefits offered by biotechnology is a significant problem for the entire agricultural industry, says Jack Lehr, science director for The Heartland Institute, a public policy think tank based in Chicago.

"We are facing a high level of public ignorance, negativity, fear and lies related to agriculture that must be overcome," he says.

In the crosshairs. This year alone, 26 states have proposed legislation that would require food products made from GM crops to be labeled, Johnson reports. Two of those states, Maine and Connecticut, approved GM labeling bills earlier this summer. In both cases, though, the bills cannot be signed into law until a number of additional states, including surrounding ones, vote to adopt similar legislation.

"Food labeling is a terrible idea," Lehr contends. "That's telling the public there's a problem [with biotechnology] when there never ever has been a problem."

Most farmers side with Lehr, though some do not. A Farm Journal Pulse survey of 1,408 farmers in June shows that 65% do not want labeling laws, while 18% believe foods made from GM crops should be labeled. About 17% of farmer respondents say they are unsure.

The reason most frequently cited by farmers opposed to labeling is concern that consumers will use the information, once it's detailed on product packaging, to avoid buying foods containing GMOs.

Johnson says that farmers' concerns are justified. However, she believes the vast majority of consumers will continue to make food purchases based first and foremost on price. She anticipates it will remain the single largest factor influencing consumer buying decisions in the future.

"Based on the research we've done to date, we don't see that changing," she says.

Johnson says that farmers, seed companies, food manufacturers and restaurateurs—anyone in the food chain from farm to fork—need to take advantage of every opportunity to educate consumers about the benefits of biotechnology and its role in feeding the world.

The U.S. Census Bureau predicts that the global population will reach 9.4 billion people in 2050. It currently stands at 7.2 billion people.
Take action. Lehr challenges farmers to take a more active role in championing their industry by spending a minimum of two hours each month talking with non-farmers about the benefits of modern agriculture.

Lehr tested his idea while in San Francisco earlier this year by talking to 60 random people that he encountered during the course of a day-and-a-half. Of those that he talked to, he says that 58 were interested in hearing what he had to share about modern farming practices.

"Talk to your neighbors, your kids who may be getting bad information at school, everyone," he encouraged farmers at the annual Wyffels Hybrids corn strategies meeting in July. "We must win back the hearts and minds of the public."

In the process, adds Hugh Grant, Monsanto Company CEO, consumers need to learn about the intense pressure that farmers face as they feed a growing population.

Grant spoke about the numerous food labeling initiatives during a media conference earlier this summer in St. Louis. "The merciless push to feed a growing world rests largely on the Americas," Grant says. "That's the untold piece of this story."
Moving forward. Major seed providers are monitoring the public's perception of biotechnology and the food labeling issue while ramping up their development of GM traited seed, now used for 90% of all corn and 93% of all soybeans grown in the U.S.

Some companies, such as AgReliant Genetics and DuPont Pioneer, continue to invest in the research and development of conventional seed corn hybrids. No one expects the conventional market share to exceed 10%, based on current trends and near-term forecasts.

"The biggest users of non-GM corn are in the export channel with the largest one being Japan, and their demand has stabilized in the last three years," explains Dan Jones, DuPont Pioneer business manager for food and industry markets.

On a global basis, GM crop production is actually in expansion mode. In 2012, a record 17.3 million farmers, up 0.6 million from 2011, grew biotech crops, according to the July 10 issue of Crop Biotech Update.

In addition, developing countries planted more acres of biotech crops than industrial countries, 52% versus 48%, for the first time. In two countries, Sudan (with Bt cotton) and Cuba (with Bt maize), farmers planted biotech crops for the very first time.
Opportunity knocks. Despite the uptick in the use of biotech traits globally, in the U.S., consumer demand appears to be opening a new door of opportunity for farmers who are growing conventional corn.

Jake Frederick is evaluating how conventional corn fits on his Crawfordsville, Ind., farm, based on top-end yield results and the opportunity to capture a 40¢ per bushel premium. He also questions whether he gains enough value from GM traits, based on current weed resistance challenges, a lack of corn rootworm pressure and skyrocketing seed costs, some of which have doubled in less than a decade.

"I can give up 7 bu. per acre with conventional corn and have the same economic position as if I had grown GM corn," says Frederick, who planted conventional hybrids this spring on 200 of his 2,000 acres.

"Seed costs are significantly less with conventional corn, so you can lose some bushels and still be ahead dollars-per-acre," agrees Evan Cox. The Lafayette, Ind., farmer pays about $175 per bag for conventional seed versus $325 for GM seed. Cox estimates his 50 acres of conventional penciled out $20 an acre ahead of his 900 acres of GM corn in 2012, largely due to seed savings.

Scott Odle, president of Spectrum Seed Solutions, says he expects the conventional corn market will expand significantly in the future—by up to 30%—based on increased consumer demand and farmers' confidence in the hybrids. He cites Spectrum's rapid growth as proof.

"We doubled our sales for the third straight year in 2013 and may double again next year," says Odle, whose company sells only conventional hybrids. He installed a profit calculator on Spectrum's website to help farmers evaluate and compare conventional seed corn with GM seed.

Cox expects to add more conventional corn hybrids to his farming operation as he gains confidence in their performance and in his management skills. But he is proceeding with a good deal of caution.

"This is not something you want to go diving into," he notes. "You want to see gradually whether those traits are paying for themselves."

Frederick, who has been following the biotech food labeling issue, says he wants to be able to make production adjustments as the markets dictate. He is currently evaluating how to grow more continuous corn and expects to use a mix of conventional and GM corn hybrids to accomplish that.

His tentative plan is to grow corn for three years followed by one year of soybeans. The first year he would use all conventional corn and conven-tional herbicides; year two he would plant triple-stack hybrids and spray Roundup; year three he would grow SmartStax hybrids and use Liberty (glufosinate). The fourth year, he would plant Roundup Ready soybeans and spray Roundup.

"I don't assume any technology, whether it's GMO or non-GMO, will be viable forever," he says. "I'm keeping my options open."
Testing, Testing …
It's like a classic Agatha Christie "locked room" mystery—played out in a wheat field, instead. How did a handful of unapproved genetically modified wheat seed, traced back to a decade-old batch that was presumed to be destroyed in 2012, end up in an Oregon wheat field this spring?

No one knows for sure, but that's exactly what happened. In May, an Oregon wheat farmer discovered a small number of volunteer wheat plants that didn't die off with a typical Roundup application. Perplexed, he sent the plants to Oregon State University (OSU). Further analysis by OSU and USDA confirmed that the plants were indeed the experimental variety MON71800—developed by Monsanto Company but not approved or released for commercial planting.

In fact, the seed was supposed to have been stored at the government controlled National Center for Genetic Resources Preservation located in Fort Collins, Colo., beginning in late 2004. Monsanto officials say the seed was confirmed as incinerated in January 2012.

The USDA investigation continues as well as intense public and private testing. Separate testing by Washington State University and Monsanto of the representative samples of the known white wheat varieties planted in Oregon in 2011 represents more than 97% of those acres. USDA has conducted more than 100 tests and interviewed more than 200 area farmers. The initial discovery of genetically modified wheat continues to be the only discovery to-date.
You can e-mail Rhonda Brooks at rbrooks@farmjournal.com.
For more information on food labeling initiatives and how it affects farmers, visit www.FarmJournal.com/food_labeling.
Also see the interactive map Food Labeling Initiatives Put Tech at Risk.