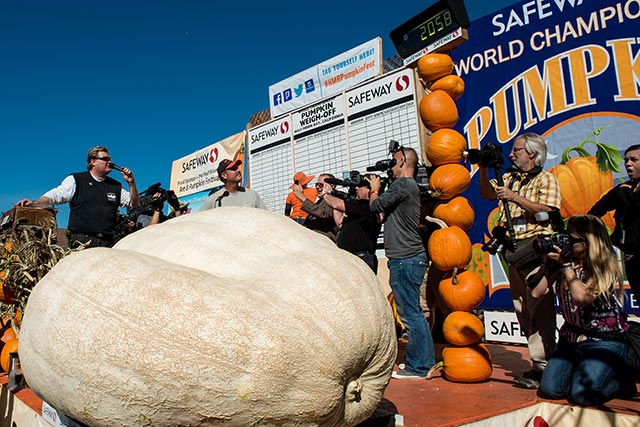 Picture an Illinois farm. Most people imagine a corn or soybean field. But Mark Schleusener, a NASS statistician, has another crop on his mind.
"Most people think of corn and soybeans when they imagine Illinois agriculture," he says. "That's not surprising, considering that The Prairie State ranked second in the nation when it comes to harvested acres for both of these crops in 2012. However, Illinois agriculture achievements expand way beyond just corn and soybeans. With more than 12,500 acres, Illinois growers account for more than three-fourths of all pumpkins harvested for processing in the United States."
So chances are, the next pumpkin pie you eat will have originated in Illinois.
But to see the biggest pumpkins on display, you'll have to head west to Half Moon Bay, Calif. That's the home of the 41st annual Safeway World Championship Pumpkin Weigh-Off. This year's contest saw a new North American record when Napa, Calif., grower John Hawkley hauled in a 2,058-lb leviathan.
"I still can't believe it," he says. "Competition growers all ofver the world understand the stature and historical significance of Half Moon Bay, and to win here is incredible."
Hawley received a $12,348 prize ($6 per pound) for his efforts, plus a $1,000 bonus.