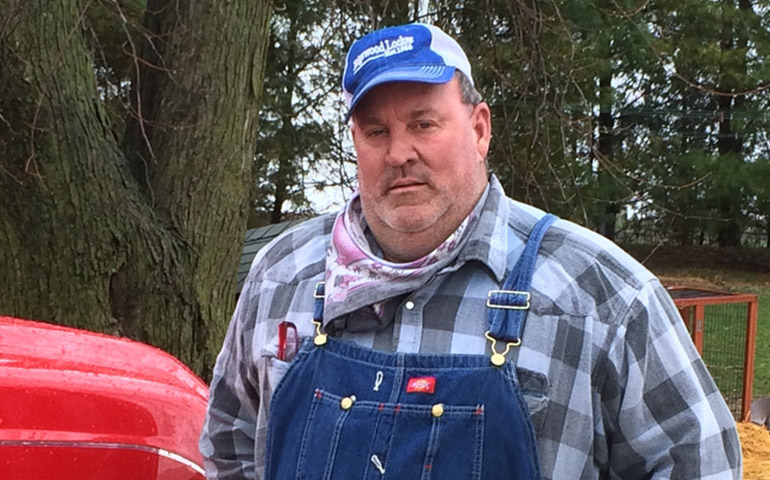 Before Matt Schuster woke on a crisp October morning, a chunk of his soybean acreage was already bare as a desert bone. Fourteen acres plucked and tucked in the pocket of a fellow farmer – and brazen thief. Schuster was skinned for $18,000 and faced an insurance company unwilling to pony up for the loss.
The past is present for crop rustlers of all stripes. The age of modern agriculture technology has changed the criminal playbook, but the game plan remains constant, evidenced by billions of dollars in losses to the overall ag industry each year. High-brow or low-brow, thieves continue to smash and grab equipment, rip out copper wiring, pilfer honeybees, rustle cattle, and steal commodities from trailers, bins or fields. (For more, see Farmers Fight Copper Wire Theft)
On Oct. 25, 2014, Schuster rose early in La Motte, Iowa, and drove over the Mississippi River on the Dubuque-Wisconsin Bridge to indulge in his Sunday morning constitutional – breakfast in East Dubuque, Ill. Schuster works ground on both sides of the river: Dubuque County in Iowa and Jo Daviess County in Illinois. On the Jo Daviess ground, he plants an early soybean for simple logistics. Illinois harvest and equipment headaches come first; Iowa harvest at home follows.
On his way to the coffee shop, Schuster swung by the early bean field, a 24-acre square, and found half of it stripped clean. With harvest only two days away, he'd been monitoring the field as the soybeans dried to brown, never realizing other eyes were also watching his soybeans hit harvest prime. In proximity to a golf course and a cluster of houses, the relatively secluded field lies on a 3% grade. Nearby residents heard the combine running and assumed Schuster was harvesting. Combining along tree rows, the thieves could be heard, but not seen. "My first thought? A custom operator came in and made a mistake," Schuster says.
Pickup truck, couple of small grain wagons, a John Deere combine, and a few hours under cover of darkness was all the theft required. Calm and collected, the last man out was the combine operator. He left 300 bu. atop the combine and stopped to close the gate before rolling for the highway at dawn. Schuster runs the red of International Harvester, and neighbors assumed the green John Deere had been hired out. "One neighbor right by the field waved at the driver and he waved back. He was comfortable; way too comfortable," Schuster recalls.
The combine was last spotted heading north into Wisconsin, too late for Schuster, but carrying enough consequence to bring a federal charge related to transport of stolen commodities over state lines. Schuster posted a $10,000 reward and hopes time and chance will expose the thieves. "I've got strong suspicions about a particular farmer who was in debt, but so far it's a dead-end. Still, people talk when they're hunting or drinking or mad. I'll be waiting for that one big tip."
Schuster's stolen soybeans were contracted at $15.78 per bushel, penciling to an $18,000 loss. His hail policy had a small provision for field theft, but paid only a flat acreage rate. He qualified for $4,900 in insurance compensation. "It's changed me and I don't sleep well to this day. Check your insurance policy and make sure you're covered," Schuster advises. "Check your fields because the criminals get smarter every day."
Shaking Down the Tree
Tree nuts are the crop of choice for California criminals. There have always been field level thefts; one-offs where a loaded nut trailer is stolen. However, a new wave of nut theft has gone digital, with an unprecedented level of oversight and sophistication to burn the California nut industry for tens of millions in profit.
Steal a trailer of tires for $100,000 and risk the fence, or steal a trailer of finished product pistachios for $500,000 and unload them with ease? The answer requires little pause in California, evidenced by a theft explosion of over 40 trailer loads of nuts from October 2015 to March 2016, according to Roger Isom, president and CEO of Western Agricultural Processors Association.
Trailer loads of nuts are pilfered on-site from processing facilities, but the theft process actually begins online. "They get access to the online database and bids to make a fictitious pickup," Isom explains. "A trucker shows up at processing plant with falsified papers and hauls off the nuts. These are not two-bit meth heads, but part of an organized crime ring." The efforts are complex, but boil down to a simple process. Thieves access the Department of Transportation database and get shipper information. Fake documents and phone numbers provide a veneer of legitimacy. Nut processors call the paperwork numbers and receive confirmation via burner cell phones. The targeted truck exits the lot and the nuts disappear down a hole of demand.
Kirk Squire is the grower relations manager for Horizon Nut Co., in Tulare, Calif. Horizon deals solely with pistachios and was hit hard in November 2015, when $400,000 in product was stolen. Squire's account parallels Isom's description. "The problem has gotten worse as nut prices rise. The thieves see a load, and broker online to deliver that load," Squire notes. "They may even send in a legitimate trucking company and then divert it down the road. After full retail, these loads can be worth $1 million."
Once stolen, the nuts are removed from sacks or 25-lb. boxes and dumped into the local market, transported to the East Coast or shipped overseas. Nuts can be fenced with ease because an insatiable market is waiting. No serial numbers, no track and trace, and no problem for criminals. Tree nuts are also shelf stable, don't require refrigeration or further processing, and can sit in a warehouse pending sale. There is no specific nut of choice, explains Isom. Thieves hit almonds, cashews, pistachios, and walnuts with no discrimination, and steal loads valued at $150,000 to $500,000 for a full 40-ft trailer.
Piling on, most nut thefts aren't covered by insurance. A pistol in the face ensures coverage, but fictitious pickup translates to voluntary surrender of goods. Isom hopes to change the policy and is currently discussing coverage with a company specializing in cargo insurance.
Fictitious pickup also takes advantage of a non-violent crime loophole: No time in the state pen when a thief is caught. "You might do a few days in county jail and that's it. Almost no deterrent," Isom notes. "We're talking about introducing legislation in 2016 to beef up cargo theft prevention. We've got to have real penalties, but instead we hand out slaps on the wrist."
No Hot Item Discount
As executive director of law enforcement and theft prevention services for the Fort Worth-based Texas and Southwestern Cattle Raisers Association (TSCRA), Larry Gray catches ag criminals in the shadow of history. TSCRA is the oldest cattle association in Texas, formed in 1877 to prevent cattle theft.
Rustling fluctuates according to the market. High value translates to an insurgence of cattle rustling in Texas, but the same principle applies to Kansas, Missouri, Oklahoma, or any state with a significant cattle population. However, Texas is home to 12 million to 13 million head. In particular, east Texas is dotted with mom-and-pop operations keeping 25 to 100 head -- ideal targets for rustlers. Thieves are drawn to the gentle cattle of small operations and take advantage of existing pens. Call the cattle, back up the trailer, and the deed is done.
"It's usually two or three people working together and they're often driven by methamphetamine or narcotic troubles," Gray says. "They drive county roads and spot accessible pens. We've had cases where a livestock owner fed his cattle while thieves waited on a nearby hill. They watched the owner leave and then stole the cows."
Cattle have a price distinction particularly addictive to thieves: Stolen cows bring full market value. There is no hot item discount when a cow is slipped onto the auction floor. It sells for the gaveled price, stolen or legit. Depending on weight, a young cow, three to four years old, might be worth $800 to $1,000. A load of 10 cows brings a tremendous payday.
Stealing a single cow carries an automatic third degree penalty with a two to 10-year jail sentence in Texas. The TSCRA recently caught a repeat offender with 38 cattle valued at $70,000. He was sentenced to 30 years, with more rustling charges pending in multiple counties.
Cattle rustling is a near timeless crime, but Gray says branding still remains the best prevention. The I-35 ribbon splits Texas in half. West of I-35, roughly 80% of cattle are branded; east of I-35, approximately 20% of cattle are branded, according to Gray. The TSCRA works 800-1,200 rustling cases each year and has a 75 percent recovery rate on branded cattle. "Thieves often pass on branded cattle," Gray explains. "No branding? The drop in recovery rate is drastic."
Revolving Door
Despite cattle rustling penalties, many agriculture criminals face minimal sentences, and in many cases, no significant jail time. Apprehension of a thief, even in the act, doesn't necessarily result in a tidy morality play on the wages of crime. Cattle rustling, wire and equipment theft, stolen wine grapes, or diverted tree nut trailers, criminals are drawn to a high dollar and the soft belly of agriculture. The days of a long rope have been replaced with a legislative tongue lashing.
"The thieves adapt and that's how they thrive. They have all day long to be criminals and find loopholes. We go to work and figure out how to produce. They go to work and figure out how to steal," Squire says. "Millions in illicit profit. Just a farm crop? No, we're talking about millions stolen right off the back of agriculture."