Years ago, siblings Jacob Miller and Drucilla Shotts followed their dad around the farm, helping with chores in the hog barn and riding around in the tractor. Over the years, their passion has grown from tagging along behind dad to blazing their own trail in the swine industry. On Nov. 7, Miller and Shotts (J+D Farms) opened the doors to their new pig barn in Marshall, Ill.
Miller and Shotts are fifth-generation farmers and the third generation to work in the swine industry specifically. They learned how to work with swine and maintain facilities by watching their dad and uncles care for their farms. Along the way, they grew that knowledge base in college and on the job preparing them for an opportunity to partner to build a 3,800-head finishing barn. 
Even at their young ages of 23 (Jacob) and 26 (Drucilla), they are excited and willing to take on the financial risk of building a new state-of-the-art barn to create opportunity for full-time farming one day.
Although Miller always knew he wanted to follow in his father's footsteps, Shotts wasn't so sure.
"I loved going to work with dad in the nursery when we got baby pigs in. As I got older, though, the novelty went away and I never really enjoyed working with the big pigs," she says. "However, a new job opportunity arose for me over a year ago, so now all I work with are wean pigs. It's been life changing for me going from a job I hated to a job I said I would never do, but I absolutely love it."
This job not only rekindled her passion for the swine industry, but it also helped her gain industry knowledge that will help her as a new farm owner. 
"A farm is more than land and crops," says Shotts, the first female farmer in her family. "It is a family's heritage and future."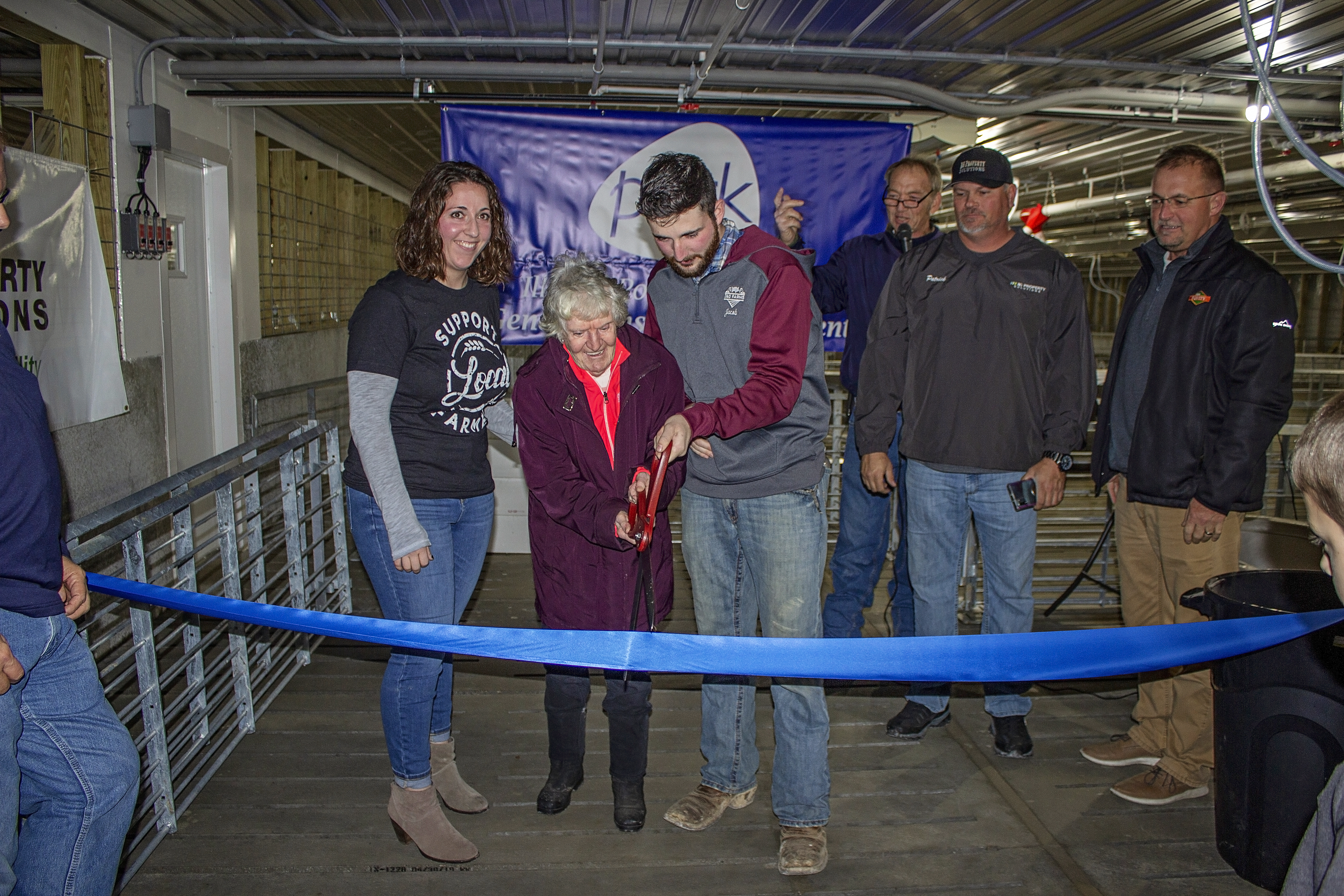 Drucilla (Miller) Shotts and Jacob Miller cut a ribbon with their grandmother to signify the completion of their new 3,800 wean-to-finish pig barn. Photo by IL Pork Producers Association.

A kid in a candy store
Miller likes to joke that what he is most excited about with this new barn is not having to consistently work on the barn and equipment. 
"With the barn itself, I am like a kid in a candy store with the new equipment and technology involved in controlling and monitoring the barn. With this system, my sister and I can check essentially the whole barn from anywhere – with the exception of the hogs themselves," Miller says. 
He says the biggest challenges ahead are getting used to the new pen design as compared to what he grew up with and figuring out an efficient schedule for getting the hog work done.
"I agree with Jacob that our biggest challenge will be figuring out how to navigate both of our work schedules," she says. "However, we've talked a lot about it, and we have a good plan set it place. It will just come down to executing it."
Shotts says their new barn features a Maximus computer system that runs the whole barn from feed and ventilation to temperatures and water and so much more. 
"Nothing will replace us physically being in the barn to lay eyes on the pigs daily. However, this system helps us keep an eye on things without having to be in the barn all day," she explains. 
The J+D Farms Open House was sponsored by Ag Property Solutions, CCI Redi-Mix, Frank & West Environmental Engineers, Illinois Livestock Development Group, Illinois Pork Producers Association, Pals Electric, Peoples Bank & Trust, SDI Industries, The Equity and Tyson.

More from Farm Journal's PORK:
Underground ASF Vaccines in China: What's the Risk?
Can Social Network Insights Improve Pig Welfare and Productivity?