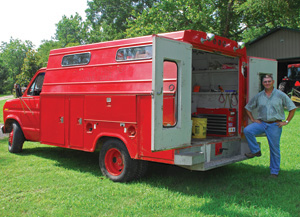 From rescue to shop vehicle
No job is too big or too small—or too far away—for the service truck assembled by John Cotherman of Gore, Okla.

"I use the truck all the time to service equipment or move hay equipment," Cotherman says. Some of his fields are as far as 17 miles from home.

Cotherman is the third owner of the vehicle, which began its career with the Oklahoma City Fire Department rescue squad.

It consists of a 1985 Ford E-350 chassis with an enclosed utility bed, made by Stahl/Scott Fetzer Company (www.stahl.cc), that has double doors in the rear and one door in the side.

The bed's many compartments make it perfect for carrying a full range of tools and supplies, Cotherman says.

To keep things neat, Cotherman fab-ricated reels to hold his welding cables. He mounted the reels on stands made from 3" square tubing. To insulate each reel from the steel rod on which it revolves, he made a sleeve by drilling a hole through the center of a piece of nonconducting
dielectric rod.

The truck came equipped with a master switch that shuts off electrical power to all the tools—a handy safety feature, Cotherman points out.

"I have built two corrals from scratch, using nothing but the tools in the truck," Cotherman says. "If a tire gets low, I just run to the field and use the generator and air compressor to air it up."

The truck's connection to a fire department makes it special: Besides running a cow–calf operation, Cotherman serves as fire captain for the Tulsa Fire Department.
---
A Tool for Every Job
Here's a partial list of the tools and supplies in John Cotherman's service truck:
Cutting torch
Welder-generator
Air compressor
Portable vise
4"x4" and 6"x6" wood blocks
½" and 1" impact wrenches
½" and 1" sockets
½" and ¾" air hose (50' each)
4½" and 7" grinder
4½" wire grinder
Saddle and 45 patterns to cut and weld pipe
Tractor tire bead buster
High-lift jack
Hydraulic bottle jack
Leaf blower
Hand tools
Tire irons and tools
3-lb., 5-lb. and 7-lb. sledgehammers
Grease gun
Tire patch kit
C clamps
Hydraulic fluid
Grease
Welding hood & jacket