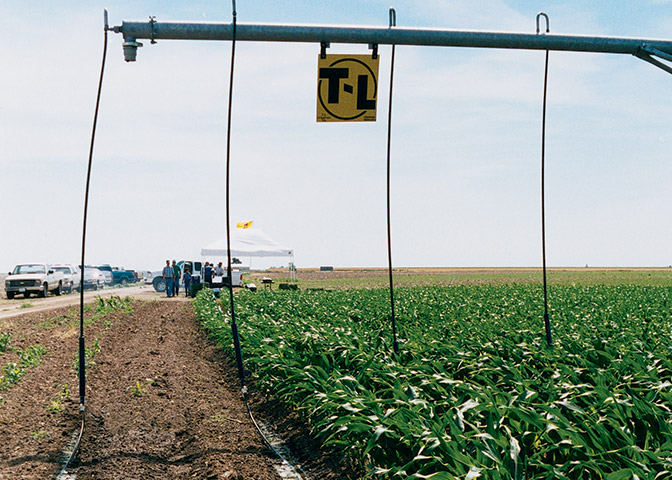 Farmers deploy different types of irrigation for different reasons. Center pivots, for example, have the mobility to cover up to several hundred acres. Drip irrigation, on the other hand, is immobile but can deliver water with unparalleled precision.
But what if you could somehow blend the two technologies and take the best advantages from each system? That's what researchers at T-L Irrigation Co. and Netafim, Inc., kept asking, and ended up developing a new version of T-L's PMDI (Precision Mobile Drip Irrigation) system.
PMDI features in-line drip lines spaced at 30", 40" or 60" intervals. The center pivot or linear irrigation system pulls these hoses behind, while emitters that are spaced every 6" deliver an even water pattern across the full length of the pivot or linear system.
"In effect, producers gain the flexibility of a center pivot, while utilizing drip irrigation efficiency," says Dave Thom, T-L vice president of sales. "Most importantly, it provides a water-saving solution for customers who are faced with water restrictions or deficit irrigation. Because the drip lines do not put the water out in the air, the evaporation and wind drift associated with traditional sprinklers is virtually eliminated, putting more water directly onto the soil surface."
PDMI has been around for more than a decade, but Thom says T-L decided to parter with Netfim to develop a new, improved version that would address the current growing interest in water conservation related to drought and dropping water tables. The PMDI system approached 95% water efficiency, he says.
PMDI requires additional management, but Thom says the benefits outweigh the extra time investment. Another benefit, he adds – farmers see a reduction in wheel track problems. That's because the drip lines emit water behind the pivot wheels, which stay ahead and on dry ground.
For more information, visit www.tlirr.com.