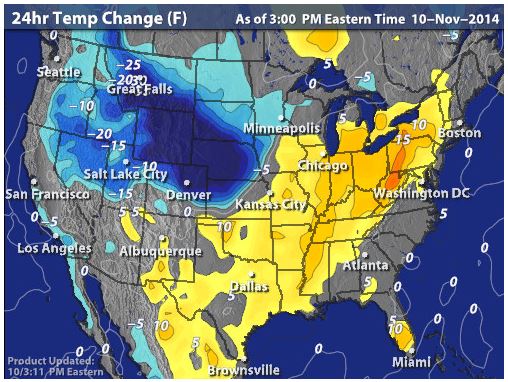 The first named winter storm of the 2014-15 season has a goofy name, but don't let that fool you. Winter Storm Astro is packing some nasty punches, including high winds, heavy snowfall and well-below-normal temperatures.
The storm has already arrived in the Great Plains and upper Midwest but will continue to climb southward and eastward throughout the week as it advances. There is already significant accumulation on the ground in some areas, such as Minnesota and the Dakotas. About 100 schools in Minnesota have already closed or ended early in anticipation, according to NBC affiliate KARE.
Reports of snowfall accumulation have ranged from seven to as much as 13 inches already on the ground. Northern Wisconsin is also bracing for a foot or more of snow as the storm moves along.
Occasional gusting winds in the 20s and 30s are common, with one Colorado location clocking a 56 mph wind gust earlier on Monday. Astro is also acting as a convoy for much colder Arctic air, bringing with it temperatures that are 20 degrees or more lower than normal averages for this time of year.
"I really think the bigger story here is this incredible blast of cold Arctic air that's going to be taking over a huge part of the country over the next couple of days," says Ari Sarsalari, a meteorologist at The Weather Channel. "It's going to feel like January in a lot of spots."
By Thursday night, freezing temperatures will push into parts of the U.S. that aren't accustomed to seeing them, at least not in early November. That includes freeze warnings as far south as Louisiana, Mississippi and Alabama.
Lower-than-normal temperatures are expected to linger for a week or more, Sarsalari says.
Stay on top of emerging weather news and analysis, plus dive into more than a dozen maps that track temperature, rainfall, soil moisture, frost warnings and much more at http://www.agweb.com/weather/. Or share your winter storm stories with fellow AgWeb readers on the 2014-15 Winter Weather thread on the discussion forums.