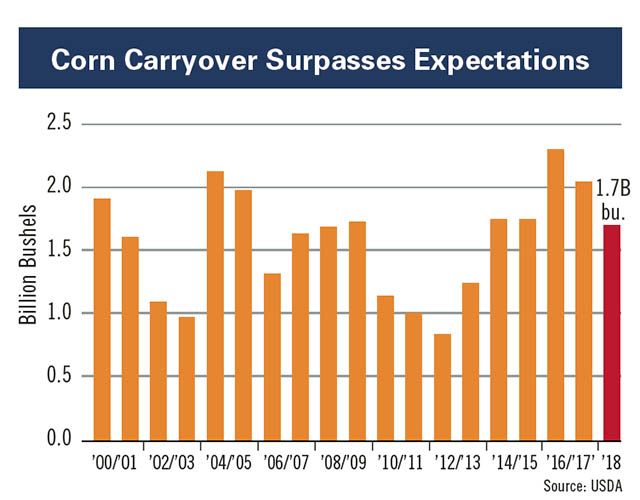 USDA's first survey-based corn crop estimate came in at 14.6 billion bushels. That puts the crop at the third highest on record, driven by a yield of 178.4 bu. per acre, which would top the 2017 record yield by 1.8 bu. per acre. Record yields are expected in six states—Alabama, Illinois, Nebraska, Ohio, South Dakota and Tennessee. USDA also reported record ear counts in the 10 objective yield states.
In August, USDA calculated ear weight at 0.36 lb. per ear—the third highest behind 2017 and the record of just over 0.36 lb. per ear in 2016. As the combines roll, ear weights will play a bigger significance in determining USDA's average yield. Because the crop has been pushed to reach the finish line, some speculate ears might not accumulate the same weight they have in recent years, which could pull down yield. 
With total corn supplies projected to tighten by 273 million bushels and ending stocks to decline to under 1.7 billion bushels, there's a greater focus on bushels than in recent years when carryover was above 2 billion bushels. Lowering the national average yield by just 2 bu. per acre from USDA's August estimate would lop 165 million bushels off the crop and drop carryover to just over 1.5 billion bushels. Reducing the yield by 5 bu. per acre would cut about 410 million bushels and lower carryover to under 1.3 billion bushels. At those levels, the market would respond by trying to slow use with higher prices.
Of course, the focus on bushels isn't nearly as great if yield is more than USDA's initial estimate. Increasing the yield by 2 bu. to 180.4 bu. per acre would add 165 million bushels to the crop size and push carryover up to 1.85 billion bushels. Increasing the yield by 5 bu. would boost the crop size by 410 million bushels and keep carryover above 2 billion bushels.
Record Soybeans ... Again. USDA's initial soybean estimate is 4.59 billion bushels, the fifth straight year to rise to the top. The 51.6 bu. per acre yield estimate is the second highest on record. Record yields are expected in Alabama, Illinois, Indiana, Kentucky, Mississippi, Nebraska, Ohio and Pennsylvania.
With another record crop, soybean carryover is projected to balloon to a record 785 million bushels, up 355 million bushels from 2017/18 and 483 million bushels more than two years ago. Of course, USDA's new-crop usage forecasts assume Chinese tariffs will remain in place through the 2018/19 marketing year.
In the July World Agricultural Supply and Demand Estimates report, which occurred after the 25% Chinese tariffs were enacted, USDA lopped 250 million bushels off expected U.S. soybean exports for this marketing year. That's an aggressive stance since other buyers will likely make up for lost Chinese demand. In fact, new-crop soybean export commitments to non-Chinese buyers have recently been a record high.
Even if the U.S. gets back all of the 250 million bushels of exports USDA slashed from its balance sheet, ending stocks for the 2018/19 marketing year would still be an ample 535 million bushels. If soybean yields and production expand from initial estimates, it would mean even more demand must be found.
Accurate Estimates? In the past 20 years, USDA's August estimate has been below the final crop numbers 10 years and above 10 years. The average "miss" on its August crop estimate has been 305 million bushels, with the smallest deviation being 5 million bushels and the largest being 940 million bushels.
In the case of soybeans, USDA's August crop estimate in the past 20 years has been below its final figure 14 years and above six years. That suggests there's a two-thirds chance USDA's August crop estimate is not the highest the market will see this year. USDA's smallest miss was 6 million bushels, with its largest difference between August and the final number being 408 million bushels.