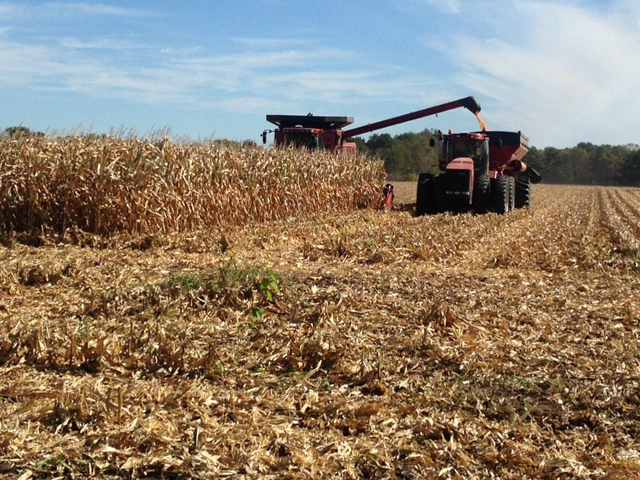 Despite the anticipation of record 2014 corn and soybean harvests, supplies remain surprisingly tight. The combination of a late harvest, storage and transportation issues will restrict grain flow and drive a post-harvest cash premium through the end of the first quarter 2015, according to a new report from Rabobank.
The slowest corn harvest since 2009 will exacerbate the challenges with 2014 grain flows. Rabobank estimates that the country started November with available corn stocks down 1 billion bushels—18%—compared to year earlier levels, and that's with 2013 stocks that were hampered by the 2012 drought.
Corn buyers who had been expecting a large harvest have driven basis values positive across the U.S. to satisfy short-term needs. While harvest is expected to be mostly complete by the end of November, the movement of grain will make filling storage to capacity a challenge, according to Rabobank.
"Reluctant farmer selling is the most critical factor in determining grain flow for the 2014/15 crop," the report says. Many elevators report slow progress in filling commercial storage due to farmer preference to store on-farm. The main driver of this has been a reluctance to sell below break-even prices, which Rabobank estimates to be in the $4.20 to $4.50 per bushel level for the median Midwest farmer. Rabobank expects 64% to 68% of stocks to be on farm as of Dec. 1, 2014, with flat to 12% lower off-farm storage.
"With significant stocks not yet priced, there is a high probability that cash prices will drop significantly when grain flow increases," Rabobank says. However, a cash premium reflecting the risk of selling unpriced grain is likely to develop for the portion of the crop that is put into storage through the first quarter of 2015.
"Rationalizing corn storage from the 2014 season with new crop production of 2015/16 is expected to drive price volatility," Rabobank says. Significant liquidation of the 2014/15 crop may be delayed until March and July. With high profit margins over the past six years, farmers are in a financial position to hold the 2014/15 corn crop into the second quarter of 2015. March is the normal period when cash is needed for operational expenses.
In addition, late crops tend to be stored wet, which increases the need to liquidate storage in the spring to avoid spoilage loss. "Consequently, we expect to see crop sales increase in March, which will pressure cash bids lower." Conversely, futures prices will be driven by the possibility for fewer corn acres in 2015, Rabobank says. "Widening new crop to old crop spreads will be key, as the value of the 2014 crop in storage varies depending on expectations for the size of new crop production." If normal planting and pollination occur, July will be the next key period for increasing grain flow after March.
Rabobank says U.S. rail transportation will likely play a role in grain flow depending on severity of the 2015 winter. One to two week delays are reported in North Dakota and South Dakota with similar delays in the Southeast. Lack of corn movement to destination areas such as the Southeast will magnify grain deficit challenges created by the late harvest and storage. Furthermore, the high cost of rail transportation, which Rabobank calculates to be $1 to $1.40 per bushel in the Northern Plains, will encourage farmers to store grains in those areas. "However, January and February will be the riskiest months for significant grain flow disruptions, as severe winter weather could cause further rail problems."
Tight old crop supplies have driven soybean basis levels up 10 cents to 15 cents from October to try and coax soybeans out of farmers' hands, and to slow demand, Rabobank says. Tight soybean supplies have allowed futures price to rally $1.50 per bushel—13.9%--since October, with soybean meal futures up 38.4%. In the longer term, however, Rabobank says the record harvest is bearish for both basis and price levels.