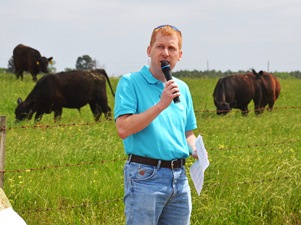 Smaller beef supply could lead to more profitable years in the near future for producers who managed to hold onto cattle.
By: Bruce Schultz, Louisiana State University

Cattle producers are benefitting from a market that could continue for the next two to three years, according to LSU AgCenter livestock economist Ross Pruitt who spoke at the northwest beef and forage field day held April 29 at the LSU AgCenter Hill Farm Research Station.
More than 160 people attended the event.
The reason for the increase in cattle prices is a simple equation of fewer animals while consumer demand has improved over the past few years, Pruitt said.
"Several years of drought have taken their toll on the beef herd," Pruitt said. Meanwhile, moisture deficits continue in other parts of the country, especially California and the southern plains, have caused cattle owners in those areas to sell or relocate herds to areas where pasture is available.
Beef production is expected to decline this year by 6 percent and 3 percent in 2015. Last year, he said, beef production fell by approximately 1 percent.
"The rest of the year should be good price-wise," Pruitt said of 2014.
Drought relief is possible if an El Niño develops as some meteorologists believe, Pruitt said. But the question is whether that weather pattern will develop early enough to prevent another round of beef cow liquidation this year.
For consumers facing high beef prices, chicken and poultry prices are expected to increase, he said. "Things are expensive at the retail counter, and they are not going to get that much less expensive in next few months."
Pruitt explained that pork producers are battling a virus that affects mortality of piglets. That has contributed to a forecasted 2 percent increase in pork production in 2014 being slashed to even with production last year. The virus attacking the U.S. pork industry is no threat to human health.
Chicken production has not expanded as rapidly as thought this year and is currently running slightly below last year's level through mid-April.
Starting a cattle herd now would be difficult because of high land and equipment prices, along with the steep costs of buying cattle, Pruitt said. "It can be done but it is going to take a lot of resources."
Replacement females are selling for $1,200 to $2,000 each, he said, and even higher prices are not unusual at private sales.
LSU AgCenter forage researcher Buddy Pitman talked about his project comparing different varieties of bermudagrass. Some are suitable for grazing and others make better hay. For example, he said, Tifton 85 is not a good choice for hay production.
Proper nutrient management is essential for pastures to withstand cold winters like the recent one, Pitman said.
Lee Faulk, LSU AgCenter county agent in Webster and Claiborne parishes, said glyphosate herbicide was used successfully in a test to kill volunteer ryegrass in January to make way for bermudagrass. The chemical was sprayed at the rate of 1.5 quarts per acre at a cost of $11 an acre.
LSU AgCenter cattle researcher Ryon Walker and graduate student Rachel Martin discussed their project to determine if feeding weaned calves baleage could help in their transition to grazing. Walker said the study using four groups of 60 calves showed that late-cut ryegrass baleage with liquid protein supplement gave calves the best performance boost with the highest increased weight gain.
Martin said calves fed an early-cut ryegrass baleage that harvested at a higher crude protein and energy content gained more weight that feeding bermudagrass hay or baleage, but they did not gain as much as with the late-cut ryegrass. This could have been attributed to too much moisture content in the early-cut ryegrass baleage and not enough intake on those calves.
Average daily gain for late-ryegrass baleage was 1.27 pounds. Average daily gain with early-ryegrass baleage was 1.02 pounds, while bermudagrass baleage resulted in 0.7-pound-per-day gain, and daily gain with bermudagrass hay was 0.82 pound.
Cost of gain was $1.61 a pound for early-ryegrass baleage versus 92 cents for late-ryegrass baleage. Bermudagrass baleage cost per pound was $1 compared to 81 cents a pound for bermudagrass hay.
Martin also said baleage resulted in less waste than regular hay.
LSU AgCenter weed scientist Ron Strahan reviewed several problem weeds and chemicals that can be used to control them.
Strahan said Tordon can be used to kill unwanted trees by hacking into the bark and squirting the herbicide material into the cut. But he said nearby desirable trees could be killed too. A quart of the product Remedy added to 3 quarts of diesel can be used to kill trees by spraying the trunk, and nearby trees won't be affected.