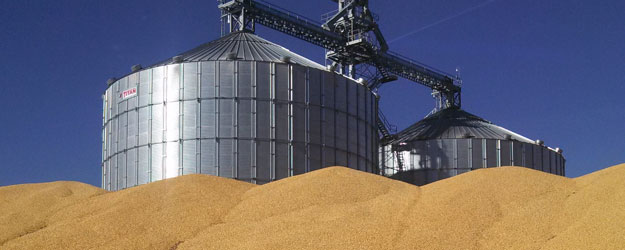 Otherwise, USDA is calling for lower prices in most row crops this year.
Despite record production of grains last year, agriculture enters the 2014 growing season with a "pretty tight" stock situation, said USDA Chief Economist Joseph Glauber, speaking today at the USDA Agricultural Outlook Forum.
"If problems arise this year," he said, referring to a potential a production shortfall due to inclement weather or other exigencies, "we could see price spikes like we did in 2010 and 11."
Otherwise, the forecast Glauber presented calls for continued price declines this marketing year. It shows corn prices falling from $4.50 to $3.90, soybeans from $12.70 to $9.65, wheat from $6.80 to $5.30. Cotton prices will not be spared, falling to a projected 68 cents in 2014-15 from this year's estimated 76 cents per pound.
Glauber noted that USDA recently raised its expectation for corn prices in 2014 from its 10-year forecast published last week. The reason: the focus of the farm bill on base acres rather than planted acres. Even so, USDA's forecast calls for a decline of $0.60 a bushel in corn prices would drop them to their lowest level since 2009/10.
Lower prices are likely to translate into lower plantings for the eight major row crops this year, the chief economist said. And crop mixes will change, especially on Midwest farms. "Stronger soybean prices relative to corn should support soybean plantings this year," he said.
USDA is calling for 3.5% percent drop in corn plantings to 92 million acres and a 3.9% increase in soybean acres to 79 million acres. Planting of wheat will be down 1.2% while planting of all types of cotton will rise by 10.5%.
"Some people may say that's a pessimistic outlook," Glauber said. "But we still have very positive dynamics in the market."
Exports are one. USDA today released its new forecast for agricultural exports during fiscal 2014. The new estimate, a record $142.6 billion, is up more than $5 billion from August. "Imports are up too, but the trade balance is very healthy."
Glauber's forecast for the livestock industry is more optimistic than the one for row crop farmers. Lower feed prices, which took hold last summer, are likely to continue to bolster margins in 2014.
Dairy margins are expected to remain above $8 per hundredweight for all of 2014, according to USDA. "Dairy product prices have been at or near record levels due, in part, to strong demand for U.S. dairy products, particularly cheese and butter," he said.
Expansion remains slow in the livestock industry, because of the time it takes to rebuild herds. Glauber noted a "significant reduction in inventory," by almost 1.3 million head since 2011, most of it in Southern Plains. "We should start to see some expansion in 2015."
Meanwhile, lower commodity prices will lower farm income. That will in turn lead to a softening of land values.
Fortunately, debt held by farmers — a little more than 10% of assets — is at the lowest level since 1960, when USDA started tracking it. "Things are much different than in the early 1980s," Glauber said, referring to the last farm crisis.
"The financial health of the sector has benefitted considerably from the high prices enjoyed by producers over the past seven years, which will ease the adjustment to lower price levels in 2014."