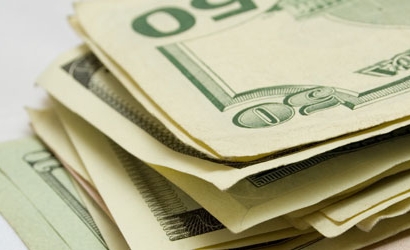 Farm income set to fall as production costs increase
The profit tides have changed for crop farmers. After several years of increasing levels, net farm income is expected to fall to $113.2 billion this year, according to the 2014 Farm 
Income Forecast, released in August by USDA–Economic Research Service.

If realized, the 2014 forecast would be the lowest since 2010 and 14% lower than 2013. The reason is threefold: lower commodity prices, especially for corn; higher input costs for seeds, fertilizers and pesticides; and the end of direct government payments because of changes in the farm bill.

Despite lower profits, farmers are still doing historically well. The 2014 forecast is $25 billion higher than the 10-year average of net farm income.

Specifically, crop receipts are expected to decrease 7%, led by a $12.8 billion decline in corn receipts. Soybean receipts are also projected to fall by $6 billion. 

Unfortunately, the cost of production is not falling. With the cost of seeds, fertilizers and pesticides increasing 3.5%, or $2.3 billion, this year, farmers spent an additional $14.2 billion on production expenses. 

Fertilizer prices made the biggest jump at 17% because of global demand. While fertilizer prices will fall off during the second half of the year, they are expected to remain above 2013's level. 

For livestock producers, feed grain prices are down 12.5%, thanks to lower commodity prices. Beef prices are up, courtesy of foreign demand and historically low cattle herd numbers. Overall, it adds up to a projected 15% increase in receipts for cattle producers, 20% for hog producers and 21% for dairy farmers in 2014.
---
Income Forecasts Are Down But Not Out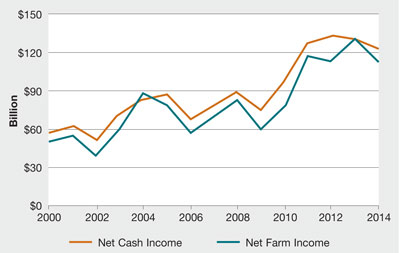 Net cash income, which includes transactions during the calendar year and measures the ability to pay bills, and net farm income, which reflects the net value of this year's production, are both forecast down for 2014.