If you had to guess where the major players in the tillage manufacturing industry were located, would Kansas come to the top of your mind? Four well-known companies engineer, weld and assemble cutting-edge tillage tools in the High Plains: Great Plains Manufacturing, Krause Corporation, Landoll Corporation and Sunflower Manufacturing.
Located in the middle of the country, each of the companies has found success in the U.S. market, but they've also ventured abroad with their products. One of the most popular export destinations for tillage iron is eastern Europe, where agriculture is growing at a swift pace and demanding that fields be prepped for planting—many for the first time.
A tour through Kansas provides a synopsis of each of the four tillage manufacturing companies and how the past is shaping the present and the future.
……………………………
Great Plains Manufacturing
Although Great Plains Manufacturing set out building grain drills, expansion efforts throughout the past 31 years have led to a product lineup that now includes
tillage equipment
, pull-type sprayers, planters and grain drills.
In 1977, his second year in business, founder Roy Applequist sold 25 drills. The next year he sold 100 drills. "Our volume has grown, but our technology has also grown," Applequist says. "We have to have innovative products."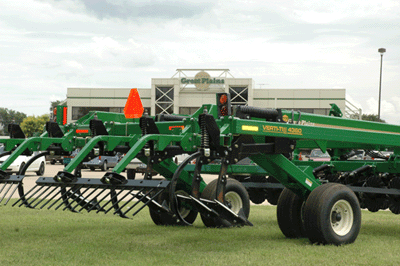 Great Plains Manufacturing is headquartered in Salina, Kan.,  and has seven other manufacturing sites around the state.

When he established the manufacturing company, Applequist interviewed 100 farmers to find out what features they needed in a drill. Today, the company continues to be driven by innovations that meet customers' demands.
In 2000, the acquisition of Kent Manufacturing served as a catalyst for the company's tillage business, which currently features products for conventional tillage and vertical tillage.
"There's going to be no-till, minimum tillage and vertical tillage," Applequist says. "There isn't going to be a silver bullet that works in every field situation. We try to have a scientific approach depending on the crop, weather conditions and soil type."
Including its headquarters in Salina, Kan., Great Plains has eight manufacturing locations in the state for a total of more than 1 million square feet of manufacturing space under roof. The company also makes and markets ground maintenance equipment for its subsidiary Land Pride.
In the factories, laser cutters operate 24 hours a day, 7 days a week and can slice steel up to 1/2" thick. One laser cutter can be programmed to cut several thousand parts. In the past year, the company installed cameras that enable workers to monitor an operating laser on a computer screen at home. The machine lifts the steel sheet, puts it in position, laser cuts the preprogrammed parts and then repeats the process without a person present.
"The technology of manufacturing has evolved as much as our product development," says Rick Hanson, president of the Great Plains division.
Engineers have diversified tasks and go from product group to product group, but there are six or seven design engineers who work on tillage equipment. Great Plains is known for the Turbo-Till with its patented turbo blade design.
"We want to offer agronomically successful equipment," says vice president of sales Tom Evans. "We want to show what a farmer can accomplish with a tool and how it can help make them more profitable."
Great Plains also has a trucking division that employs 60 trucks to bring in raw materials and transport finished units. The company has dealers in all 50 states, as well as export business in 25 countries, including Australia and New Zealand, and countries in western Europe and the former Soviet Union.
……………………………
Krause Corporation
Founded in 1916, Krause Corporation is now in its third generation of family leadership with Steve Krause as CEO. The tillage and industrial manufacturer is located in Hutchinson, Kan.
"Companies in Kansas have strong entrepreneurial spirit, focus and dedication," says Dick Brown, president and chief operating officer. "The innovation and specialization of Krause can be traced back to Henry Krause, who invented the one-way plow."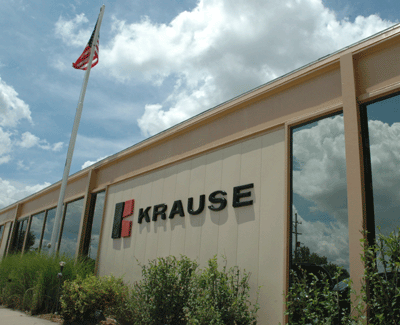 In Hutchinson, Kan., Krause  Corporation  manufactures a full line of tillage tools.
Krause manufactures a complete line of tillage tools, no-till and minimum-till drills, as well as waste management equipment for its subsidiary, K-Pac. The company's manufacturing and corporate headquarters are located on a 40-acre tract with 400,000 sq. ft. of manufacturing space.
Today, Krause has 350 dealers throughout the country. A relatively new exporter, Krause started selling products to Russia in 2006. The company now exports products to Ukraine, as well.
"Domestic and international businesses don't always match up," says Steve Krause. "But right now, both sides of the business are doing very well."
In order to fill fall orders, the manufacturing plant is busiest in the spring between April and June. However, a shift in crop rotation, as well as a focus on tillage technology, increased the number of orders, especially disk harrows, this year and made a busy time of year even busier, says vice president of sales Keith Whitaker.
An increase in sales is not the only trend that has surfaced in the industry. It may seem counterintuitive to the success tillage manufacturers are currently experiencing, but companies are actually selling fewer units.
"There have been a lot of changes in this business," Whitaker says. "Consolidation of farms has meant where in the past two farmers each bought a disk, now there is only one farmer, but he is buying a larger machine."
Recently, Krause has focused on more compact transport options for machines and sharper disk blades. The company will continue to assemble more tillage equipment at the plant, rather than rely on dealer assembly. 
……………………………
Landoll Corporation
It's been quite a couple of years for Landoll Corporation. Its tillage offerings grew with the purchase of Precision Planting's To The Max harrow and the introduction of two machines. The company also added a parts distribution warehouse and acquired non-ag ICON Industries in Beloit, Kan.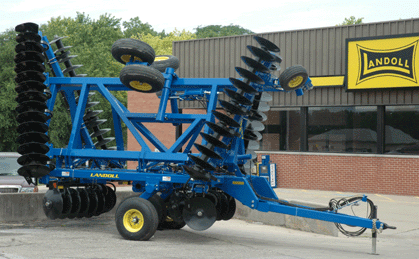 In the past two years, Landoll Corporation has  made significant investments to expand its manufacturing, service and products.
Don Landoll started the business, headquartered in Marysville, Kan., in 1963. Today, the company manufactures tillage tools, trailers, forklift trucks and fulfills several government contracts for military applications. The primary manufacturing site has about 500,000 sq. ft. of manufacturing space and is located on 30 acres.
"Building a diverse group of products has allowed us to bring top-notch equipment to the factory," Don Landoll says. "There is no second-hand quality for the military because it is tested so heavily up front." 
The first tool Landoll built was a modified anhydrous bar. Through the ups and downs of the agricultural market, he led his company to diversify its product offering.
"My drive to stay in the farm business was there, but we had a lot of contract work, and that did hurt our market share; although it allowed us to survive during the ag downturn of the 80s and remain in business," he says. "We built the trailer for transportation when Allis Chalmers came out with the first rotary combine made in Kansas City."
Due to the many products the company manufacturers, the logistics involved in the factory are intense. One sheet of steel can source parts for up to three product lines. The company uses 60,000 lb. of steel plate a day, and seven machines cut steel 24 hours a day.
With a new line of products and a new color—sapphire blue—Landoll is looking to the future.
"We want to signify a change in our tillage business and send the message that we are rekindling that fire," says Jamie Meier, ag division sales manager.
……………………………
Sunflower Manufacturing
Today, Sunflower tillage is known for its disk harrow. However, in 1945 it was the Diamond Packer, a tool with a series of cast wheels and five diamond-shaped heads used to prevent erosion, that made a name for the company.
Sunflower Manufacturing, located in Beloit, Kan., was privately owned until 1976. Since then, it has been bought and sold four times, most recently by AGCO in 2002.
"Since AGCO acquired the company we have benefitted from capital funds for new equipment and a $2-million paint line improvement," says vice president of operations Ron Harris.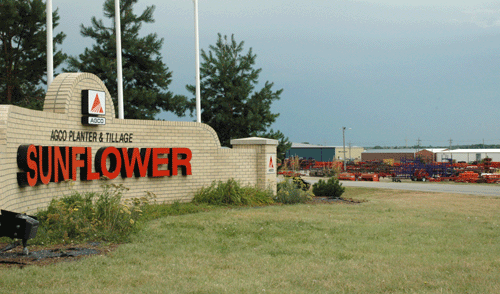 Now part of AGCO Corporation, Sunflower Manufacturing began in Beloit, Kan., where it continues to make equipment today.
Today, the facility has 165,000 sq ft. of manufacturing space. Through the years, the manufacturing line has adjusted to the evolving product lineup.
"You look back to 1999, and we were building three products," says production manager Bob Miller. "Today, we build seven to eight at the same time."
As the product offering has grown, so have the markets for Sunflower.
"We aim to offer a fairly complete line of tillage for the North American market," says Tom Draper, tillage marketing manager for AGCO. "Over the last couple of years we've exported several hundred units to eastern Europe."
The Beloit, Kan., facility also has a changing role in the AGCO family. Frames for AGCO's White planters are welded and built there, and then trucked south to AGCO's Hesston, Kan., facility for final assembly.
In the fall of 2006, AGCO launched a branding initiative to market the company's implements through its three cornerstone brands: AGCO, Massey Ferguson and Challenger.
"Sunflower will still be the brand on all the tools, but each tool may be differentiated with a decal on the tongue from one of the cornerstone brands," Harris explains. 
---