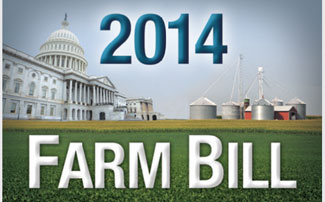 Selecting ARC or PLC is a one-time election that locks you in for five crop years
As if lower grain prices aren't causing enough angst, producers have a looming decision—one that will shape their pocketbook for the next five years. Glendale, Ky., corn and soybean farmer Richard Preston is a student of the farm bill, carefully analyzing his options and running online tools to compare and contrast benefits. At this point, he's not sure if he'll sign up for Agriculture Risk Coverage (ARC) or Price Loss Coverage (PLC), and if the latter, if he'll add Supplemental Coverage Option (SCO) crop insurance. He's even considering a mix of ARC and PLC on individual farms.

"This is one decision I'm going to take my time with," Preston says. "The longer I wait until the March 31 deadline, the more confident I can be."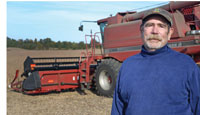 With a patient urgency, Kentucky farmer Richard Preston plans to take his time and let the dust settle on price outlook before he decides between ARC and PLC.
Letting the dust settle on price direction will give him—and all farmers—an idea of whether ARC or PLC is the better economic choice for at least the next two years. Sign-up begins Nov. 17.

"Take your time but don't wait until 4 p.m. on March 31," says Brad Lubben, University of Nebraska ag economist. "USDA's Farm Service Agency [FSA] won't be able to handle that." 
Taking no action means PLC will be the only option for producers, and they'll receive no benefits in 2014.

When running the numbers, Lubben suggests farmers view ARC/PLC, crop insurance and marketing as a total per acre revenue umbrella. "It's one big risk management portfolio," he says. 

While several analysts suggest ARC makes the most sense for the majority of corn producers, don't be hasty. "It's important to run the numbers, plug in your variables and do the analysis," says Jason Alexander, vice president, crop insurance, Farm Credit Mid-America. "Don't just pick ARC and be done with it." 

Initially, Preston thought he'd go the ARC route, but now, he's leaning toward PLC. "I'm concerned about world production capacity, and we've hit the blend wall on ethanol," he says. "PLC offers extra protection against a worst-case scenario."

Still, ARC versus PLC economics appears to be a toss-up. "ARC is a bird in the hand. PLC is two in the bush," Preston says. ARC is not as beneficial as it first appears because ARC payments are a combination of price and yield, he adds. 

"In the major corn-growing regions, low prices are correlated with high yields," Preston notes. Because of that, ARC price guarantees could be declining at the same time yields trend higher, putting ARC payments in jeopardy.
Generalities don't automatically apply, so what works best for one farm might not work best for another. This year in Missouri, for example, in some counties, corn would have to fall below $3.30 per bushel to trigger ARC payments, says Pat Westhoff, director of the Food and Agricultural Policy Research Institute at the University of Missouri. Yields are high enough that current revenues will not fall below the benchmark to trigger ARC payments unless prices drop lower than projections, he says. 
First things first: Update yields and allocate crop bases, which is required by Feb. 27. While updating yields appears to be a no-brainer for most crops, grain sorghum might be an exception. Some farmers haven't planted grain sorghum recently and have an old grain sorghum base. Keeping the grain sorghum base requires keeping the old yields. Payment rates under PLC could be higher on grain sorghum than some other crops, but if you compare old grain sorghum payment yields against updated corn, wheat and soybean yields, the latter might negate some of the perceived advantage for the old grain sorghum base, Lubben explains.

Making the right base choice means determining the crop option guaranteeing the highest payment possible. In North Dakota, the canola reference price appears to be higher than wheat or other crops, thus canola might have higher payments. In the South, farmers with a rice base might want to keep it, even if they've shifted to soybeans.

In the heart of the Corn Belt, corn appears to offer higher payments than soybeans and other crops in many 
cases, so it might make sense for producers to increase their corn acres. 

Using a specific set of assumptions for one county, analysis in Illinois shows ARC payments on corn for 2014 as small as $36 per acre. But, other analysis show much larger ARC payments for this year. 

"It's entirely possible to see $60 to $70 per acre payments on corn but none for soybeans for 2014," says Wayne Myers, director of farm program services for Kennedy and Coe, an accounting and consulting firm. In working with producers, he notes, ARC-CO (county option) generally comes out best for corn and grain sorghum, while PLC generally appears to result in higher payments for wheat.

While generalities are useful in the decision-making process, they might not apply to your farm, Myers cautions. It's difficult to predict commodity prices one year out—let alone five, he adds. Because of the potential for yield variability, he advises using both ARC and PLC. 

Not only do farmers need to think about an umbrella approach to total revenue, taking ARC, PLC and crop insurance into account, they also need to consider their financial position. For those with less working capital and financial flexibility, getting through the next two crop cycles is top priority, says Andy Swenson, ag economist at North Dakota State University. 

ARC for corn might make the most sense from a short-term financial perspective. For those with more financial flexibility, however, PLC could offer more total revenue over the life of the farm bill—if prices stay low—because trigger prices are fixed.

Another twist, however, are cases where a straight comparison of ARC and PLC would favor ARC, but the combination of PLC and SCO might be preferred over ARC, Westhoff says.
SCO is a shallow loss program that insures crops and revenue between 86% of the base and the producer's level of crop insurance coverage. SCO premiums are subsidized at a slightly higher rate, so the program is attractive for farmers who carry 65% or 70% coverage. Only farmers who elect PLC can participate. 

Experts are quick to avoid choosing whether ARC or PLC is the clear winner. The decision is farm-specific and dependent on a farmer's approach to risk management. For market bulls, ARC is favorable; for bears, PLC.

While ARC is similar to the old ACRE (Average Crop Revenue Election) program and PLC is similar to countercyclical payments, Preston, the Kentucky farmer, is surprised ARC and PLC are under discussion at all. 

"When the farm bill was in debate, no one focused on ARC and PLC," he says. That's because they seemed so far removed from market reality. "Nobody thought corn would hit $3.70. All of a sudden, ARC and PLC have come into play in a major way," Preston adds.
---
What It Means To Me
You don't have to decide today between ARC and PLC, but you have to run the numbers as price projections and variables shift from now until the end of March.
Think of ARC/PLC, crop insurance, marketing and your financial position as a risk management portfolio.  
In a crop-share lease, landlords have to agree and sign off on the program you select. 
---
Resources to Aid Your Decisions
1. Crop insurance agent: Your crop insurance agent is a good first stop because he or she has your production and yield history. 
2. Online tools: Although many land-grant universities offer online tools, these two are funded by USDA and are the most sophisticated: 
These interactive simulation models allow you to plug in your production and yield numbers, as well as your expectations for 2014 to 2018 crop prices and compare different outcomes for your farms. You can also find comprehensive details at www.fsa.usda.gov/arc-plc. 
3. A team of consultants: It's wise to put together a team of advisers, including crop insurance agents, lenders, chemical and seed dealers, and marketing specialists, who know your operation and can help you determine whether ARC or PLC is the best choice, advises Joe Reints, agency manager with Security State Insurance in Chancellor, S.D.
---
By Jim Dickrell
Dairy Deadline Fast Approaching
Dairy producers have until Dec. 5 to sign up for the Margin Protection Program (MPP). While margins look 
favorable through 2015, for a $100 premium, producers can sign up for $4 per cwt margin coverage should milk prices collapse or feed prices skyrocket. Producers also can purchase additional coverage up to an $8 margin on 25% to 90% of their production history (the highest milk output of 2011, 2012 or 2013). USDA will only adjust production histories by the amount of increase in national milk production in the previous year. To calculate margins, USDA will use the national all-milk price and feed prices. 
---
The Fine Print: Additional Farm Bill Provisions
While ARC and PLC have seized most of the farm bill headlines, there are several other provisions important to producers:
Stacked Income Protection Plan (STAX) is a crop insurance option for upland cotton that provides coverage for a portion of the expected revenue for your area. The federal government will pay 80% of the STAX premium. Cotton not in STAX is eligible for SCO, but there is no ARC or PLC program for cotton. 
Cotton base acres become a generic base and can't be reallocated.
For crop insurance, enterprise units are available for irrigated and non-irrigated crops, so there could be different units for the same crop. 
Crop insurance benefits are tied to conservation compliance.
Crop insurance is subsidized at 80% for beginning farmers.
ARC/PLC plus marketing loan benefits are limited to $125,000 per individual and adjusted gross income of $900,000.
The Conservation Reserve Program (CRP) is limited to 24 million acres by 2017, down from the current enrollment of 26 million acres.
The Livestock Forage Disaster Program provides compensation to livestock producers who have suffered grazing losses due to drought and fire on federally managed rangeland from Oct. 1, 2011, through Dec. 31, 2014. Sign-up deadline: Jan. 30, 2015.
 
For more details on ARC, PLC, SCO and other provisions of the 2014 farm bill, including up-to-date financial implications, visit www.AgWeb.com/farm-bill