Extreme price volatility forces shifts in how farmers market
The wild price swings in recent years are driving producers to make big shifts in how they market, particularly in regard to the tools they use. Ed Hegland, by nature a conservative marketer who doesn't try to hit the peaks, started using options this year. He has also signed up with a marketing service that gives him direction on when to lock in prices.

"My goal is to sell in the top third of the market and live to farm another year," says the Appleton, Minn., producer.
Flexible Marketing. In addition to put and call options to protect both upside and downside price risk, Hegland's marketing approach includes using forward contracts to sell his corn and soybeans 5% and 10% at a time, sometimes more.

He compares his break-even costs with marketing opportunities and sells when he can lock in a profit. Easy to say, hard to execute, but it helps that he has found a way to largely keep the emotion out of his decisions. Options tools help him accomplish that, he says.

Hegland is not opposed to selling more than one year's crop in advance. In July, for instance, he used hedge-to-arrive (HTA) contracts to lock in 7% and 10% of his 2012 crop when attractive pricing opportunities presented themselves. "I use HTA because basis here in western Minnesota can be pretty significant," he says.

"Before using options, I just used futures contracts," he adds. "Options are another tool that leaves the upside open. I will still forward contract, however."

Hegland's motivation for making a marketing change this year is based on the extreme price volatility of the past five years. "I've been farming for 18 years. It used to be that 5¢ per bushel was a big market move. Now that's considered a flat market," he says.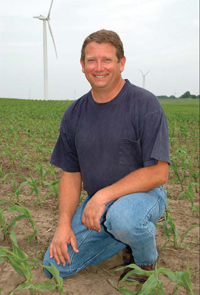 Using futures and advice from a marketing consultant, Saybrook, Ill., producer George Jones is able to make competitive marketing moves.
Competitive Edge. Until this year, Saybrook, Ill., producer George Jones remained focused on selling in the cash market.

"I knew that if I was to stay competitive with other farmers, I needed to use more futures," he says. "I've rarely used futures. I knew just enough about them to get myself in real trouble."

With direction from a consultant, Jones has put calls in place to capture the upside on the crop he has already sold in the cash market. He's also installed a put option strategy to cover any downside risk on the cash crop.

For half of the 2011 corn crop he did not sell in summer 2010, Jones used a put option strategy. On the new crop, he bought put options to protect what he hadn't sold. On 30% of the corn he had sold, he sold calls he had bought to take advantage of the market upside. Such strategies are a sharp departure compared with what he was doing even a year ago, when he was largely a cash seller.
Cheap Insurance. Jones says that options are cheap insurance. "They can protect me. If corn goes up to $10, we have calls in place that will give me pricing opportunities on what I sell in the cash market," he explains. "When it comes to marketing, if you have to think about it, you're a week late." That's another benefit of using options.

Options don't mean Jones doesn't make cash market sales. His general cash selling strategy is to have 50% of new crop corn sold by the middle of June, with 25% to 30% of that sold to a local elevator. By the end of the following spring, Jones' strategy calls for selling another 20% to 25% of his new crop corn.

"That leaves only 25% to 30% to be sold between Nov. 1 and Jan. 15, when I need the cash," he says.

Help Along the Way. Hegland doesn't consider himself a great marketer, which is one reason he decided to hire a consultant who can give him expert advice on a timely basis. "Other aspects of farming I feel I do pretty good, but when it comes to marketing, not so much," he says.

In addition to advising when to market his corn and soybeans, Hegland's consultant shares daily and weekly updates on market movements to help him understand what's going on and why.

"Prior to hiring the consultant, I got caught up in trade and international markets, looking at production forecasts," he explains.

Hiring a marketing consultant has also helped Jones increase his basic understanding of marketing and, as a result, boost his bottom line.

"He's taught me things I didn't know, such as what put/call spreads are and their value," he says.
Jones credits his success with newfound marketing tools to finding a consultant with a style and marketing strategy he likes.

He talks with his consultant at least once a week to help keep the emotion out of his marketing decisions.

"It's easy to buy the rumor and sell the fact, but what rumors are you listening to?" Jones asks.
Now that he knows what his base costs are, Jones' goal is to try to make a profit above that level.
"I'd rather sell 15,000 bu. all the way up the price scale rather than worry about trying to hit the top. I have not hit the top."
---
More Emphasis on Strategy, Less on Outlook
Many producers could greatly improve their marketing by shifting their focus, says Scott Stewart of Stewart-Peterson. Focus on strategies that manage both opportunities and risks instead of focusing on a market outlook, he says. "Avoid being an information junkie—no amount of information available will tell you what the market is going to do. It is better to have a thorough strategy that covers all the possibilities."

Stewart has developed a marketing approach that he calls "market scenario planning." The approach allows producers to focus on what to do in all price scenarios, rather than what direction the market might move.

Stewart-Peterson's research has found that the majority of producers (more than two-thirds) say they do not sell enough in a bull market. Furthermore, more than two-thirds of producers say they do not sell fast enough in bear markets. So too much crop is still held when prices are depressed, Stewart says. With today's increased volatility and price swings, these can be costly mistakes, he adds. "It is no wonder that 80% of farmers find marketing stressful."

This Way and That. The solution is simple, Stewart says. A marketing strategy must be constructed to cover all possible directions that the market might move. It must be a comprehensive strategy that looks at the unpriced crop, the priced crop, all futures and option positions and both old and new crop.

A producer's objective should be to have 70% of crop owned when the major trend is up and 70% or more priced when the trend is down. This can be accomplished by incrementally selling and using a variety of tools such as minimum price contracts, forward contacts, futures hedges and options. Stewart points out that in this age of volatility, the more tools that producers have in their toolbox, the greater the odds are that they will be able to manage both the market opportunities and risks.