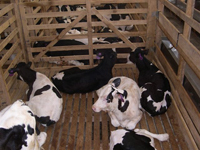 The beef checkoff, now 20 years, is considering increasing fees to $2 per
head.
As a dairy producer, Lucinda Williams understands the frustration of paying the beef checkoff program $1/head for a bull calf that's worth only $5.
But she wants dairy producers, who fund 14% of the checkoff program, to do more than grumble.
Williams is also vice chairman of the Cattlemen's Beef Board (CBB), which administers the checkoff program. She is urging dairy producers to speak out this summer on the bull calf issue – and more – as part of a process to improve the 20-year-old checkoff program.
"It's the role of producers to convey what's important to them and how to make the program better for all in the industry," Williams says.
Prompted by USDA, CBB is soliciting comments from beef and dairy producers and industry organizations for possible improvements to the beef checkoff program. CBB will sift through its findings and make internal recommendations by Nov. 30, 2008. Any recommended changes are expected to reach the USDA Secretary by February 2009. Significant changes, such as an assessment increase, would require a referendum vote by producers.
The information-gathering process comes amid hard times for livestock producers distressed by rising costs for everything from feed to advertising. This has led to impassioned producer debates about budget cutbacks in the checkoff program, whose primary goal is to increase demand for beef.
The next few months of soul-searching are an opportunity for the checkoff program to better serve producers, says Dave Bateman, CBB chairman and a farmer-feeder from Oregon, Ill.
"Any changes should reflect the atmosphere of today's environment, compared to 20 years ago, to make the program more realistic, effective and responsive," he says.
While beef board members like Bateman and Williams can't lobby for any particular changes, they can suggest improvements and report what they're hearing from producers.
One key discussion area, they report, is a possible increase in the assessment. Since the checkoff program began in 1988, it's required a $1/head assessment for each animal sold in the U.S. and from imported cattle, beef and beef products. But that amount isn't enough to adequately fund advertising and other program efforts, some say, and doubling the assessment to $2/head may be necessary.
"Dairy producers are producing more milk with fewer animals," says Williams, who milks 100 cows at her dairy in Hatfield, Mass. "It's the same in beef: more meat from fewer animals. That's reduced the number of dollars coming into the program."
The assessment has built a $41 million checkoff budget for 2008; next year's revenue is expected to drop sharply.
"Over the years, as the checkoff budget has decreased and all media advertising costs have risen dramatically, it has become increasingly difficult to invest in a "Beef. It's What's for Dinner" advertising program that has enough reach and frequency with consumers to be effective," CBB Communications Manager Diane Henderson blogged on the CBB Web site in May.
"That quandary has reached a degree where [CBB members] have to make painful cuts in other checkoff programs that are integral parts of the overall checkoff strategy toward building demand for beef -– or cut advertising back to a degree that it might no longer be viable," she noted.
Other areas of checkoff discussion include:
Concern about the roles of the various beef segments. "Some fed-beef producers are concerned that the dairy segment isn't putting enough emphasis on the beef side of its business," Williams reports. "Beef makes up only about 4% of a dairy's operation, so we tend not to pay much attention to it. If we did, we could receive higher value for our beef, and we might not be as unhappy paying that $1 on a bull calf."
Looking for ways to alter how many times the assessment is collected over the animal's life cycle;
Collecting the assessment based on weight rather than per head;
The option of combining neighboring states that don't have their own beef councils into a regional one;
Changing the order's wording to allow new contractors to do business with CBB. The original order stipulated that only industry-governed organizations existing when the checkoff program was established in the 1980s could work with the beef board;
Better defining the qualified nominating organizations that propose candidates for the beef board.
Formally known as the Beef Promotion and Research Act and Order, the beef checkoff program was formed as part of the 1985 farm bill. Key CBB budget areas are promotion, research, consumer information, industry formation, foreign marketing and producer communications. USDA oversees the program.
Producers who want to weigh in on the beef checkoff program can send  comments to:
[email protected] or
Cattlemen's Beef Board
9000 E. Nichols Ave., Suite 215
Centennial, Colo. 80112
---
Bonus content: