It's prime time to be walking corn fields, says Jim Jarman, University of Missouri agronomy specialist. Based on this year's weather and reports from nearby states, he says the prime time for arrival of black cutworms to central Missouri is mid-May. Black cutworm moth pressure was reported two weeks ago in southern Missouri.
On May 9, Jarman didn't find any black cutworms feeding on corn plants in a scouting exercise with a local farmer in Callaway County, Mo., but saw about an infestation of about one to three white grubs (like the one below) per corn seedling in one small area of a corn field.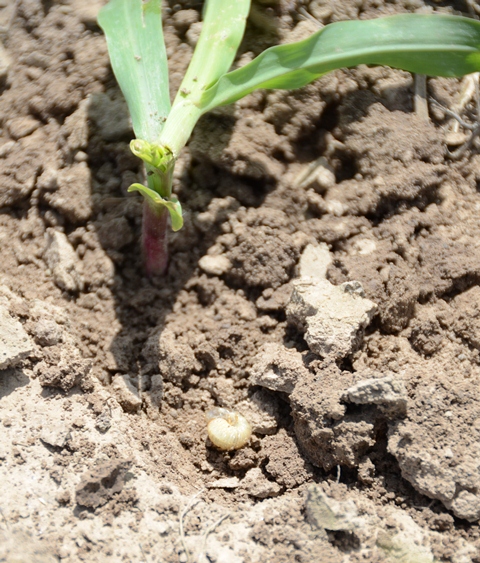 Jarman first trapped black cutworm moths in late March, and continued seeing a few in April, but not at large enough levels to be significant. Last week, he caught six moths at one location in Callaway County, and two at a second location in a five-day period.
Black cutworms are nocturnal insects, meaning they mainly feed at night above ground, or during sunny days just under the ground surface.
On Alert for Army Worms
"We had problems with armyworms in Southern Missouri two weeks ago, as well, but I haven't seen too much activity in central Missouri to date." Jarman says.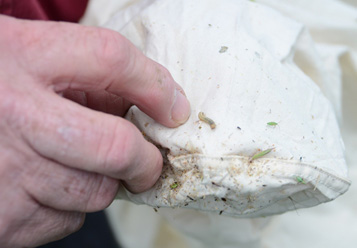 Wheat, tall fescue, grass pastures, and occasionally field corn are host plants of true armyworms. In southern Missouri, numerous infestations of small armyworm in grass pastures and wheat fields were reported in late April. True armyworm larvae are very small in size and numbers relatively low at this time. However the potential for this pest to cause severe damage in most host crops is elevated by the presence of small larvae this early in the year.
For More Information
2012 Pest Watch: The recent warm, mild winter has created the perfect breeding grounds for a high influx of crop pests this growing season. Find all the tools, resources and news you need to prepare for and battle an infestation.
---