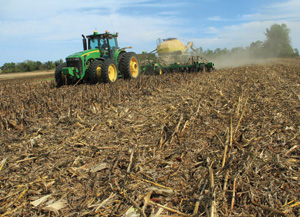 "No-till and strip-till can be very successful in many areas," says Farm Journal Field Agronomist Ken Ferrie. "But they must be managed as systems. That requires planning and preparation before you transition into them."
Besides the things mentioned in the story, consider how your planting window will change in a no-till system. You may have fewer days to plant because you must wait for soil to dry out. That might require a bigger planter.
"Moving some fields from no-till to strip-till may help," Ferrie says. "You may be able to plant strip-till fields while your no-till fields are drying out. You can mix and match systems, as long as they all work together."
Understand the limitations or opportunities created by your location. "No-tilling or strip-tilling continuous corn is easier in the South than in the North, because warmer weather allows soil organisms to decompose more old crop residue," Ferrie says.
When switching to continuous corn, you must think through not only how to manage soil density changes (see story) but early-season nitrogen management, insects and diseases, residue management, soil preparation and timeliness of planting and harvest. Considering every aspect of the system before making changes will keep you on the road to high yield.
---