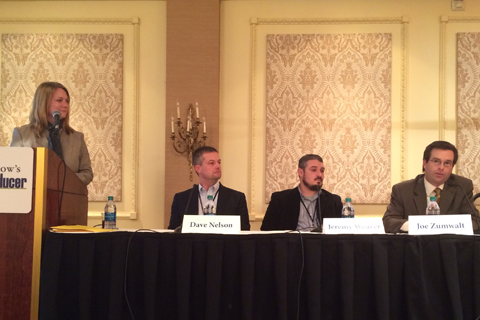 Keep open lines of communication on multi-generation farms. That's the advice of three producers who spoke on a panel Tuesday at the 2015 Tomorrow's Top Producer conference.
"If you get put in a position where you're buying, or whatever your position or role is in the farm, make sure that it's clear," advises Jeremy Weaver, an Indiana producer and the 2014 Horizon Award winner. "Make sure that you communicate."

Illinois producer Joe Zumwalt advises focusing on information rather than on how it might be delivered in a conversation.
 "If you can eliminate personality, you can eliminate so much," explains Zumwalt, a 2014 Top Producer of the Year finalist.
Iowa producer Dave Nelson farms with his father, who worked through the 1980s and consequently has a conservative approach to the operation.
"Me and Dad complement each other very well," explains Nelson, a 2013 Top Producer of the Year finalist.
Nelson recommends meeting at least once each month. In his operation, the meeting includes key farm management—himself and his wife, and his father and mother.
"Talk things out," Nelson recommends.
Family, Technology and Relationships
The producers also talked about the importance of balancing family and work; prioritizing technology; and building relationships.
On the technology side, Nelson used a multi-hybrid planter for the first time in 2014 and says it will bring the greatest advantage for soybeans on factors such as pH. He also does research with The Climate Corporation.
Developing relationships is critical to their operations. Zumwalt recommends being flexible. He is his operation's only full-time worker, but he works alongside seven part-time team members.
"I want the good people, and the good people are busy," he says. During harvest, flexibility can be difficult to stay rolling. Yet even part-time employees can have buy-in on farm decisions.
Weaver advises "make sure you're taking care of the people who take care of you."
Nelson has no full-time farm employees . He advises thinking about not only about salaries that retain workers but also giving workers time off in the winter to hunt or do other activities they enjoy. Understand what is important to your workers and act accordingly.
Also identify someone at the local co-op who has the heart to farm. Partner with that person, let that person have skin in the game and have them help you farm. 
For more information on the Top Producer Seminar or Tomorrow's Top Producer events, visit www.TopProducerSeminar.com.
....................................
Thank you to the 2015 Tomorrow's Top Producer sponsors:
Bayer CropScience, Case IH, Conservis