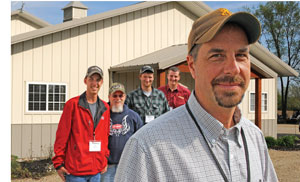 Start by minding the details on a field-by-field basis
A good wheat crop sometimes arrives wrapped in a tough weather package. When Joe Barker's northwestern Ohio wheat fields were hit withextreme cold, ice and several inches of snow this past winter, he wondered whether his crop could withstand the rough conditions. A bountiful harvest proved his doubts wrong.

In 2013, Barker began planting Sept. 23, and after a rain delay, finished Oct. 12. He ran a vertical tillage tool in front of his grain drill to create a more attractive seedbed and incorporate pre-plant fertilizer. 

By the middle of October, he was comfortable with how his wheat stand looked. Then, Ohio's harsh winter took its toll, and his confidence dimmed. Coming out of dormancy, his fields were riddled with pockets of poor stands where water froze or snow melted and took away the cover.  

"When you see thin areas where there's little remaining population, it drags down your overall expectation," Barker says.

When he began harvesting July 7, the "good spots offset weak spots" and yields exceeded 110 bu. per acre. 
Wheat planting can become just one more task, but Barker and his team work hard to do it properly. Barker's son, Joey, and employee Jim Mortoff concentrate on soybean harvest. That frees up Barker's father, Joe, to do all the tillage work. Barker and employee Matthew Trausch concentrate on wheat planting. 

"We treat seed as it is conveyed into the drill with a custom treater designed and built by Matthew in our shop," Barker says.

From there, Barker attributes his success to intense management practices, which includes using fungicides and insecticides as needed. Relying on his crop consultant, Ken Hoffman, ATA Solutions Inc., for scouting and field-specific recommendations are key components to success, as well.

In the fall, Hoffman helps Barker  plant the wheat correctly, determining the right population and planting depths so tillers emerge prior to winter's extremes. Once spring arrives, both Barker and Hoffman are eager to check tiller health and see how well the stand survived.

With a new planting season underway, Barker and Hoffman are using the same basic plan of minding the details in each field to expand on success. That includes "knowing what to look for, finding it and then addressing it," Hoffman says.

"Each field has separate characteristics," he adds. "For example, if a field has a good environment, we might push it with just a little nitrogen, versus a field that has poor drainage and needs more population and more nitrogen to offset weaknesses."
---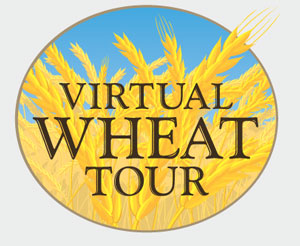 A one-stop source for wheat information, the Virtual Wheat Tour connects farmers and tracks crop progress.
http://www.agweb.com/ virtual_wheat_tour