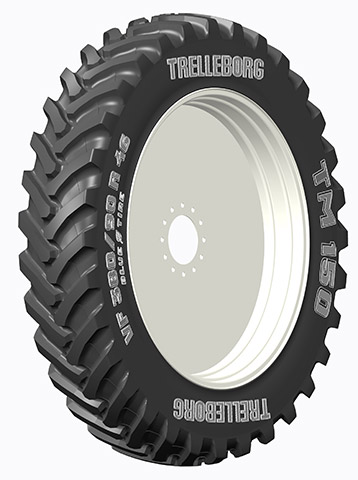 Self-propelled sprayers will receive a productivity boost with the launch of the Trelleborg TM150 tire developed according to BlueTire technology. The VF size 380/90R46 173D helps minimize ruts and decrease soil compaction offering a 5% to 8% wider footprint than standard tires. The tire carries up to 40% more load at the same pressure or allows 40% less inflation while carrying the same load. It has the ability to carry up to 14,300-lb. at speeds up to 40 mph. 
 
"New generations of fertilizers and self-propelled high powered sprayers require a significant upgrade of tire technology to cope with new and future highly demanding applications, primarily in terms of high load, stability and reduced soil compaction," says Emiliana Vesco, Product Manager Agricultural and Forestry Tires, Trelleborg Wheel Systems. 
 
Designed with a specific tread pattern, the TM150 prevents stubble damage and improves road performance. The tire also sports wide lugs, a sharp head to maximize grip and can be fitted on different rim dimensions. More sizes will be added in 2015. The product will debut at the World Ag Expo in Tulare, Calif., Feb. 10 to 12.