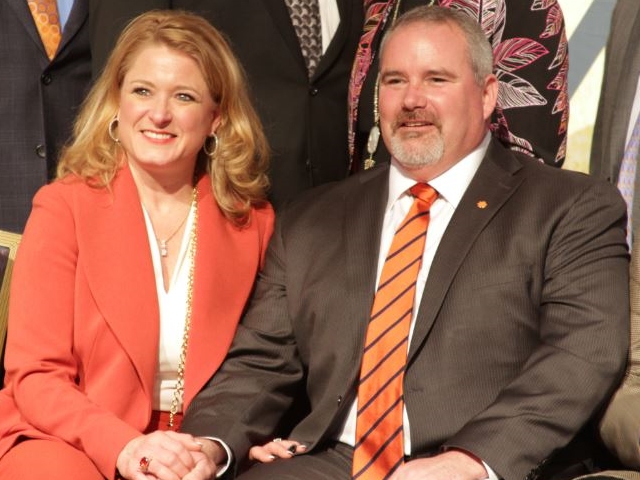 First-generation farmers Chalmers and Lori Anne Carr of Titan Farms in Ridge Spring, S.C., have been named the winners of the 2017 Top Producer of the Year award. The couple's operation is one of the largest peach producers in the U.S. They also grow peppers and broccoli and recently diversified with a frozen-fruit facility for processing of peaches that are sold in bulk or pureed for use in yogurt, baby food and other products.
"My husband and I are truly living a dream," Lori Anne Carr told attendees of Top Producer's annual awards banquet in Chicago before the winner was announced.
"On the farm, we truly have a motto that nobody's going to come up and pat you on the back, or nobody's going to say, 'Great job,'" Chalmers added. "We get our achievements and our personal goals set by going out and protecting the natural resources that we have, cultivating those into crops and producing staples and food for other people to eat. My personal joy comes from doing that day in and day out."
Sponsored by Bayer and Case IH, the Top Producer of the Year contest is in its 18th year and represents the best in the business of farming. In addition to the Carrs, finalists for this year's award were John Pagel of Pagel's Ponderosa Dairy, a dairy and grain operation in Kewaunee, Wis., and brothers Richard and Roderick Gumz of Gumz Farms, a row crop and vegetable operation in Endeavor, Wis. Readers of AgWeb.com and Top Producer will learn more about each of the finalists in future news articles.
Each of the finalists received a trip for two to attend the seminar and will receive sessions with a CEO coach. The winner will receive the opportunity to be enrolled for a year in the Top Producer Executive Network™ peer group program, courtesy of Bayer. Additionally, the winner will get to choose either a Steiger Rowtrac or a Magnum Rowtrac from Case IH for 150 hours of use, courtesy of Case IH.
For more cover of the 2017 Top Producer Seminar, visit topproducerseminar.com. 
---
Thank you to the sponsors of the 2017 Top Producer Seminar!
Premier Sponsors: Advance Trading; BASF; Bayer; Beck's; Cargill; Case IH; Channel; CropZilla; Dow AgroSciences; DuPont Pioneer; ESN; FarmersEdge; Farmers Business Network; John Deere; K-Coe ISOM; Soybean Premiums; Top Third Ag Marketing; Verdesian.
Co-Sponsors: AgYield; CliftonLarsonAllen; Gulke Group; Rabo AgriFinance; Zaner Ag Hedge. 
Supporting Sponsors: Alltech; BMO Harris Bank; Transition Point Business Advisors
AgDay-TPOY Winner Announced-1/26/17