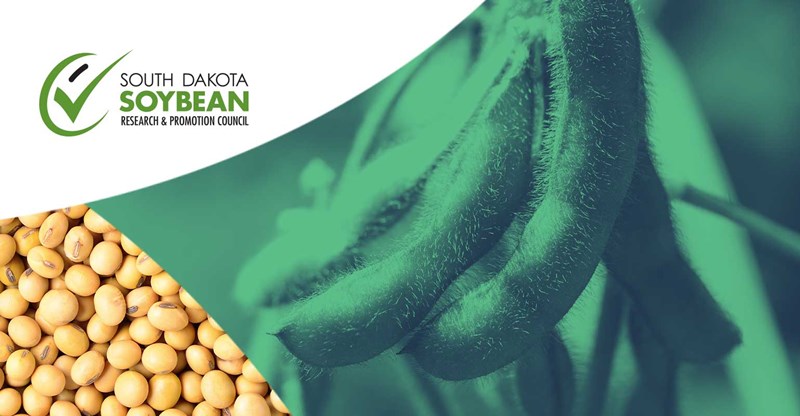 What production practices work best for soybean farmers in South Dakota?
Farmers are inundated with product information that will allegedly boost yields, and what works in university test plots may not always show results in the field. The South Dakota soybean checkoff launched the South Dakota Soybean On-Farm Research Program and website to provide the opportunity for farmers to optimize production potential for their operations.
Growers can access a wealth of specific and actionable agronomic information through the South Dakota Soybean On-Farm Research Program. 
1. Seed Treatments. In fungicide application trials, medium- and high-yielding soybeans were more likely to see gains, on average. In general, soybean seed treatments can reduce damage from disease infections, resulting in more uniform plant stands, improved yield potential and fewer replants. Seed treatments can protect soybean seeds from certain diseases and insects for up to 30 days.
2. Row Width. Soybeans planted in narrow rows (15"-22") typically show yield increases when compared to wider planted soybeans. Narrow rows will result in quicker canopy closure to help choke out existing weeds and prevent other weeds from seeding. Also, narrow rows minimize soil moisture loss, which is especially helpful in dry years.
3. Seeding Rates. Findings from 2017 studies in various South Dakota counties suggest that in high-yielding areas, seeding rates can be reduced without a loss of yield. In moderate-yielding areas, the data suggests increasing seeding rates can increase yields.
4. Variety. Select varieties matched to your specific fields, pest pressures and management practices.
5. Fertility. High yielding soybeans will require the input of additional fertilizer, specifically phosphorus and potassium, to achieve top results.
6. Planting Depth. Plant soybeans at the proper depth in a good seedbed to ensure even emergence and strong stand establishment.
7. Weed Management. Control weeds before they reach 4 inches in height and minimize weed pressure during the first 30 days of stand establishment.
8. Soil and Tissue Sampling. Complete sampling to identify any nutrient deficiencies.
9. Irrigated Soybean Management. Manage irrigated soybeans by selecting varieties with high disease and lodging tolerance.
10. Crop Rotation. Utilize crop rotation to minimize pest pressure, provide additional weed control options and diversify soil management practices.
The South Dakota Soybean On-Farm Research Program is sponsored by the South Dakota Soybean checkoff in partnership with South Dakota State University (SDSU) Extension.
The program collects data from on-farm soybean research and test strips across the state. The information is gathered from farmers who perform research trials and provide results, with the help of SDSU Extension researchers.
By visiting the On-Farm Research Program website, farmers can search the database by county, soil type, brand and variety, fertilizer type, maturity, input use, tillage type, seed treatment, year and row spacing.
Visitors to the site can also access individual test field reports with elevation mapping and rainfall, over time, by county. The identity of contributing farmers is always protected.
Accessing this continuously-updated database allows farmers to:
• Consider new techniques to optimize their production systems
• Learn about new products and their benefits and limitations
• Obtain information from specific locations or focus on particular conditions
• Make more informed management decisions using data that matches field and soil conditions
• Identify production and yield trends year after year, as the database grows and additional information is added
Participate in Your Own Study
The South Dakota Soybean checkoff encourages growers to participate in the On-Farm Research Program. Farmers decide what they want to have studied and evaluated on their own farms. Researchers will conduct site visits during the growing season and help analyze the results once the crops are harvested. They receive a customized results report and recommendations for implementation in their operations.
To participate, growers can visit https://onfarmresearch.sdsoybean.org/participate. 
Additional Checkoff-Sponsored Research
Farmers work to increase yields, improve efficiency and perfect their management in the search for greater profitability.
Research is an important component of improvement as scientists identify factors that can limit yield or cause management challenges, including drought, soil salinity, nutrient deficiency, diseases and root pests.
The South Dakota Soybean checkoff supports a wide range of research efforts designed to improve the state's soybean production. The checkoff also funds research on value-added soybean uses to help develop new markets for growers.
To learn more about South Dakota Soybean's research initiatives, farmers can visit sdsoybean.org.
South Dakota Soybean Research and Promotion Council
The South Dakota Soybean Research and Promotion Council is the farmer-led organization charged with wisely investing and leveraging checkoff dollars on behalf of South Dakota soybean farmers. SDSRPC's goal is to help South Dakota soybean farmers maintain their place among the most productive farmers in the world while helping develop new and increasingly profitable markets for their crops.