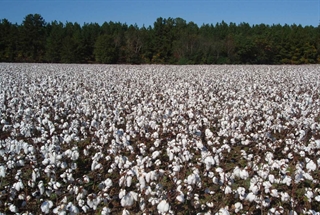 Cotton prices need to fall even more to clear out excess supplies, according to Joe Nicosia of Louis Dreyfus Commodities BV, the largest raw-cotton trader.
Global output will exceed demand for a fifth consecutive year, boosting stockpiles to a record 106.3 million bales by July 31, 2015, according to the U.S. Department of Agriculture. Prices have already dropped 27 percent this year on the surplus.
"This will take 10 years to resolve," Nicosia, global platform head for cotton, told an International Cotton Association conference in Dubai today. "After that we will be off to the races to feed and clothe the world's expanding population."
Cotton futures rose 0.3 percent today to 61.58 cents a pound on ICE Futures U.S. in New York. Prices on Sept. 25 fell to as low as 60.83 cents a pound, the least since Oct. 5, 2009.
In 10 years, cotton will be at 85 cents to $1 a pound, Nicosia said. He declined to say how low prices will go or when.
Stockpiles are swelling as receding drought in Texas means U.S. production will climb 28 percent this season, the most since 2011, the USDA predicts. U.S. farmers and traders started a promotion this year to boost demand to stop the growing preference for cheaper manmade fibers.
Fashion trends will shift back to natural fibers, helping cotton to take share back from synthetics, Nicosia said. Total fiber demand will grow 3.7 percent a year, he said. Demand in the 2013-14 marketing year that ended July 31 climbed 1.9 percent, USDA data show.
Cotton accounted for 38 percent of the retail market last year, down from 44 percent in 2008, with the rest manmade fibers such as polyester, according to the National Cotton Council of America.